Rubber & Tire Machinery:Mixer
Next-generation mixers play an important role in the rubber and tire industry.
The demand for high quality and high performance of various rubber products including but not limited to automobile tires is becoming higher and higher. The mixing process is the critical process that greatly affects the final quality of rubber and tire products. Thus, Mitsubishi Heavy Industries Machinery Systems provides various rubber mixers complying with the customers' needs.
Mitsubishi internal mixers including NM series (Neo Meler), a new generation mixer, and MR series, with a long successful record, respond to a wide variety of needs by achieving innovative mixing performance.
Variety of mixing rotors is available depending upon the usage and characteristic of mixing compounds.
Outline of product
Mitsubishi Internal Mixer
Mitsubishi Internal mixers are available in sufficient model sizes ranging from the laboratory size, with small capacity (several liters), to the mass production machine with large capacity (several hundred liters). We are also ready for the customer's inquiry regarding the whole mixing line.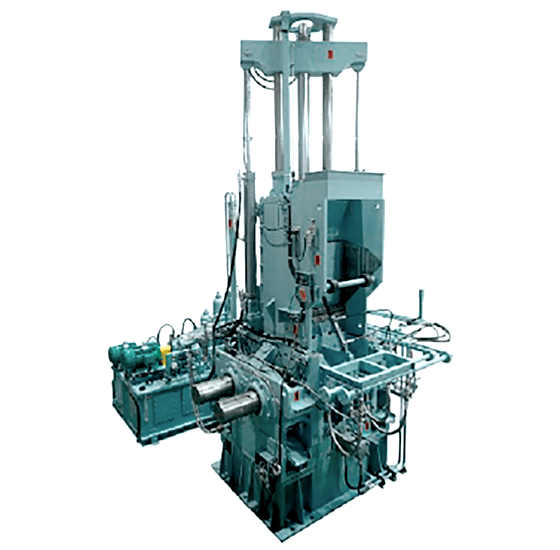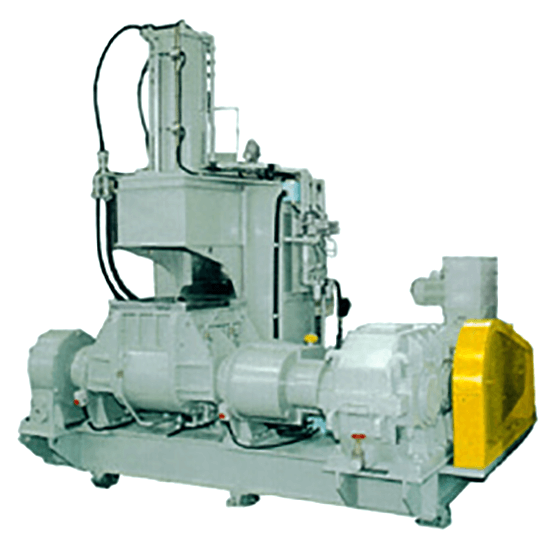 Features of the MR series
Intermeshing rotor system
MR-E series Internal Mixer equips with intermeshing type rotor which has a unique wing contour different from that of conventional rotors. This mixer provides with high quality, high productivity, high durability, and low maintenance required in today's rubber industry. This series shows excellent mixing performance in heavy load mixing operation of soft to hard compounds.
MR-EX series Internal Mixer is an innovative mixer that was developed for the silica impregnated compounds.
Tandem mixing system is also available, in which production size mixer is positioned at the upper side and larger size one is at the lower side.
Tangential rotor system
MMR-X series Internal Mixer equips with a tangential type rotor widely used mainly in the tire industry as a basic model. MR-X series developed based on long experiences includes various rotor wing contours that can be selected depending on the mixer application from the mastication to the final batch, responding to mixing needs for many purposes.
Features of the NM series
Intermeshing rotor system
NM series (Neo Meler) is now a focus of attention especially in the industrial rubber goods industry as a new generation kneader. The Neo Meler with an intermeshing type rotor developed exclusively for the MR-E series mixer has been drastically improved in the mixing performance to the extent that no conventional kneaders have ever achieved. As a kneader, it also has a compact structure and excellent maintainability.
Various test mixing facilities are prepared in our development center for the customers' convenience to check/confirm the mixing performance of our internal mixers.
MR & NM Series Product Lineup
Slide horizontally to see the table.
Model
Mixer Capacity
MR Series
Tangential rotor
270L to 420L
Intermeshing rotor
5L to 550L
Tandem mixing
320L/550L to 550L/1,000L
NM Series
Intermeshing rotor
3L to 140L
---
Solutions
Manufacturing Industry (rubber product manufacturing, chemical industry, and others)
Quality Improvement, Productivity Enhancement
Quality improvement of rubber/tire products
The demand for rubber/tire products of improved quality and productivity has been strongly growing in the last few years. Our internal mixer is equipped with a rotor which has a unique wing contour different from that of conventional rotors and drastically enhances the quality and productivity of rubber products. Customers can visit our development center to try out any of the several internal mixers we set up on permanent display for demonstration use.
Products and Service
Guidance (directory) on our internal mixers for demonstration use
Various internal mixers are set up on permanent display for demonstration use. Why not visit our center to try them out?
We recommend our products to customers who want to:
Enhance the physical properties of their rubber products.
Improve their rubber manufacturing and processing processes.
Stories of MHI Group Expertise