Rubber & Tire Machinery: Inspection Machine
Our combined inspection machine plays an active part in the tire industry.
Mitsubishi Heavy Industries Machinery Systems provides major tire inspection machines, namely, uniformity machine (UFM) and dynamic balancing machine (DBM). In addition to the individual machines said above, combined inspection line of UFM and DBM is also lined up. Below is brief description of inspection machines.
Types of inspection machines and their functions
Slide horizontally to see the table.
Inspection Machine
Function
Uniformity machine (UFM)
The latest model of Mitsubishi uniformity machine employs mechanical chucking system utilizing inflation pressure to delete hydraulic system and is so designed that tire flow level is FL + 1300 mm or lower, with which high precision of measurement and better maintainability are achieved.
In addition, shorter measuring time and conveying of high performance tire, difficult to do so usually, become possible owing to application of servo motor drive system for tire conveyance and line changing.
Geometry measuring function, automatic rim change device (Change time: 45 seconds) and grinding device are optionally available.
Dynamic balancing machine (DBM)
Built-in construction, in which drive motor is directly connected to main spindle, contributes to minimized vibration noise from drive mechanism, high accuracy measurement of tire balance and easier maintenance.
Tire centering arm traverses at conveying of a tire, therefore, conveyance of a tire is steadily done without fail.
Automatic rim changing device is optionally available.
Combined line of UFM & DBM

Integrated quality level judgment of tire is possible by connecting uniformity machine and dynamic balancing machine in line.
Optionally the following functions are available for high level measurement and high efficiency & simplified inspection process.

Grinding for correction
Measurement of tire weight
Measurement of electrical resistance

Furthermore, high level automation of inspection process is optionally possible by adding the following functions.

Automatic rim changer
Bar code reader
Communication with factory computer
Feature
Remote observation system through internet is optionally available.
Continuous line measurement so called "Sheet of Light" system is optionally available for tire geometry measurement.
Combined line of UFM and DBM for demonstration purpose is prepared at our development center.
Operation for demonstration and measuring test using the customer's tire is possible.
(Measuring item: uniformity, tire geometry, dynamic balance, grinding, tire weight measurement, and electrical resistance measurement)
Uniformity machine
Dynamic balancing machine
Combined line of UFM & DBM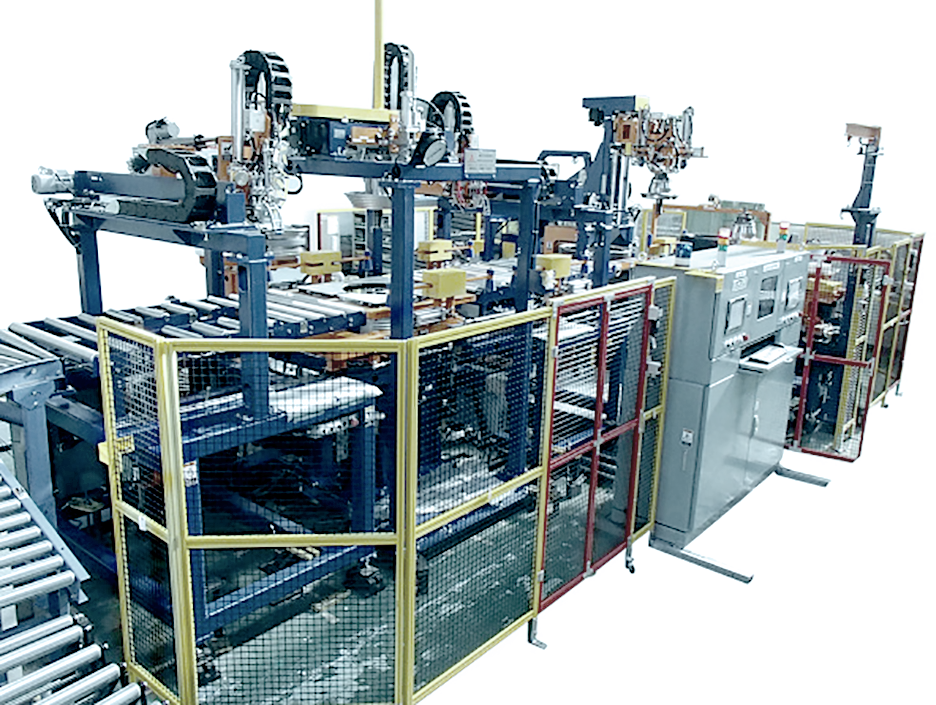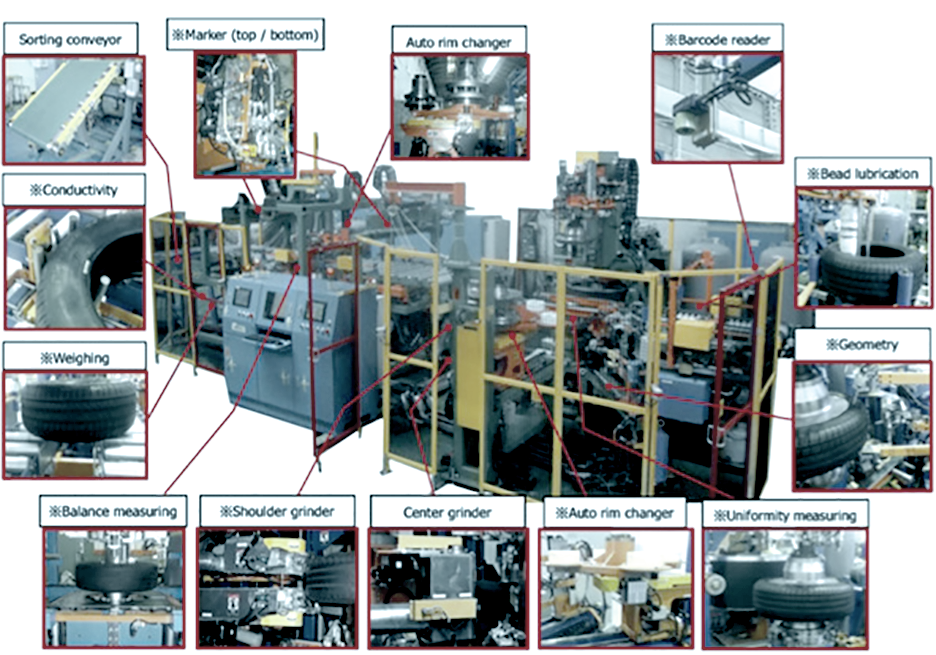 ---
Solutions
Tire Manufacturer
Integrated inspection
Integrated judgment of tire quality
A uniformity machine and dynamic balancing machine are connected to output an integrated judgment on the quality of a newly produced tire. The grinder compensation, tire weight measurement, and continuity check functions can be added as options to both refine and simplify the inspection process. The automaticity of the inspection can be refined further by adding an automatic rim exchange function, tire bar code reading function, and function to communicate with a host computer in the factory.
Products and Service
Guidance (directory) on our INSPECTION MACHINE for demonstration use
A UFM&DBM combined machine is set up for demonstrations at our development center. Come by to try a few trial measurements with our integrated machine.
For customers who want to:
Form integrated judgments when inspecting tires.
Evaluate special tires such as tires for motorcycles and tires designed for extremely high performance.
Check tire conductivity.
Stories of MHI Group Expertise