We share a high value for safety and we pursue the highest level of safety by building high-quality systems and continuing activities.
ISO45001 certification
We have continued to obtain ISO 45001 certification (including its predecessor, OHSAS 18001), the international standard for occupational health and safety management for on-site construction work, and currently maintains the 2018 version.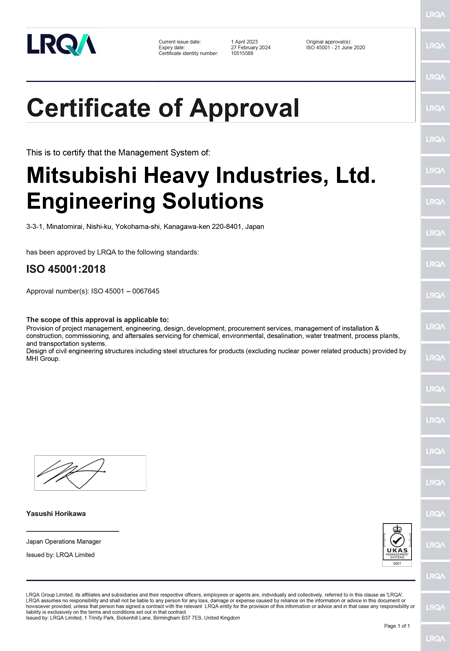 In order to provide a safe and healthy working environment for its workers, Engineering Solutions have established its own health and safety management system and is working to achieve a high level of health and safety standards and continuous improvement in accordance with the health and safety management system (Plan-Do-Check-Action).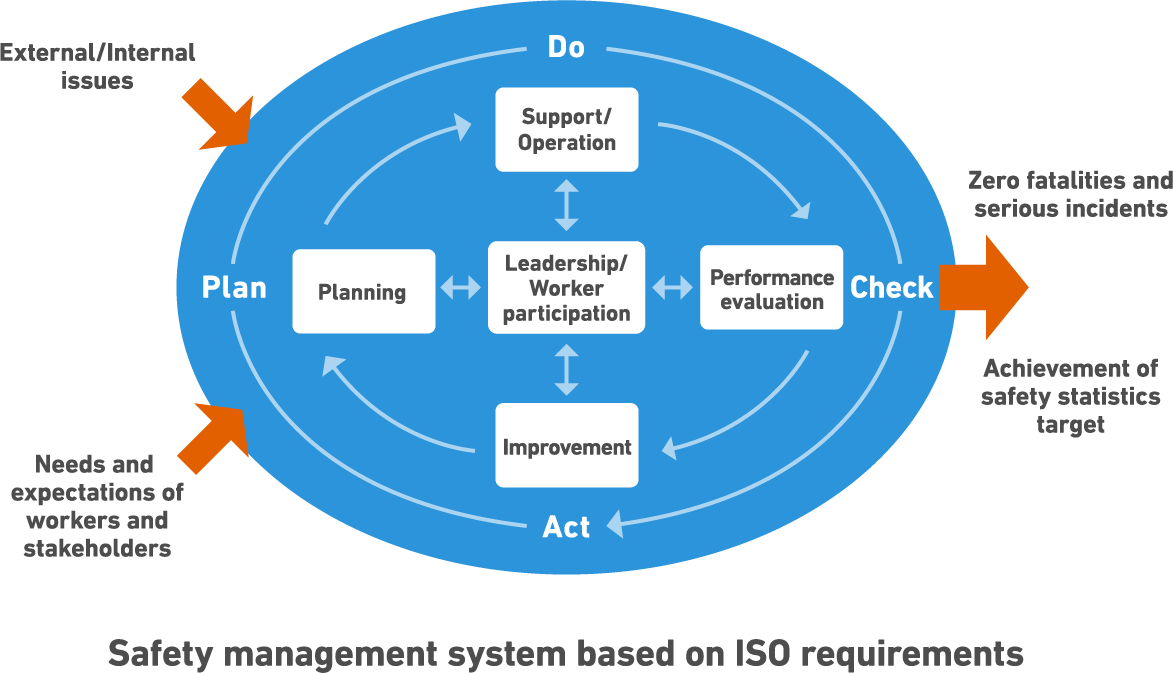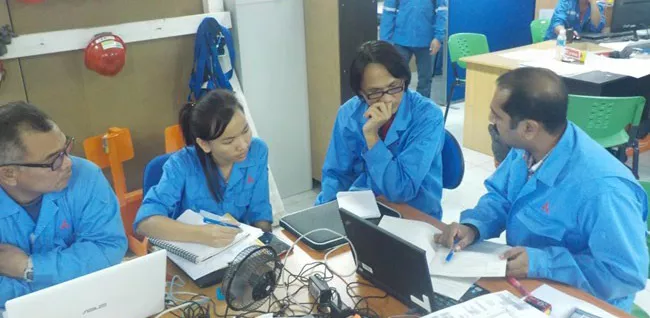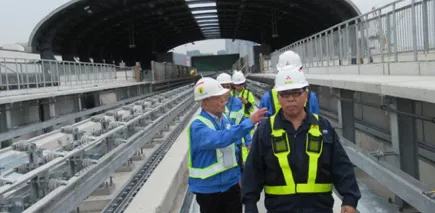 Safety and health management (organization and process)
Our health and safety management system is divided into "Basic process" and "Project process."
Basic process
The HSE Management Department, a professional organization for safety and health management, is responsible for setting, planning, operating, and evaluating the Engineering Solutions' safety and health management objectives, providing governance to each department and project, and providing support.
Through the creation of operational standards, diverse safety and health education programs, and the President's safety awards, we are working to raise the safety awareness of each employee and foster a culture of safety.
Project process
The Construction Department, which carries out safety management at construction sites, cooperates with the HSE Management Department and holds regular meetings to share information on each site. The meetings help maintain high safety standards on all projects.
In addition, HSSE managers (Health, Safety, Security and Environment) are assigned to the construction sites of each project. We will lead daily safety and health activities at construction sites, including advance consideration of safety measures based on risk assessment, on-site safety patrols, and safety instructions at morning meetings.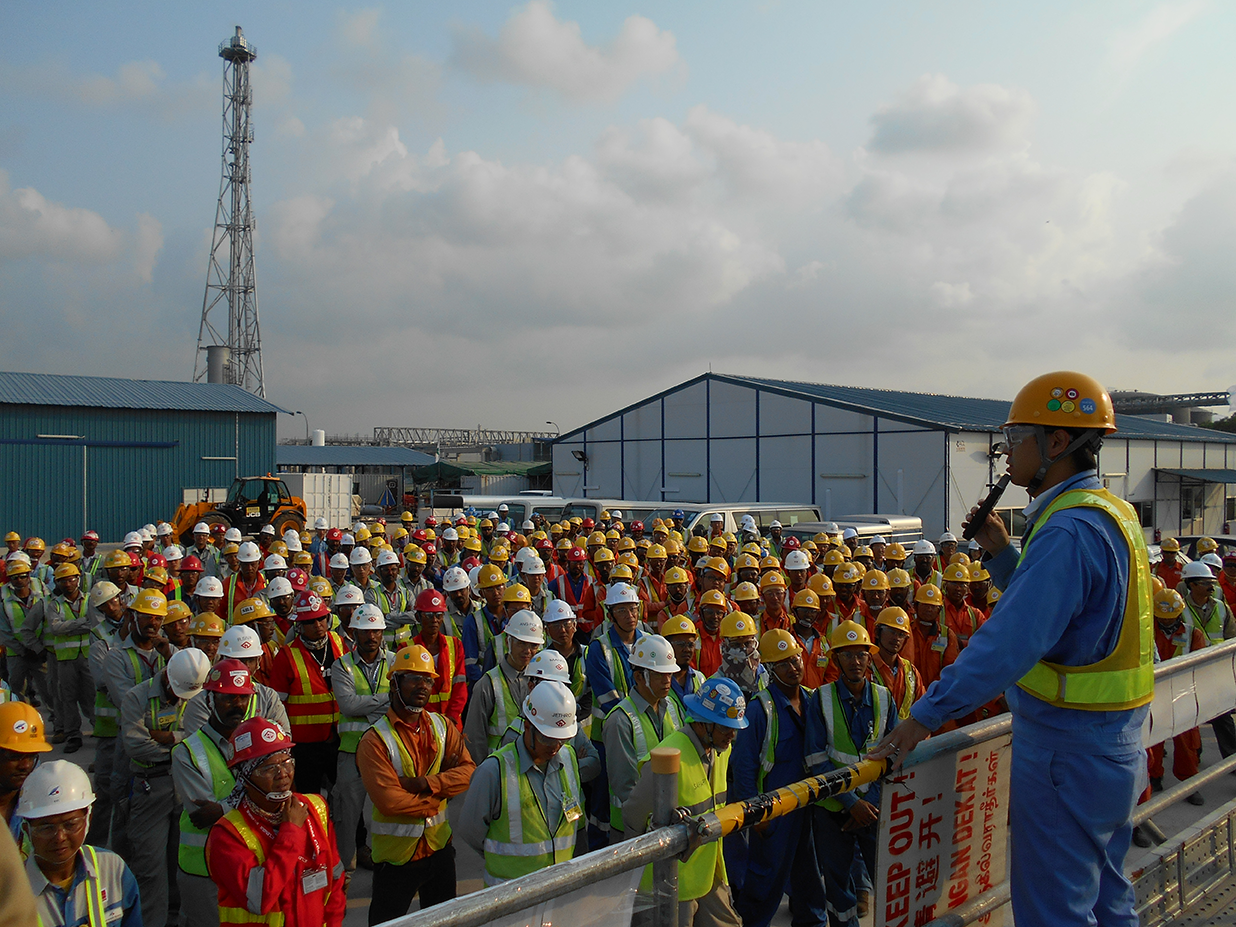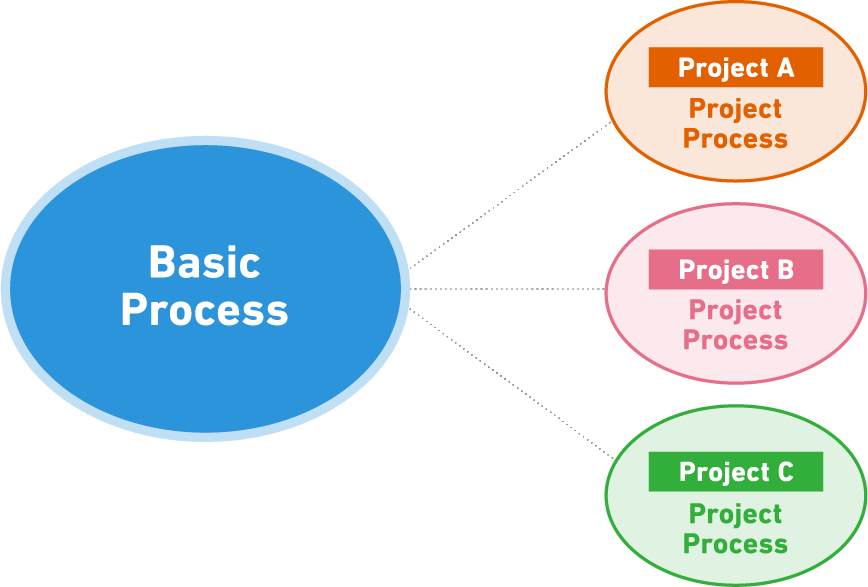 Safety statistics record
Since MHIENG, the predecessor of Engineering Solutions, was founded in 2018, we have maintained a high safety record at both domestic and international construction sites. Using the industry's standard safety management indicators, TRIR (*01) and LTIR (*02), we have set a high level of "TRIR: 0.15 or less, LTIR: 0.03 or less" as our goal (*03). We continue to achieve this goal and in 2021 we achieved zero accidents (0 for both TRIR and LTIR) as a result of the various safety activities we implemented.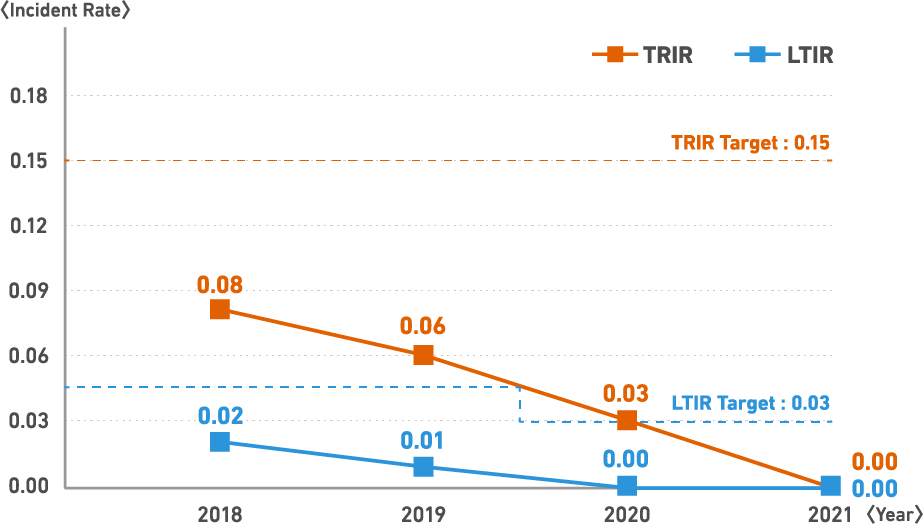 01

Total Recordable Incident Rate : Total Recordable Incident Rate: An index developed by the U.S. Occupational Safety and Health Administration (OSHA) to measure occupational injury safety. Number of Recordable Incidents per 200,000 total working hours

02

Lost Time Incident Rate: Number of Lost Time Incidents per 200,000 total working hours

03

Goal: Our goal is higher than the average safety performance of other companies in the manufacturing and construction industries in Japan and overseas
Activities to raise safety awareness
BBSO(Behavior Based Safety Observation)
At the construction site for each project, we conduct an all-hands BBSO to foster safety awareness, including the detection of unsafe conditions and behaviors, as well as good cases.
We also focus on disaster prevention activities by conducting STARRT (Safety Task Analysis Risk Reduction Talk: Identify and address prework anxiety conditions), LMRA (Last Minute Risk Assessment) and safety patrols.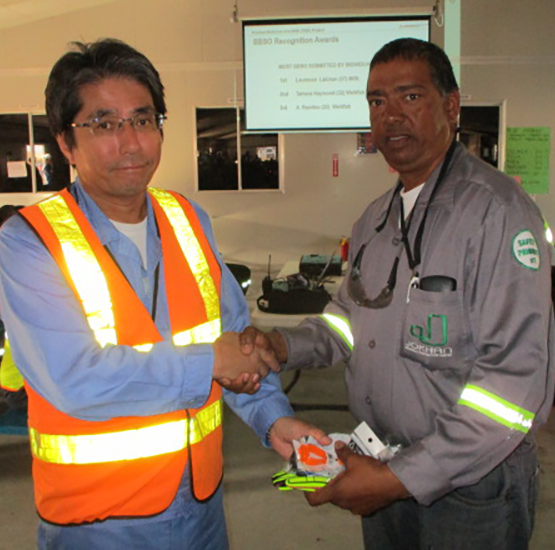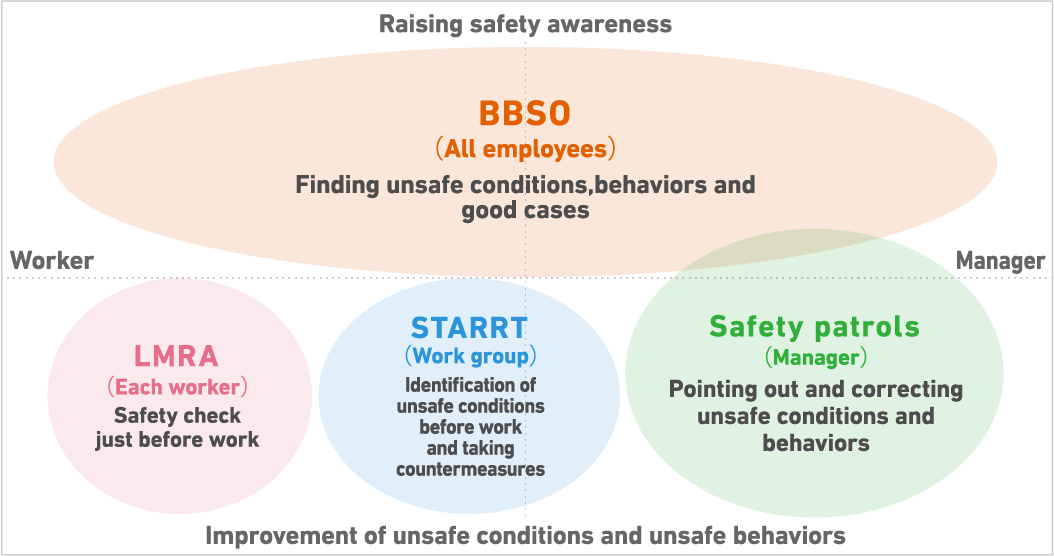 Company training
We develop a "Project Safety Education System" for employee safety and health education, including "Safety Leadership Education" for PM (Project Manager) and SM (Site Manager), and operate an e-Learning education program that enables employees to acquire the necessary safety knowledge at each step to become a PM (Project Manager) or SM (Site Manager).
In addition, as part of the Project Safety Education System, the company conducts a monthly "safety e-drill" not only for project workers but also for all employees, including the executives and administrative departments. By repeating the course until they receive a perfect score, each employee continuously improves their safety knowledge and fosters safety awareness.
Safety activities at Mihara plant
At the Mihara plant, where we manufacture the vehicles and air brake systems, we strive to raise safety awareness as follows,
holding monthly safety conferences to share the month's safety theme for strengthening safety activities
reviewing safety work procedures and ensuring procedures are visual to prevent human errors
implementing daily TBM(*) to remind employees of safety work procedures on the day
providing mutual safety supervision by managers and workplace patrols
conducting greeting campaigns to promote communication, proposing improvements and reporting medical near-miss incidents
Tool Box Meeting : Workplace meeting

Appreciation from customer
Recognition and Appreciation from US Customer
MHIENG(*) and Mitsubishi Heavy Industries America, Inc. have recently completed construction of a large-scale polyethylene plant (the Project), which forms part of Gulf Coast Growth Ventures LLC (GCGV) largescale ethylene complex in Texas, USA. GCGV is a joint venture between ExxonMobil and Saudi Basic Industries Corporation.
Following completion of the Project, we received a recognition letter from GCGV in appreciation of our unwavering commitment to deliver all Project objectives successfully and safely, including achieving ZERO recordable injury.
We are honored to receive recognition and appreciation for completion of the Project with ZERO recordable injury, particularly from a customer that attaches such great importance to safety and requires the world's highest standards of safety management. We place great importance on safety and is always appreciative when its continuous efforts are recognized.
MHI Engineering Solutions will continue to share the importance of safety among all staff and will always pursue the highest standards of safety with all our customers across the world.
MHIENG was integrated into MHI on April 1, 2023, and was established as "MHI Engineering Solutions"