Commercial Web Offset Presses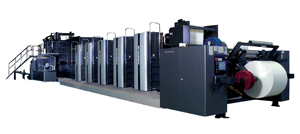 MHI Group offers advanced commercial web offset presses, which enables unparalleled high quality and press performance while reducing waste paper and preparation time to the minimum.
In this day and age, printed materials are becoming smaller in lot size and cheaper. No longer is it sufficient for commercial web offset presses to offer high-quality printing, they now need to achieve low operations cost and high productivity, reducing materials/time loss and the number of operating personnel to the minimum. As an offset press manufacturer, we pride in maintaining high offset printing quality. Our heritage of fundamental technologies, combined with today's most sophisticated mechatronics, new materials, system integration and a whole host of other leading-edge technologies, our new-generation commercial web offset press models bring you a remarkably high level of productivity.
Multiple, consecutive print jobs now require only one push of the start button. By adopting the shaft-less drive, we achieved shortening of printing preparation time, ease of maintenance, and reduction in noise, in addition to reducing power. Furthermore, we succeeded in further improving performance by reducing the waste paper and preparation time by utilizing our different speed control technology. We offer a broad line-up of the folding machines covering a wide range of needs, from tabloids to magazines and digests.
Stories of MHI Group Expertise