EX ROVR, the autonomous, explosion-proof, plant inspection robot : Products
Products
EX ROVR, the autonomous, explosion-proof, plant inspection robot
Fully autonomous operations across multiple floors with advanced stair climbing and obstacle avoidance functionality
Acquisition of asset data through visual imaging, thermal scans, acoustic mapping, and gas concentrations with its suite of advanced sensors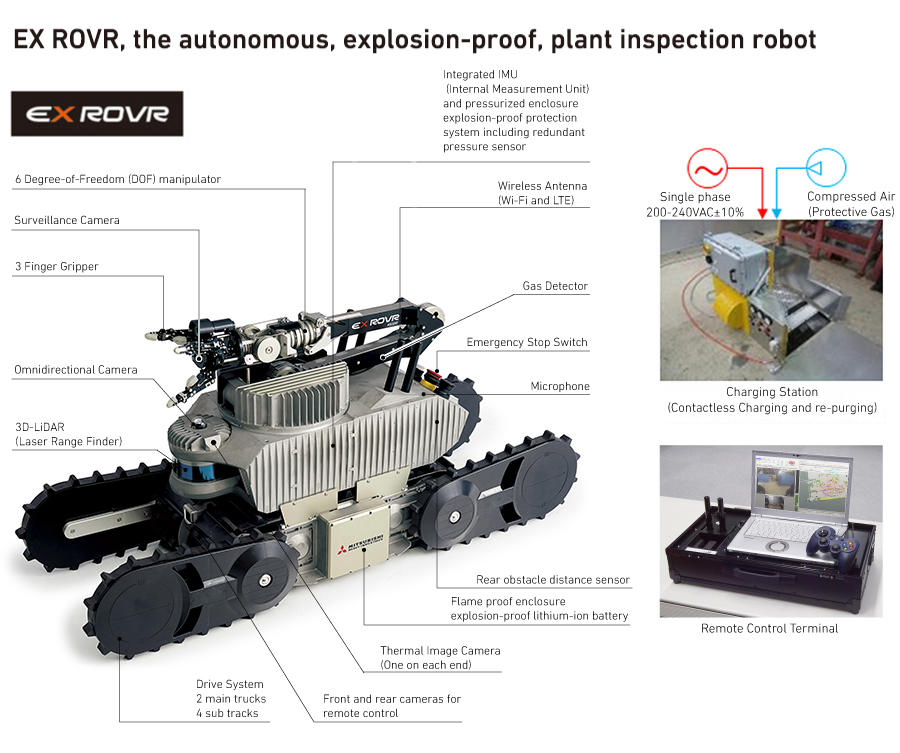 ---
EX ROVR "ASCENT" Hardware outline
ATEX and IECEx Zone 1 explosion-proof certified featuring a large capacity, explosion-proof lithium ion battery and contactless charging in the hazardous location
Fully autonomous operations across multiple floors with advanced stair climbing functionality up to 46 degrees in pitch both up and down
Surveillance camera with 6 DOF manipulator for capturing images in optimized position to targets
Acquisition of asset data through visual imaging, thermal scans, acoustic mapping, and gas concentrations with its suite of advanced sensors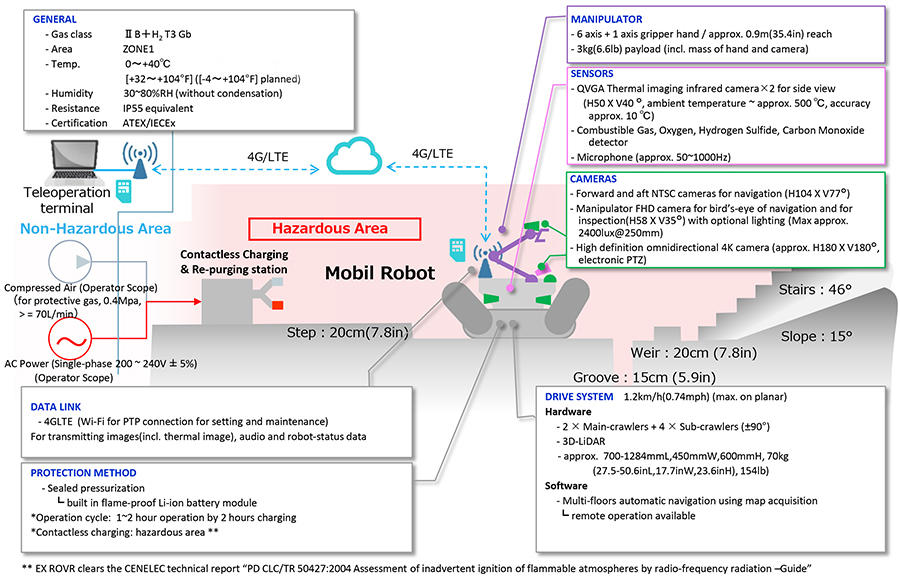 ---
Explosion Proof
Complies with regulations in various countries, IECEx, ATEX, Ex2018
Gas Class: II B + H2 T3 Gb
Area: Zone1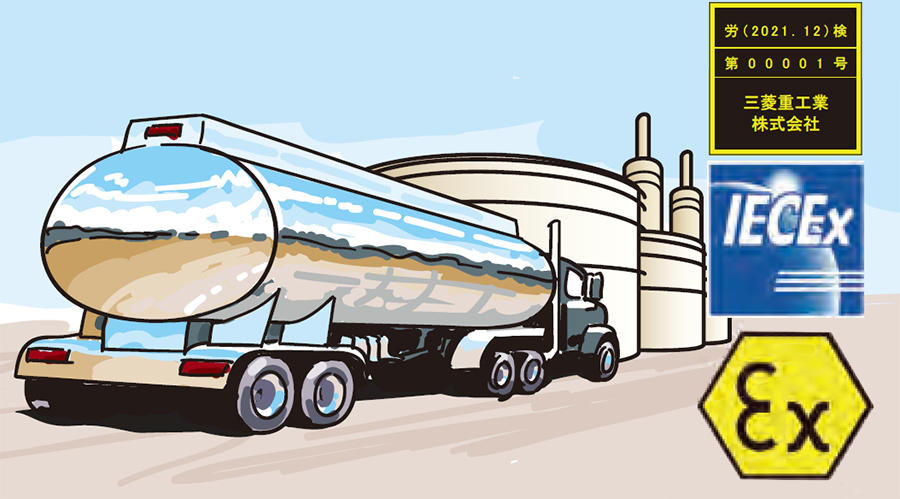 | | | | |
| --- | --- | --- | --- |
| Explosion-proof standard | IECEx | ATEX | Japan (Ex2020(2018)) |
| Explosion-proof rating | Ex db ib pxb IIB+H2 T3 Gb | II 2G Ex db ib pxb IIB+H2 T3 Gb | Ex db pxb IIB+H2 T3 Gb |
| Type approval certification number | IECEx TIIS 22.0002X | SCA 22 ATEX 140X | No. TC22783X |
ASCENT consists of a single internally pressurized explosion-proof enclosure for the main body, and includes main and sub tracks for movement and motor for the manipulator.
The built-in battery that powers the various components is housed in an explosion-proof case together with a lithium-ion battery control unit. ASCENT is equipped with LED lighting, gas detector, optical surveillance camera, microphone and speaker with independent explosion-proof specifications.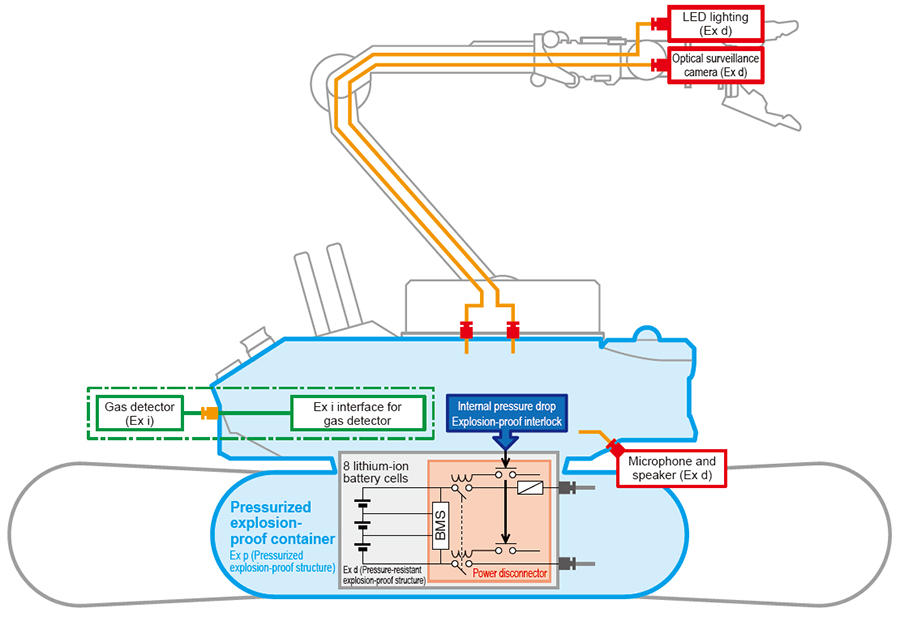 ---
Autonomous Navigation
Performance of autonomous operator rounds even in the complicated environments and low light conditions
Localization through advanced 3D LiDAR maps
Fully autonomous obstacle recognition
Fully autonomous stair climbing ability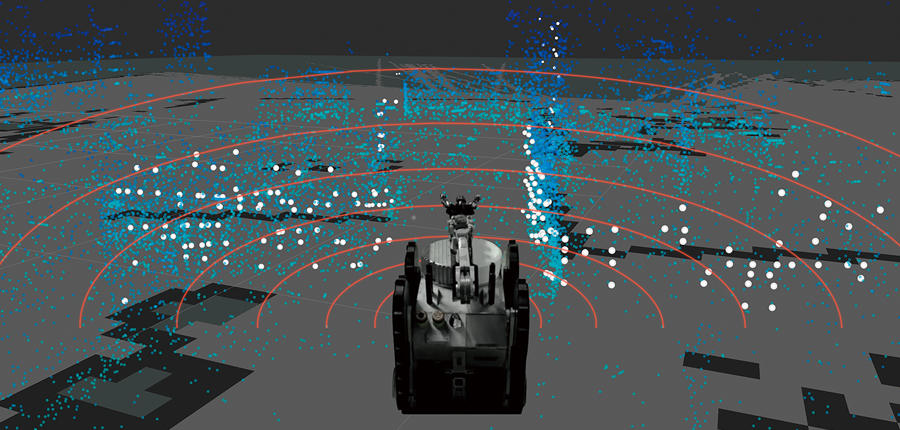 EX ROVR "ASCENT" Setup outline
Robot setup and control for mapping, routing, and autonomous traveling inspection are remotely implemented.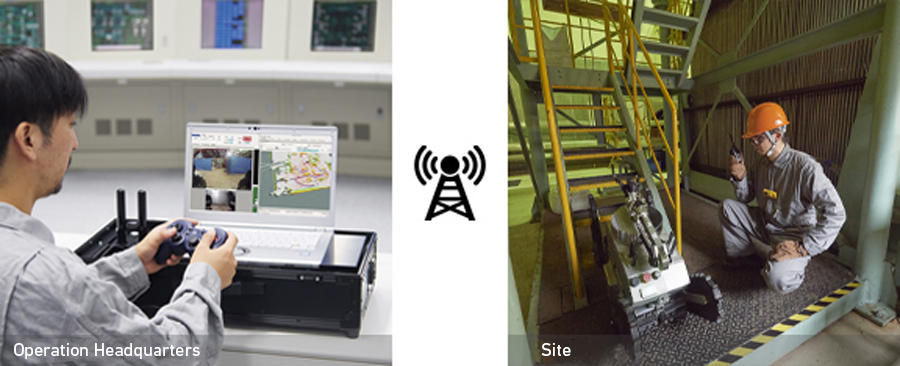 Step 1

Setting remote operator station, robot, and charging station
Step 2

Target area mapping by 3D-LiDAR through remote controlled EX ROVR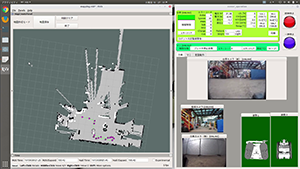 Step 3

Routing & inspection scenario setting through remote controlled EX ROVR
Step 4

Setting EX ROVR deployed inspection schedule and scenario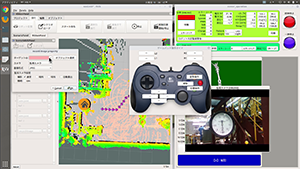 Step 5

Implementing autonomous traveling inspection
・Set inspection scenario implemented automatically according to the set schedule
・Plant field information and images gathered and stored
・Manual remote operation available as necessary by changing from autonomous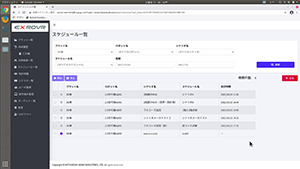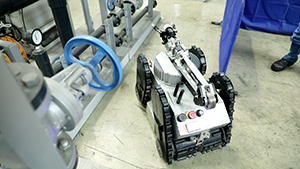 ---
High Mobility
Able to negotiate narrow paths across multiple floors in a complex environment
Can ascend and descend 46 degree staircases
Can turn "on a dime" on a narrow staircase landing
Driving performance of ASCENT
During autonomous patrol
During teleoperation
Slope
Depends on the nature of the obliquity (such as the coefficient of friction)
Slope
See A.
Inclination of 46° or less
Bank
Water runoff slope or less (slope 1/50 to 1/100, or 0.57° to 1.15° in angular terms)
Slope for running without tipping over is 20° or less.
Stairs
Step height: 130 to 220mm
Step depth: 210 to 310mm
Step width: 900mm or greater
For slope, see B.
Step height: 130 to 220mm
Step depth: 210 to 310mm
Step width: 900mm or greater
Inclination of 46° or less
Landing
Capable of navigating landings of the following shapes and dimensions.
U-shaped: Minimum dimensions of 1800mm (W) x 1000mm (D)
L-shaped: Minimum dimensions of 1000mm (W) x 1000mm (D)
I-shaped: Minimum dimensions of 900mm (W) x 900mm (D)
Difference in level
Height: 20cm or less (must have a rectangular cross section)
Height: 40cm or less (depending on form)
Ditches
Width: Within 15cm
Width: Within 30cm (depending on form)
A: Slope that can be navigated during automatic patrol

B: Inclination of stairway that can be navigated during automatic patrol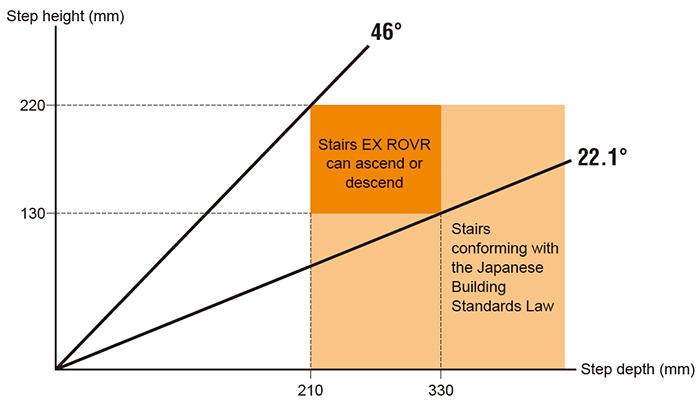 Driving route conditions
ASCENT cannot travel through aisles that are narrower than its own external dimensions. Allow enough space around ASCENT for a person to stand (approx. 900mm).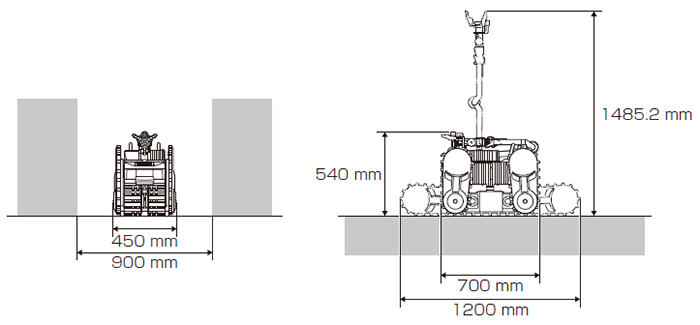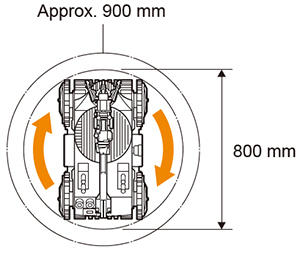 When turning in an aisle, available area must exceed the total length of ASCENT. Allow approximately 900 mm of space as shown in the figure at right.
---
Manipulator
Capable of complex articulation to position camera and end effector close to the target
6 degree of freedom
End effector with 3 finger gripper for positive contact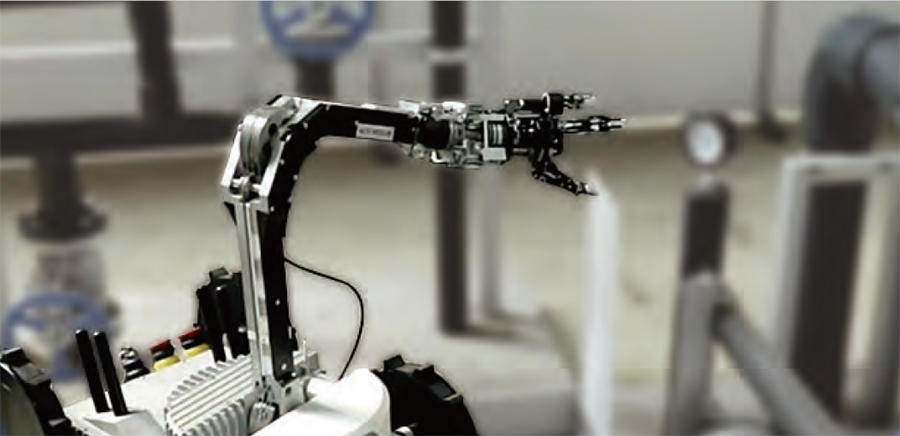 Drive system
Electric servo drive by AC servo motor
Degrees of freedom of movement
6 axes (excluding hand axis)
Axis configuration
Axes of rotation: 3 axes
Pivot axes: 3 axes
Range of movement
Reach: Approx. spherical R 1m semi-dome
Max. velocity (horizontal and vertical from reference position in reference attitude(note))
Approx. 100mm/sec.
Carrying capacity (force generated in reference attitude(note))
Approx. 3kg (including hand)
Operation control
Control of each axis and position/attitude control
Response to anomalies
Error processing
Rated output of drive motor
50W
The reference attitude is shown in the figure below.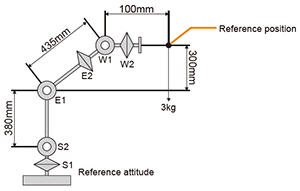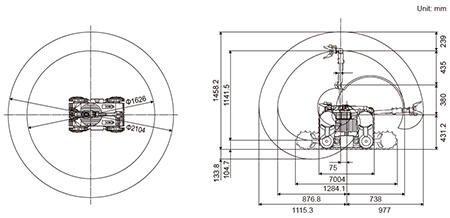 ---
Autonomous Charging
Capable of long run times and quick charging
Contactless induction charger is explosion proof and can be placed in the hazardous location
Rapid charging allows for high availability with 2 hours of operation by 2 hours of charging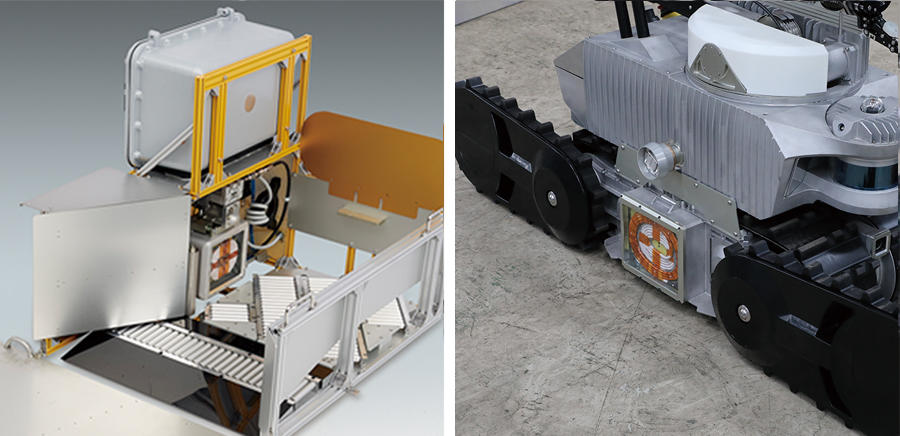 Main Dimensions (mm)
Unit Weight: 70 kg (excluding charging station)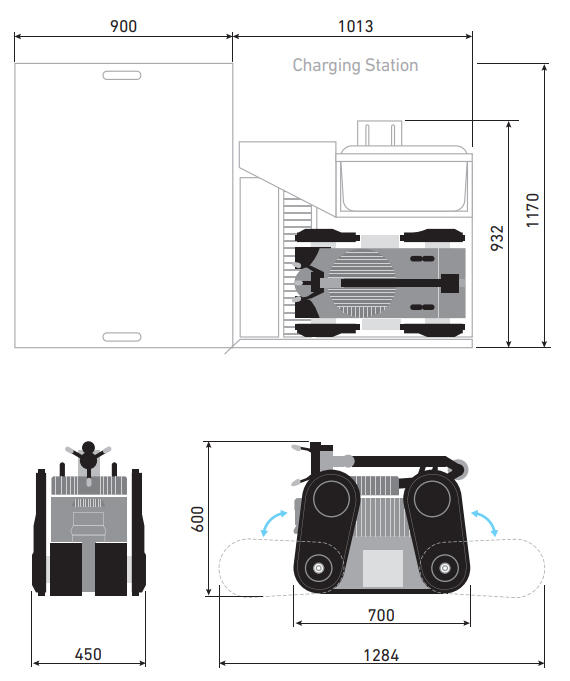 ---
Data Management
Mission planning and data validation can be performed remotely from anywhere in the world
Mission planning inspection waypoints can be set through secure connection via internet browser
Inspection data is securely stored in the cloud and can be accessed on demand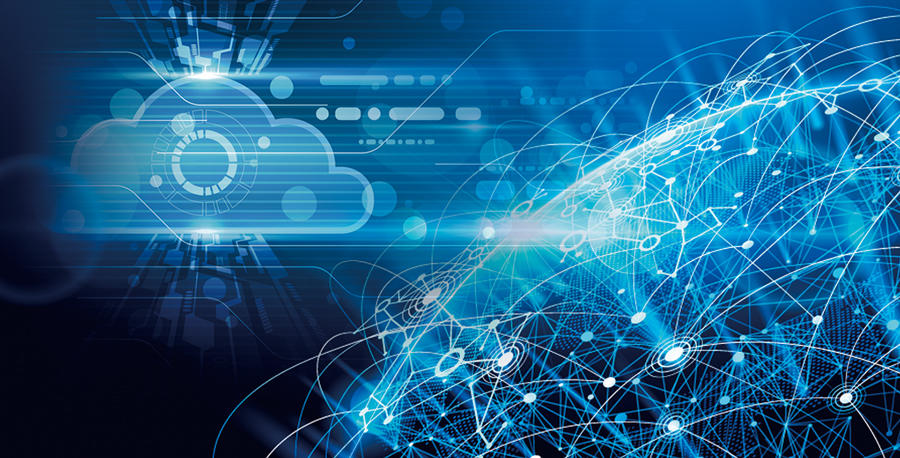 Robot controlling and supervising via 4G/LTE network
Robot gathered plant information storage and management on Cloud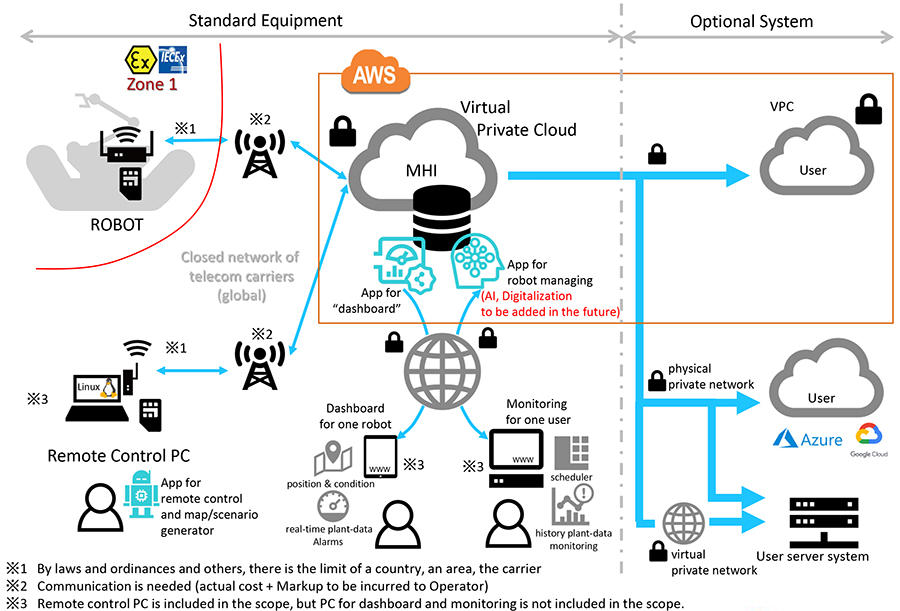 Business Contact
Please send to the inquiry form below or your email address.

Stories of MHI Group Expertise