ITS (Intelligent Transport Systems)

ITS (Intelligent Transport Systems) is the application of technologies that resolves transportation challenges such as congestions, accidents, and pollution.
Traffic jams and accidents are influenced by factors such as road conditions, landforms, and humans. To stop these factors from causing or aggravating problems, we design smoother, more comfortable road environments and traveling experiences based on optimal combinations of solutions backed by ITS (Advanced Intelligent Transport Systems) functions such as toll collection system, ETC (Electronic Toll Collection) system, and traffic management system. We also offer traffic solutions ideal for communities and the global environment not only in Japan, but also in Southeast Asian countries such as Singapore, Malaysia, and Vietnam.
We introduce technologies and expertise abroad from the very early days. Our products and systems have contributed to be development of road transportation in Singapore, Malaysia, Vietnam and other countries. By leveraging network throughout the world, we will continue to provide solutions and contribute to the further development of society around the globe.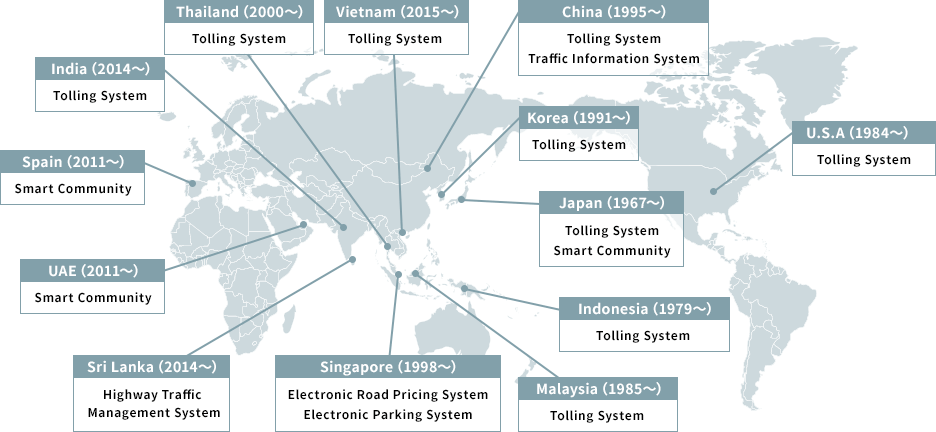 Main Products
Toll collection system for expressways and toll roads, ETC systems and after-sales service
Road Pricing, Parking System and various On-Board Units (Active DSRC and RFID based)
Highway Traffic Management System integrating various pieces of roadside equipment and central system
Smart community project such as EV operation management system
---
Stories of MHI Group Expertise