Solutions - Printing Machinery Digital Plaza
Realizing a highly efficient, highly precise integrated production environment
With the widespread use of CTP, the advantages of digitized prepress have already yielded improved registration accuracy and dot reproduction. Moreover, full-scale implementation of MIS and CIP4-JDF has made it possible to collectively control management data and image data. Now, a digital workflow that can integrate all printing-related processes with the same format data is about to be completed.
As a press manufacturer, Mitsubishi has developed "MAX-net"
- a satellite network system around the press with an interface that enables open networking to MIS and prepress. The IPC Server and PPC Server, which today interface with MIS and prepress were first launched in 1995, and Mitsubishi continues to remain ahead of others with respect to digital developments.
Aiming at realizing a more efficient and more precise integrated production environment, Mitsubishi will continue to propose reliable solutions that lead the digital age in terms of both hardware and software and help you establish a digital workflow.
Reduction in makeready time and sheet waste
The fully automatic plate changer and built-in IPC software programs developed based on experienced operator techniques allow easy API settings and contribute to reduced makeready time and less sheet waste.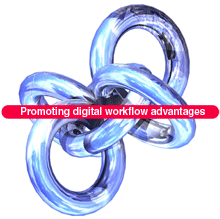 Standardization
With preset data required by the press generated from MIS and prepress, quick press startup and stable standardized printing are possible by virtually any press operator.
Centralized data management
Information on all processes, including press data, production management data and maintenance data as well, are centrally managed in real time.
CMS
Color management is achieved through measured colors outputted by the press and ink profiles fed back to prepress.
Mitsubishi's digital network system MAX-net
MAX-net not only interconnects plant-wide printing presses, color control systems and prepress systems within the conventional workflow, but also establishes an integrated digital environment encompassing the entire printing plant, management information systems, and marketing, materials and production management departments. The IPC Server and PPC Server are integral parts of MAX-net, linking the MIS*1 and prepress stages, and the IPC press control and MCCS color control are also instrumental.

Stories of MHI Group Expertise