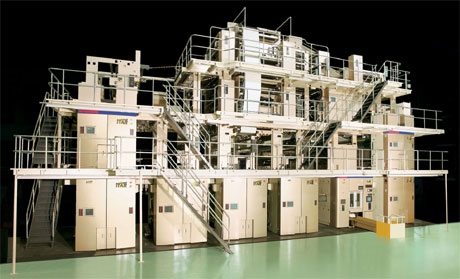 MHI Group is a leading manufacturer of newspaper web offset presses, with excellent track record of providing its products in newspapers worldwide.
Since delivering its first color newspaper offset press for the production of the Sunday edition of a Japanese newspaper in 1966, we have consistently pursued excellence in productivity, quality, and reliability in our products. As a comprehensive manufacturer of offset presses, with sheet-fed offset printing machines and commercial web offset presses in our lineup, we pride ourselves in our strong commitment to print quality which is evident in the Diamond Series, our lineup of newspaper offset presses. By producing world-leading product through achieving various automation and press control systems, we seek to establish newspaper standards today and define productivity and quality standards for tomorrow.
DIAMOND SERIES
DIAMONDSTAR

The Mitsubishi DIAMONDSTAR High-Speed Newspaper Offset Press boasts an unprecedented production speed of 90,000 copies per hour while ensuring high-quality printing. DIAMONDSTAR provides a viable solution to today's demands for higher printing speeds and greater productivity.
DIAMONDSPACE
DIAMONDSPACE is our well-reputed 4x3 press, which continues to lead the newspaper press technology worldwide.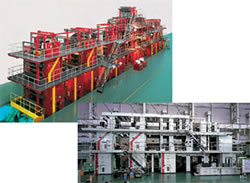 DIAMONDSPIRIT
DIAMONDSPIRIT is the fastest 4x1 shaft-less newspaper offset press in the world. Narrow gap cylinders are employed for both plate and blanket cylinders to reduce vibrations. The use of double-diameter blanket cylinders stabilizes deflection of single-diameter plate cylinders and contributes to a high-quality printing of 80,000 IPH. Moreover, the customer has the option of choosing either conventional blankets or metal-backed blankets. Obviously, the conventional blankets are less costly and help reduce overall operations cost.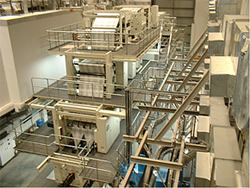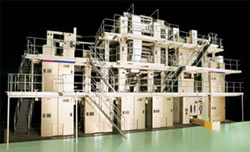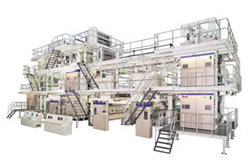 The DIAMONDSPIRIT is not available for sale in and delivery to the following countries: U.S.A., UK, Germany, France, Switzerland, Sweden, and Liechtenstein.
Stories of MHI Group Expertise