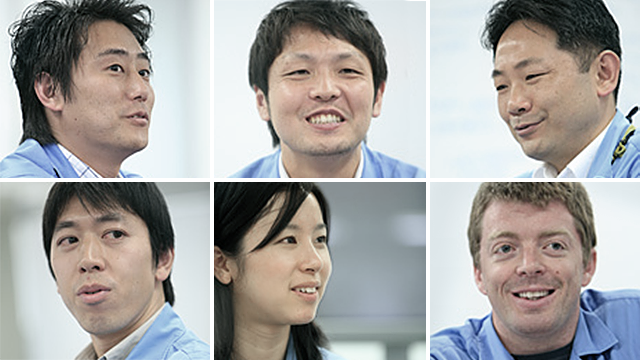 Services Ensure Optimal Operation of Gas-Fired Power Plants Worldwide
Teamwork Founded on 24-7-365 Monitoring
MHI developed a business model ensuring the long-term, optimal operation of gas-fired power plants, which was then fostered as its core business.
Using the Remote Monitoring Center (RMC) located at MHI's Takasago Machinery Works, the 24-7-365 monitoring scope also extends to plants constructed overseas.
The RMC has detected incidents and successfully prevented accidents, earning appreciation and acclaim from our customers.
Let's examine the "CS First" - Customer Service First - approach employed by MHI and see how it is rooted in teamwork and guided by the Long Term Service Agreement (LTSA).
Power Systems Service Division Takasago Power Systems Service Department

Photo from the left:Cormac Myers, Overseas Gas Turbine Customer Support Engineering Group
Tatsuya Nagae, Leader, Service Strategic Planning and Management Group, Overseas Service Department,Power Plant Service Division, Mitsubishi Heavy Industries Plant Construction.Co.,Ltd.
Koji Imakita, Acting Manager, Global Service Project Group
Naotaka Mikami, Remote Monitoring Systems Group
Katsuhiko Abe, Project Director, Takasago Power Systems Service Department
Chihiro Ikeda, Overseas Business Group A
---
Unwavering Commitment to Quality Service
The LTSA is a service package agreement that includes periodic plant inspections and parts replacement for six to ten years or more. MHI provides these services to ensure extended high-efficiency operations for power producers purchasing its gas turbines, some of which are contracted for over 10 billion yen. At a glance, this amount sounds enormous, but it is a reasonable cost from the power producer's perspective. For the power producer, losing power generation for even a single day is an unacceptable risk.
In fact, the LTSA is steadily growing overseas, including Europe, the U.S. and Asia, into what is now a cornerstone business of MHI's Power Systems. One contributing factor could be a global market environment, featuring an ever-increasing number of Independent Power Producers (IPPs) that are inexperienced in maintenance work. Another factor could be the liberalization of electric power markets, as well as unique aspects of MHI's technology. MHI has developed a system that automatically evaluates within a five-minute timeframe more than 150 major items from the roughly 2,000 data points normally retrieved and analyzed for each gas turbine.
However, the main catalyst for growth of the LTSA lies elsewhere - namely in MHI's broadened range of quality services. Naotaka Mikami, of the Remote Monitoring System Group says, "There are various factors that lead to problems, but in our company, we of course monitor plant-related matters, but we also monitor the surrounding environment to include electric power transmission and fuel supply. If we notice anything abnormal, we immediately report it and take appropriate measures." By widening the scope of MHI's service to monitor more than just our delivered facilities, we provide close support to our customers and facilitate their power generation business.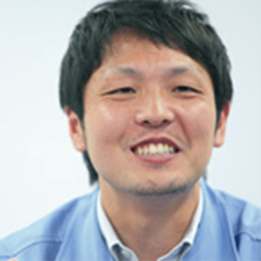 Abnormally High Temperature Detected at the Bearing
Two years ago, a gas turbine at a power plant in Europe was shut down due to the error of a local worker while operating a pressure gauge during maintenance work. Although the problem was resolved, Mikami, who was checking a string of data prior to the shutdown at the RMC, discovered a suspicious signal late at night. Although it was only a fractional period - less than a minute - an abnormally high temperature reading was recorded in a bearing within the turbine shaft. Alert to everything, Mikami determined that continued plant operation could be dangerous and result in a major accident. Accordingly he called an executive of the power company and the power plant manager and urged them to postpone any restart.
Meanwhile, Mikami promptly implemented necessary measures. He requested dispatch of the required personnel from Mitsubishi Power Systems Europe, Ltd. (MPSE) to conduct an emergency check, while also alerting the MHI business sections in Japan responsible for the plant's design and construction. In response to Mikami's report, Tatsuya Nagae, who happened to be in Europe on business, rushed immediately to the scene that same night. "I immediately checked the bearing part and identified some damage. I lost no time in replacing the part and adopting appropriate measures, but the power company demanded an immediate operational restart and wanted to hurry the investigation to prevent any recurrence. I found it very difficult to persuade them that we should take appropriate measures to ensure everything was okay to restart," Nagae recalls looking back.
Conversely, Koji Imakita, who worked to coordinate the project, played a central role in Japan, engaging in discussion on countermeasures and sending those in charge of design and manufacturing to the plant. This was only possible thanks to close coordination with Nagae as well as the timely advice of Cormac Myers, who was thoroughly familiar with the local situation. Imakita recalls, "As a result, although it took four days to repair, it could have been more seriously damaged, taking around one year to recover, had we restarted without realizing the abnormal high temperature. That is how serious it was."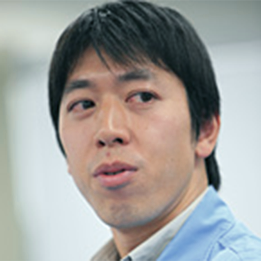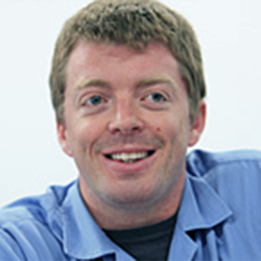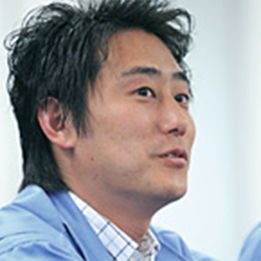 For the Sake of the Power Plant and its End Users
Katsuhiko Abe, who took over the task of performing the LTSA with this power plant, emphasizes the importance of teamwork by explaining, "I have been engaged in gas turbine design and field service work and have spent a decade handling both ever since joining the company. This type of project cannot be successfully implemented without cooperation among various departments, including sales, technical and construction." Chihiro Ikeda, in charge of overseas service sales, remains positive saying, "I would like to strive to enhance service matched with customer needs via cooperation with those around me." MHI established the Power System service department of the Power Systems as a Division on April 1 of this year, reflecting MHI's declared intention to offer the dual pillars of plant engineering and construction, along with services. Currently, MHI monitors operations of its gas-fired power plants worldwide 24 hours a day, seven days a week, 365 days a year. It has expanded its hubs in Japan, the U.S. and Europe to broaden the framework for providing maintenance services to customers. These ongoing efforts have been implemented for the sake of our LTSA partners - the power producers - as well as to ensure that electricity safely reaches corporate and private end users.