MHI Group's In-house Awards for Activities that Contribute to Mitigating Impacts on the Global Environment -- Best Innovation 2021 Awards --
Mitsubishi Heavy Industries, Ltd.'s (MHI) in-house award program "Best Innovation" aims to raise environmental contribution awareness among its Groupwide employees and encourage further innovation. We have selected and recognized the following business activities that contribute to mitigation of environmental Impacts, to preserve and protect the global environment. The award-winning products and practice in 2021 are described below.
Business Activities that Contribute to Mitigation of Environmental Impacts, to Preserve and Protect the Global Environment
Promoting the adoption of CO2 capture technology and commercialization of new "KS-21™" solvent
Mitsubishi Heavy Industries Engineering, Ltd. (MHIENG)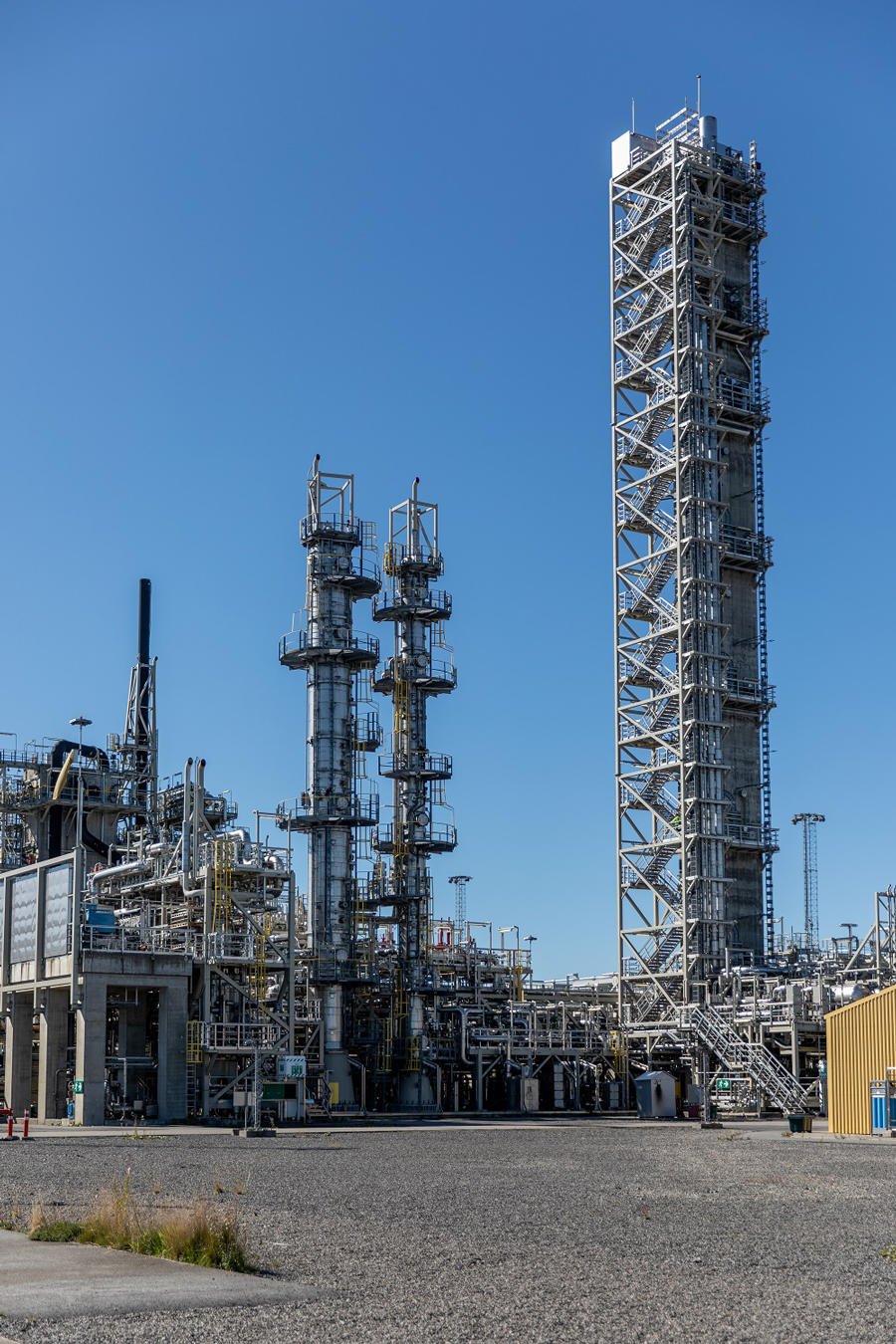 MHIENG currently accounts for the world's highest share with respect to volume of CO2 captured from post-combustion flue gas at commercial plants. As demand has grown for carbon capture from diverse emission sources increasingly – biomass-fueled power plants, LNG liquefaction plants, cement factories, waste-to-energy plants, etc. – MHIENG has received orders worldwide for its services in basic design, pilot demonstration, licensing, etc. In August 2021 the company completed commercialization of its innovative "KS-21™" , a new amine-based solvent developed jointly with Kansai Electric Power Co., Inc., following demonstration testing at the Technology Centre Mongstad (TCM) in Norway, one of the world's largest carbon capture demonstration facilities. The results indicate the solvent's high reliability in CO2 capture from post-combustion flue gas.
"Q-ton Circulation" high-efficiency heat pump featuring new refrigerant and two-stage compression refrigeration cycle
Mitsubishi Heavy Industries Thermal Systems, Ltd.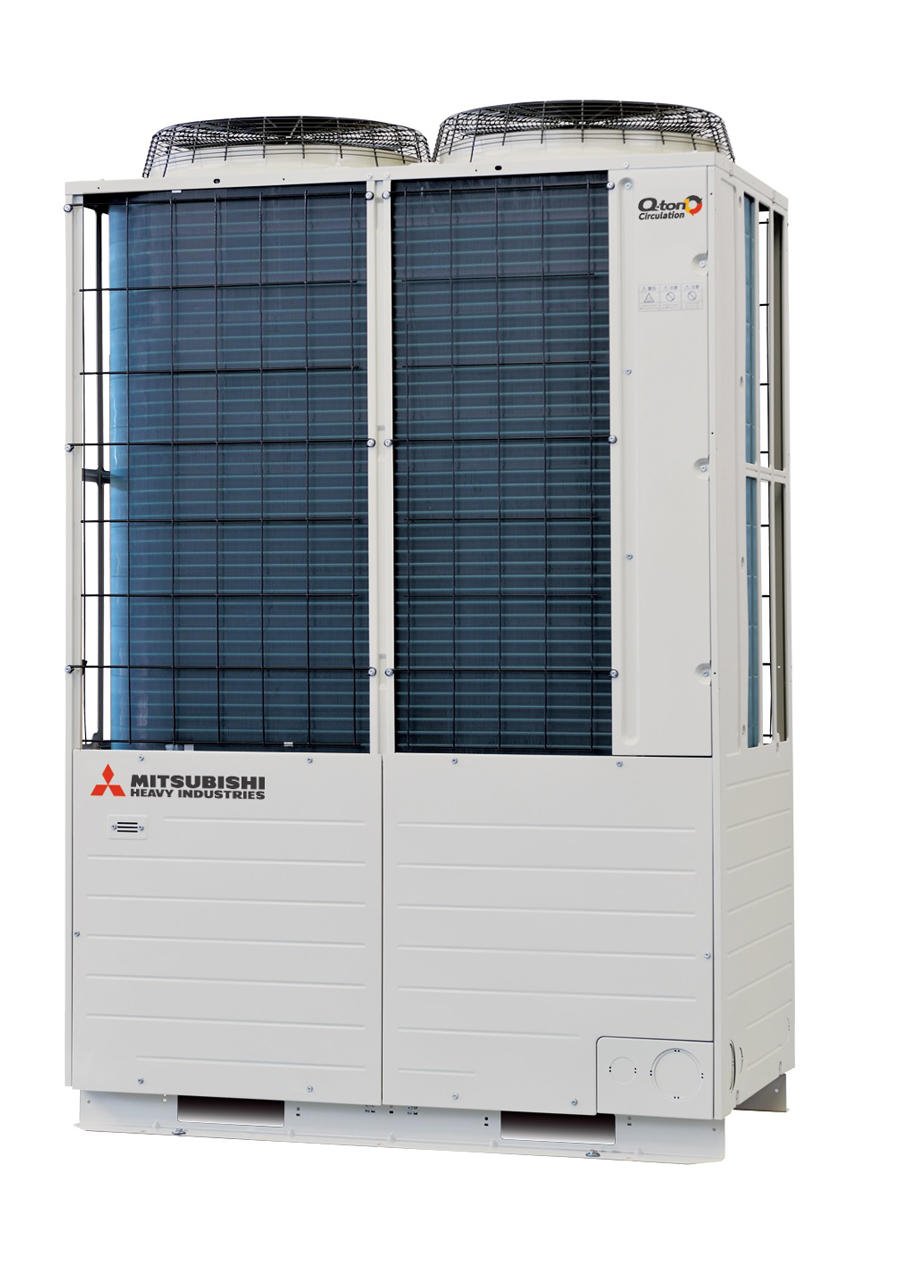 Most conventional circulation-type heat pumps have used refrigerants with a high global warming potential (GWP), raising the need for improvement in terms of lessening environmental impact. The "Q-ton Circulation" heat pump developed by MHI Thermal Systems offers outstanding efficiency and adopts an innovative refrigerant: the R454C featuring a low GWP. Its adoption, which contributes to mitigation of the heat pump's environmental impact, is unprecedented in Japan. The Q-ton Circulation also adopts a two-stage compression refrigeration cycle incorporating a proprietary high-efficiency, large-capacity 3D scroll compressor. Together these features enable provision of 75°C hot water within a remarkably broad range of outside temperatures (-20°C to +43°C), with outstanding energy efficiency. The Q-ton Circulation results in significantly reduced running costs and CO2 emissions.
Power generation facility refurbishment and lower environmental impact from reuse of emergency power supply gas turbines
Energy Transition & Power Headquarters, GTCC Business Division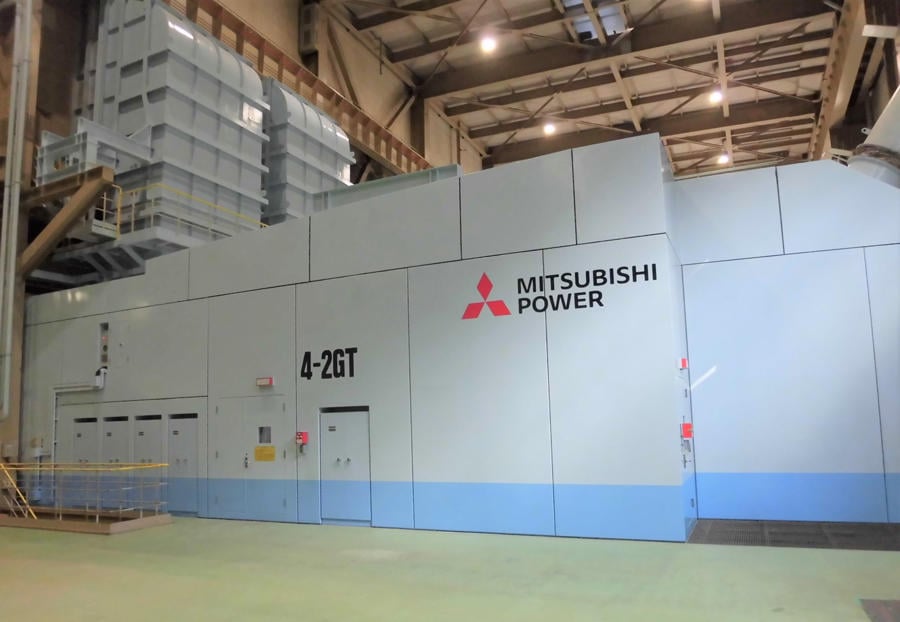 Two M701F gas turbines formerly used for power supply after the Great East Japan Earthquake disaster have been reused for service at other power generation facilities. By reusing as much equipment as possible and owing to turbines' advantages, including reduced fuel consumption and decreased CO2 emissions thanks to higher thermal efficiency, reduction in environmental impact.
CO2 reduction through waste-to-energy plant improvements in combustion control and exhaust gas recirculation
Mitsubishi Heavy Industries Environmental & Chemical Engineering Co., Ltd.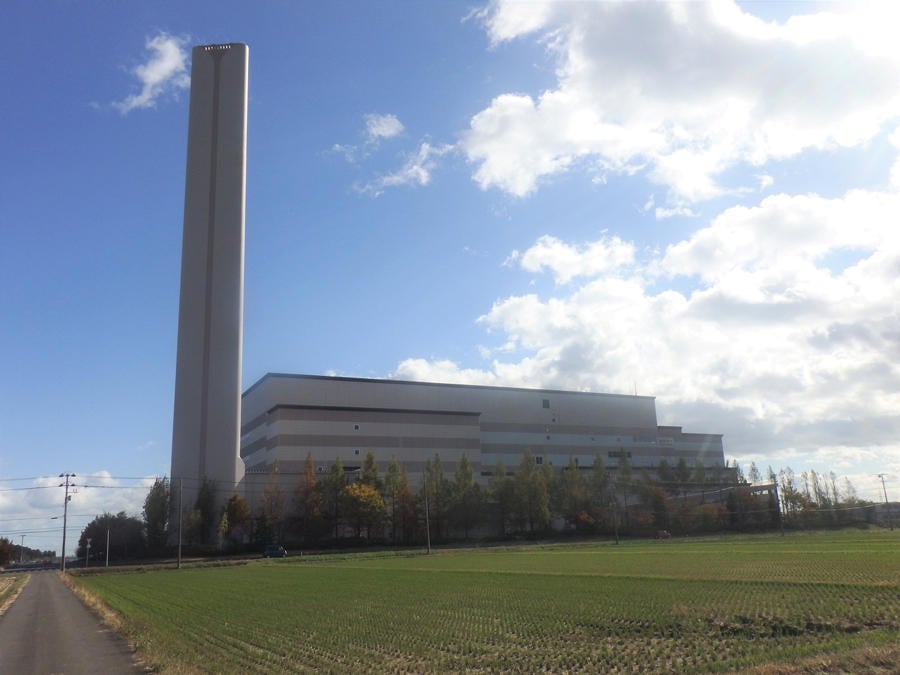 MHIEC has received multiple orders for construction projects to improve the core components of existing waste management facilities previously delivered. The orders are attributable to the company's proactive proposals to local governments of ways to reduce carbon emissions – which is a requisite for receiving a government subsidy for promoting the formation of a recycling society – and its proposals for extending the service life of current incineration plants (conventionally 20 to 25 years) by 10 to 15 years, or more. To reduce carbon emissions, MHIEC has proposed its proprietary new combustion control system, exhaust gas recirculation system, catalyst bag filter, low-temperature catalyst, etc. By improving boiler efficiency and power generation output, these innovations have contributed to mitigating environmental impacts by reducing carbon emissions.
The "Best Innovation" program, held annually since fiscal 2003, is an internal program to recognize innovative new products, services, technologies, businesses, and environmental activities within MHI Group. A total of 17 awards were given this year, including the 4 environment-related projects presented here.
Related links: