Occupational Health and Safety
Fatalities
2015
2016
2017
2018
2019
2020
Coverage
MHI
MHI
Consolidated
(Note 1)
Consolidated
(Note 1)
Consolidated
(Note 1)
Consolidated
(Note 2)
Employees
0
0
0
0
0 ✓
0
Contractors
0
2
1
0
4 ✓
2
LTIFR
(Note 2)
2015
2016
2017
2018
2019
2020
Coverage
MHI
MHI
Consolidated
(Note 1)
Consolidated
(Note 1)
Consolidated
(Note 1)
Consolidated
(Note 2)
Employees
0.11
0.28
0.18
0.17
0.19 ✓
0.23
Contractors
0.45
0.41
0.46
0.29
0.33 ✓
0.51
OIFR
2015
2016
2017
2018
2019
2020
Coverage
MHI
MHI
MHI
MHI
MHI
MHI
Employees
0.02
0.02
0.08
0.03
0.03 ✓
0.00
Number of Industrial accidents
2015
(Note 3)
2016
(Note 3)
2017
2018
2019
2020
Coverage
MHI
MHI
Consolidated
(Note 1)
Consolidated
(Note 1)
Consolidated
(Note 1)
Consolidated
(Note 2)
Employees
34
39
19
17
18 ✓
25
Contractors
-
-
52
37
38 ✓
45
Working hours
2015
2016
2017
2018
2019
2020
Coverage
MHI
MHI
MHI
MHI
MHI
MHI
Hours
108,164,976
89,026,326
218,665,120
227,229,887
207,196,189 ✓
196,694,859
1

Data is for MHI on a non-consolidated basis and 23 Group companies in Japan. (Coverage: 48.5% of employees)

2

Data is for MHI on a non-consolidated basis and 44 Group companies in Japan. (Coverage: 71.3% of employees)
Goals for reducing labour-related accidents (Note 1)
Number of fatal accidents
/ serious incidents
2016
2017
2018
2019
2020
Goal
0
0
0
0
0
Result
2
2
0
5
The accident frequency rate (Note 2)
Goal
-
-
-
-
0.28
Result
0.35
1

Data is for MHI on a non-consolidated basis and 23 Group companies in Japan. (Coverage: 48.5% of employees)

2

The accident frequency rate is the number of casualties and injuries due to occupational accidents per 1 million total working hours and represents the frequency at which disasters occur. Number of casualties due to occupational accidents of requiring 1 day or more of leave ÷ total number of working hours × 1,000,000.

3

The number of industrial accidents for 2014 to 2016 represents all accidents including those not requiring leave of absence.
| | |
| --- | --- |
| Status of activities, training, and awareness regarding to occupational health and safety | As a means to realize our health and safety policies, we have developed an occupational health and safety management system that is capable of both systematically and continuously implement mechanisms related to health and safety. In order to reduce the risk of occupational accidents, an occupational safety risk assessment is carried out while planning new projects and regularly for existing projects. As part of this effort, MHI makes improvements based on the results of risk assessments implemented in each domain. These assessments are related to tasks and equipment which are mainly focused on the safety and manufacturing sectors. We are also implementing safety education for entry-level employees and other employees. This education utilizes visual learning materials and hands-on equipment that make it possible to actually experience accidents through simulations. This hands-on equipment has been installed at each works, including the Nagasaki Shipyard & Machinery Works and Kobe Shipyard & Machinery Works. |
| | |
| --- | --- |
| Response to emergencies | To prepare for possible disasters and accidents, prescribed measures for dealing with emergency situations have been determined for each domain, with consideration given to the characteristics of the Group's business in order to minimize damage and bring any situation that may arise under prompt control. In addition to conducting an investigation and analysis of the situation surrounding an incident and its cause, we are taking measures to prevent similar accidents from recurring. |
Health Management
Programs and iInitiatives for promoting health

In October 2019 the president issued a "Health Management Declaration". Health management must provide all employees to realize motivation to their work and must care about physical and mental health.
Based on the declaration, we compiled the health management plan "Fiscal Year 2020 MHI Group Action 5 Health and Happiness!" report and are carrying out the action measures forward as a Group wide effort.

Health-promotion activities to prevent lifestyle diseases by changing lifestyle (i.e., a blood-vessel-health program and healthy menus) and an online anti-smoking program linked with the MHI health-insurance union
Workplace reforms using stress checks to elicit more smiles and make an atmosphere which employees can ask for advice in ease
Smoking-room reforms and consolidation, and help for smokers to quit and build smoke-free work environments
Groupwide promotion of programs to control lifestyle and other chronic diseases through follow-up care after regular health checks, and a program to prevent aggravation of diabetes using continuous glucose monitors
Comply with 100% achievement implementation of health check up

As indices for health management we set up target KPIs for each health measure in addition to the ratio of sick/injury leave occurrences and lengths. For the three years starting in 2019 we have been encouraging employees to reduce metabolic-syndrome ratio by 10 points and high-stress workplaces to zero.
As a measure against COVID19, we have established a portal site dedicated to COVID19, and we are working to foster a sense of security among our employees by providing guidelines for employees' actions and special treatment for the provision of necessary information and compensation for absence from work.
As part of our approach to deal with mental health, we provide mental health education to new graduate employees, employees seconded to overseas, young employees, managers, and supervisors.
We make an effort to establish a work environment that enables our employees, employees seconded to overseas and their families to consult with industrial physicians and nurses in the workplace and expert counselors, as well as through an Employee Assistance Program (EAP) set up outside the Company.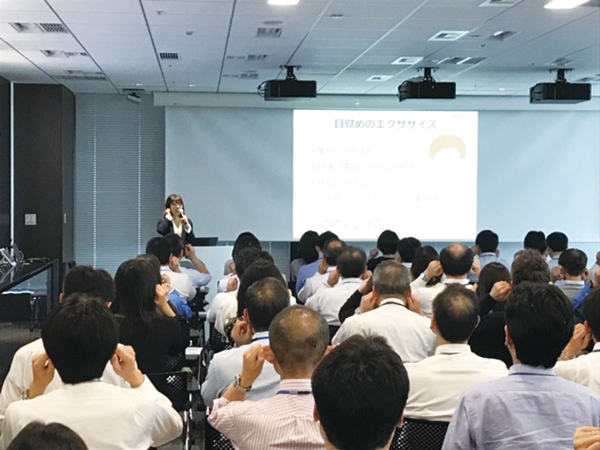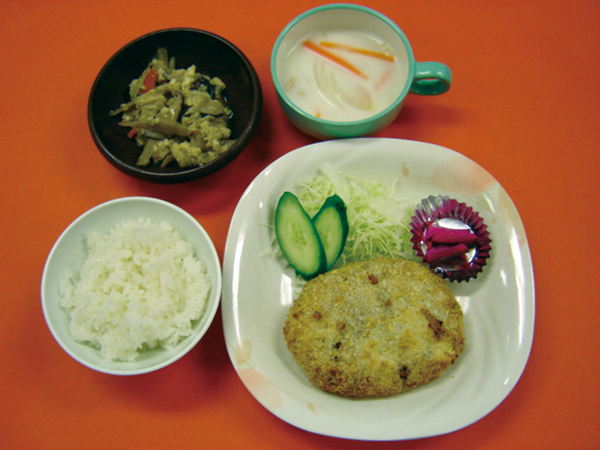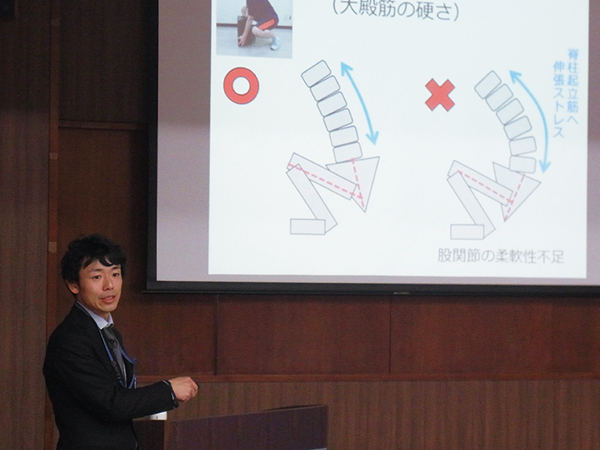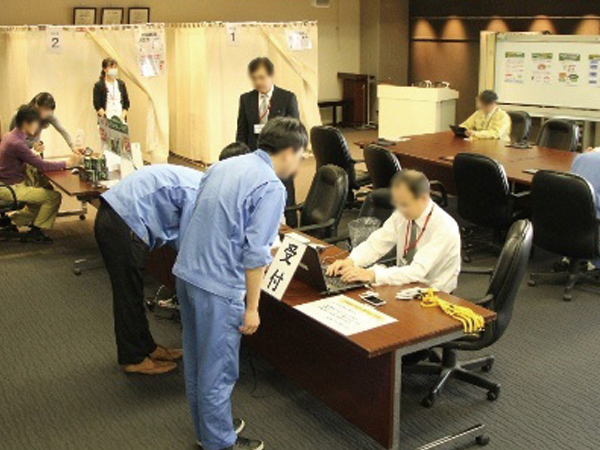 For Employees Traveling Overseas

We give opportunity to learn for employee who travel overseas from Japan, regarding health management, including mental health. We also provide information about globally prevalent illnesses such as tuberculosis, HIV/AIDS, measles, rubella, and viral hepatitis. As well as the spread of and methods for preventing illnesses unique to their destinations, such as malaria, dengue fever and others. If the infection can be prevented through a vaccine, employees are vaccinated at company expense prior to travel.
Health checks are conducted by industrial physicians to permit overseas travels before departing for long-term visits and according to the circumstances of the destination.
Since the COVID-19 pandemic, we have continued our business while giving priority to employees' safety, such as evacuation of expatriates and suspension of new overseas dispatch. MHI will evaluate the risk of aggravation of the COVID-19 infection by pre-dispatch medical examinations and industrial physicians regardless of the length of the dispatch period. MHI decides whether dispatch is possible or not after comprehensively considering the epidemic situation and medical resources of the destination.
Industrial physicians and nurses visit the destinations to conduct evaluations on medical facilities, conduct one-on-one interviews based on heath check results, provide local information, and provide training and guidance on lifestyle conditions according to the needs of the area. We also post letters periodically concerning health management and provide personal consultations to those in poor physical or mental condition through telephone and other venues.
MHI has signed a contract with a medical assistance service provider so that expatriates are able to receive support such as consultation, hospital introductions, and transportation arrangements in Japanese.
Overseas site maintenance: Local patrol supporting by industrial health staff
Visits to areas near medical facilities by industrial physicians
Health education provided by industrial physicians