Materiality of MHI Group
To enhance corporate value and grow in the medium to long term through solutions to social issues, MHI Group has identified materiality it should be addressing.
In response to the increasing importance of sustainability in international standards and guidelines, as seen in recent years in the Sustainable Development Goals (SDGs) adopted by the United Nations, growing ESG Investment, and the EU taxonomy and subsequent changes in megatrends influencing the MHI Group, in 2020 we reviewed the materiality identified in 2015 and added five new items as noted below.
The materiality we identified is reflected in the 2021 Medium-term Business Plan announced in October 2020 and targets have been set for each, with progress regularly monitored as part of the Group's non-financial management indicators.
Materiality
Social issues
SDGs
Foundation to Support Business (Corporate)
Provide energy solutions to enable a carbon neutral world

Mitigate climate change
Reduce GHG emissions
Stable energy/electricity supply
Improve energy efficiency
Popularize renewable energy
Promote 3Rs/circulation economy

Transform society through AI and digitalization

Promote AI/digitalized society
Enhance productivity in response to labor shortages
Update outdated facilities
Enhance transportation safety/convenience
Decarbonize mobility
Diversify transportation needs
React to increased logistics

Build a safer and more secure world

National security by defense
Adapt to climate change
Enhance function/durability of infrastructure
Rationalize infrastructure
Interfere with cyber attacks on industrial systems/IoT
Prevent pandemics and take appropriate measures

Business Contribution (Business)
Promote diversity and increase
employee engagement

Nurture/secure workforces
Respect human rights
Promote diversity
Enhance labor productivity
Labor safety and hygiene
Promote health management

Enhance
Corporate Governance

Corporate governance
Comply with laws and regulations/international standards
Fair competition/business practices
Understand and manage overall corporate risk
Timely information disclosure
Processes Defining Materiality
In redefining materiality, we first took an inventory of the Group's businesses, then linked them to a list of social issues prioritized in line with international frameworks, including the SDGs, the Global Reporting Initiatives (GRI) Standards, ISO 26000, the SASB Standards, and the EU taxonomy.
We then mapped the issues with consideration both to their level of impact on society and from the viewpoint of their importance to the Company.
Additionally, a series of reviews were conducted, primarily by the CSR Committee, and opinions obtained through dialogue with outside experts were also reflected in the selection, which was finalized upon approval of the Executive Committee and the Board of Directors.
Going forward, company-wide targets will be set for each of the five issues of materiality thus identified, along with indices (KPIs) for monitoring progress, as we work to promote sustainability management by steadily continuing related activities.
Step1 Prioritizing Social Issues

We inventoried the Company's businesses and initiatives, linked them to a list of social issues prioritized in line with international frameworks--including the SDGs, the Global Reporting Initiatives (GRI) Standards, ISO 26000, the SASB Standards, the EU taxonomy and others, and identified 37 social issue themes related to MHI Group.
Step2 Mapping Materiality

Importance of social issues assessed and mapped along two axes
(Vertical axis: degree of impact on society; Horizontal axis: importance to the Company)
Nine materiality postulated based on the materiality map
Step3 Verifying Appropriateness

Discussion held at materiality review meetings (consisting of CSR Committee members), and materialitynarrowed down to six items
Dialogue held with three outside experts
Step4 Identifying Materiality

CSR Committee members narrowed materiality down to five issues, which were formally finalized after Executive Committee and Board of Directors meetings in September 2020.
Step5 Company-wide materiality targets and KPIs for monitoring progress set

Company-wide materiality targets and KPIs for monitoring progress reviewed and set
(To be disclosed on the MHI website, etc. after being set in fiscal 2020)
Approach to Identifying Materiality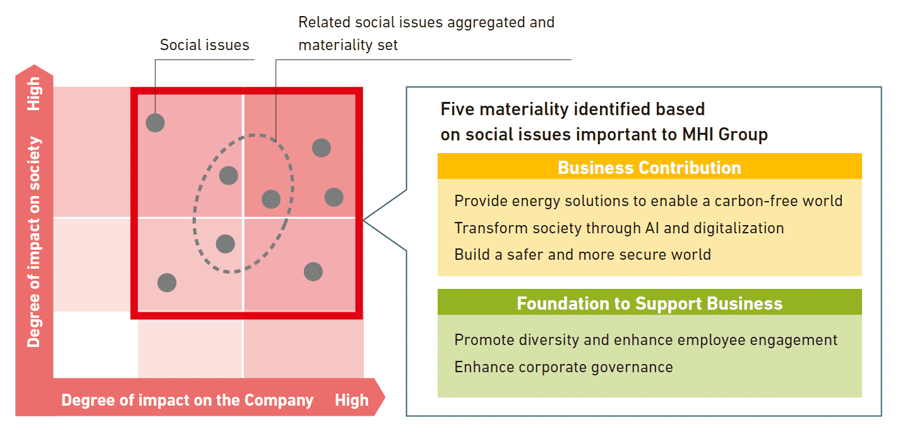 Dialogue held with experts to discuss identifying materiality
On September 4, 2020, a dialogue was held with three experts to discuss identifying materiality. Valuable opinions were offered by the three based on their knowledge of their respective areas of expertise.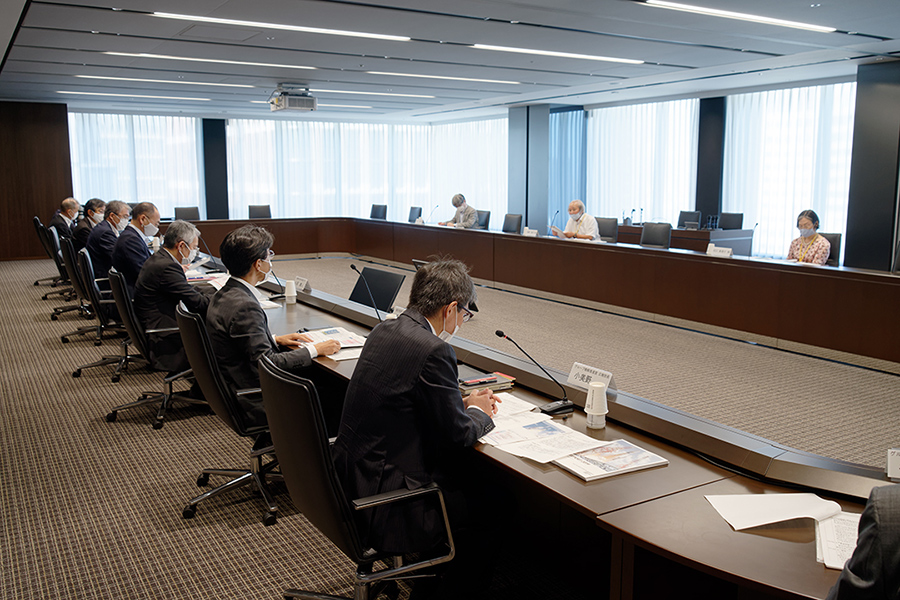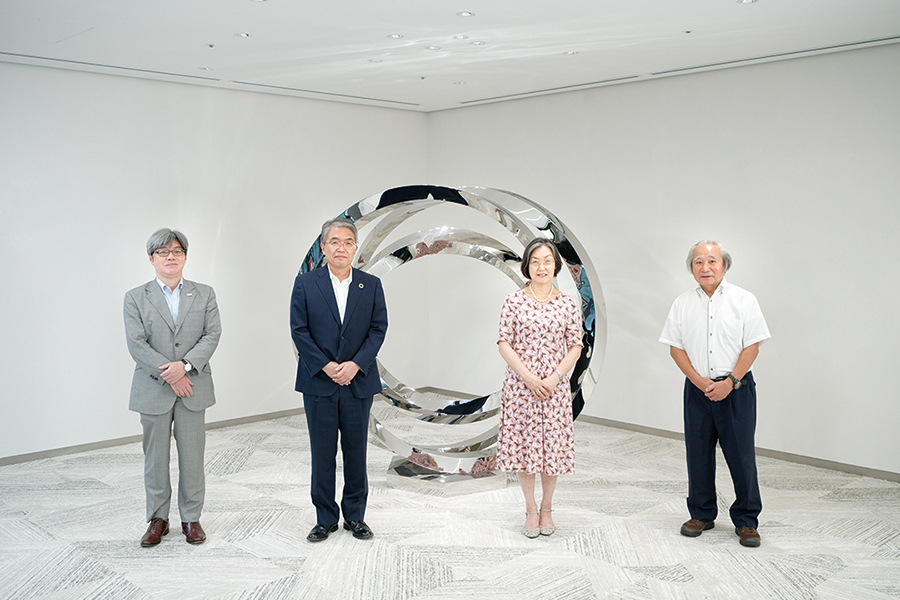 Expert Profiles and Their Opinions
Expert Profiles
Their Opinions

Specially Appointed Professor,
Graduate School of
Social Design Studies,
Rikkyo University

Mariko Kawaguchi

As the world shifts direction toward decarbonization, putting forth decarbonization rather than low-carbon goals is more in line with the times.
What about specifying your approach to adapting to climate change?
Adaptation is one area in which we expect something of MHI.
You can create a powerful message by reevaluating your approach with the understanding that disasters and climate change come as a set.

Chief Executive Officer,
Sustainability Forum Japan
Board Member

Toshihiko Goto

The current materiality represents a significant improvement over those announced in 2015 because they also encompass the Company's development strategy.
It is important to demonstrate the relationship between materiality and your medium- to long-term development strategy.
Materiality would be further improved by an outside-in perspective on your own business, based on the social issues.
Given that more than half of MHI's business is overseas, materiality needs to be compiled with an awareness of their relationship to human rights as well.

Professor, Graduate School of Engineering Special Advisor to the President Institute of Engineering Innovation,
School of Engineering, the University of Tokyo

Ichiro Sakata

If you can put forth ideas for overcoming the trade-off between the shift to smart technologies and increased energy consumption associated with the growing volume of information traffic, this should have an impact on your business strategy and materiality.
Taking issues of digitalization and data into consideration based on MHI's future growth might result in a more forward-thinking discussion.
Those elements can provide a new driver toward efforts to achieve a better society.
Response to Opinions
Based on these dialogues, our materiality now reflects both decarbonization and energy issues in an effort to clearly set forth MHI Group's response to climate change.
In addition, based on suggestions regarding digitalization and data, we have incorporated an AI/Digitalization item as part of our business materiality. We have also positioned respect for human rights as a more important issue of materiality given the expansion of MHI Group's business activities around the globe.
With regards to the relationship between materiality and our medium- to long-term development strategy, we established our Medium-term Business Plan with an understanding of the materiality identified, and will conduct regular monitoring of our materiality targets.
MHI Group materiality established in 2015
Details of materiality established in fiscal 2015 are available starting on page 9 of the ESG DATABOOK 2019.
1. An Optimal Governance Structure Based on Our Corporate Culture
An optimized organization to continually contribute to society through our business
The assurance of fair operating practices and appropriate labour practices
[Objective]
・Ensure an organizational culture in which values are shared globally and universally
[KPI] Number of whistleblowing cases
We have provided two hotlines where any actual or potential breach of the Code of Conduct, and any other actual or potential breaches of ethics, including bribery and corruption, can be reported: the MHI Whistleblowing Hotline, which is available to all employees, including those of Group companies, and the MHI External Whistleblower Hotline. The Compliance Committee Secretariat promptly investigates all reports made to these hotlines, and takes appropriate remedial or preventive action where breaches are identified.
Number of whistleblowing cases, by type
Type
FY2016
FY2017
FY2018
FY2019
Labour and the work environment
42
49
81
69
Overall discipline and breaches of manners
28
17
13
13
Transaction-related laws
11
11
15
12
Consultations and opinions
3
0
1
2
Other
34
36
32
44
Total (number of corrections and improvements)
118
(64)
113
(59)
142
(65)
140
(66)
2. The Use of Global Human Resources
The attraction and development of human resources with the ability to respond to globalization
Diversity and equal opportunity, including the empowerment of female employees.
[Objective]
・Be an organization that embraces diversity (Ensure that barriers to diversity are removed)
[KPI] Number of female managers
In July 2014, MHI has set a target to increase the number of its female managers, in positions of section manager and higher, threefold by 2020 from the level at that point. As a result of promotion for the active participation of women in the workplace in conjunction with its pursuit of diversity management, MHI has achieved the target as of April 1, 2020.
| FY2014 | FY2015 | FY2016 | FY2017 | FY2018 | FY2019 | FY2020 |
| --- | --- | --- | --- | --- | --- | --- |
| 85 | 102 | 126 | 149 | 171 | 204 | 258 |
People in positions of section manager or higher as of April 2020. Figures are for MHI and Mitsubishi Power, Ltd. (Coverage: 92% of employees)
3. Response to Mega Trends
Innovation and quality control to meet global needs
Enhanced safety and security, including improved information disclosure and transparency
[Objective]
・Enact strategic measures and business operations that meet the needs of global society
[Strategic KPIs]
Improvement in stakeholder evaluations (SRI surveys, customer satisfaction surveys and others)