Materiality of MHI Group
To enhance corporate value and grow in the medium to long term through solutions to social issues, in fiscal 2020, MHI Group has identified materiality it should be addressing.
In response to the increasing importance of sustainability in international standards and guidelines, as seen in recent years in the Sustainable Development Goals (SDGs) adopted by the United Nations, growing ESG Investment, and the EU taxonomy and subsequent changes in megatrends influencing the MHI Group, in 2020 we reviewed the materiality identified in 2015 and added five new items as noted below.
Activities that engage in materiality embody sustainability management in terms of business. In order to make materiality activities effective, we will establish subcommittees with managers and departments in each materiality to examine specific measures and roadmaps. In October 2021, we established the Materiality Council, chaired by the President, to follow up on business activities aimed at realizing materiality goals and to instruct business divisions to take necessary measures. These activities are important themes in sustainability management and are regularly reported to the Board of Directors.
Materiality, Problem Recognition, and Company-wide Goals
Provide energy solutions to enable a carbon neutral world [Officer in Charge: CSO and Senior General Manager, Growth Strategy Office]
In recent years, as the effects of climate change become more serious, people eagerly await the realization of a carbon neutral world. In the future, energy infrastructure will be reconstructed in accordance with 3E+S (Note) based on the characteristics of each country, while resource recycling and decarbonization are expected to develop on the demand side. To achieve this transformation of social infrastructure as quickly as possible, the MHI Group will strive to continue using existing facilities and promote carbon recycling by significantly improving energy efficiency, capturing and fixing CO2, introducing carbon-free fuels, and expanding the use of nuclear power and renewable energies that meet the world's highest safety standards.
Company-wide goals
Updated targets in line with the Carbon Neutral Declaration announced in October 2021
Decarbonize the MHI Group's business activities by 2040
Contribute to building up energy infrastructure toward a carbon neutral world by 2050
Contribute to decarbonization in the energy demand sector by 2050
Contribute to building a circular economy
3E+S: Energy Security, Economic Efficiency, Environment + Safety
Transform society through AI and digitalization [Officer in Charge: Senior General Manager, Growth Strategy Office]
Due to the rapid advancement of AI and digitalization present day, human values, activities, and lifestyles are undergoing major changes. In the midst of various social concerns such as climate change, aging societies with low birthrates, widening disparity between the rich and the poor, and COVID-19, two key themes are how to provide a convenient and comfortable life to everyone without discrimination and how to live in a sustainable manner. The MHI Group will seek to realize a society that balances economic development with the resolution of social issues (Society 5.0) by breaking away from preconceived notions and maximizing the use of AI and digitalization to pursue the question of what it means for people to lead affluent lives.
Company-wide goals
Expand lineup of convenient and sustainable AI/digital products meeting needs of customers and users
Create a future-oriented energy management structure
Build a foundation to produce creative products
Build a safer and more secure world [Officer in Charge: CTO]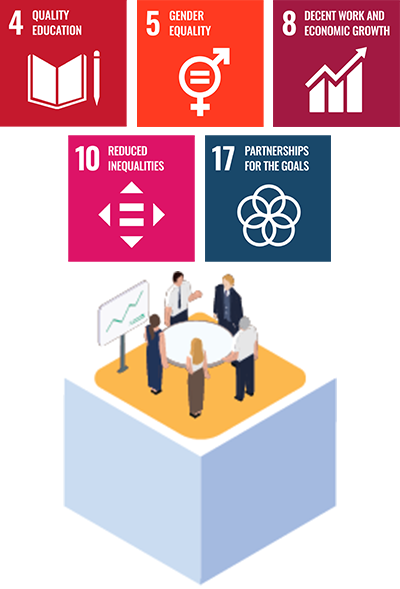 Building a safe and secure society is essential for realizing affluent lives. In recent years, we have faced various risks including natural disasters, pandemics, a shrinking workforce, and changes in the security environment, including cyberspace. Since its establishment, the MHI Group has contributed to the development of society by building critical infrastructure and taking on challenges in the unknown worlds of space and the deep sea. By drawing on this wealth of knowledge and experience, we will build a flexible, robust, and labor-saving system that will contribute to the realization of a safer and more secure society.
Company-wide goals
Make critical infrastructure more resilient
Make critical infrastructure unmanned or requiring fewer people
Continuously strengthen cybersecurity measures for all MHI products
Commercialize cross-domain security technologies
Develop engineers keenly aware of safety and security needs in all products
Promote diversity and increase employee engagement [Officer in Charge: In charge of HR]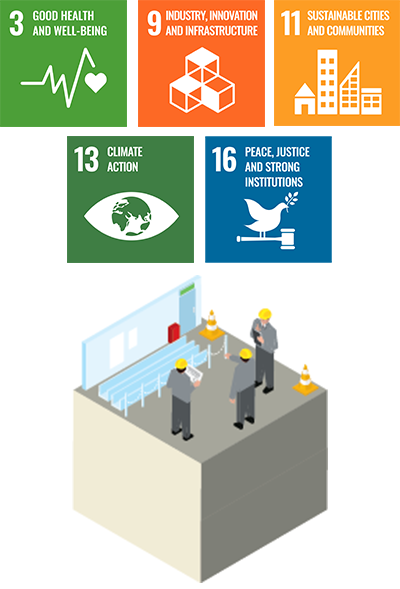 Given the globalization of business in recent years, there is an urgent need to develop human resources who have a firm awareness of human rights across the supply chain and can operate on the international stage. In addition, to continue creating new value based on diverse ideas, it is essential to improve productivity and ensure safety by building a culture in which each individual is respected and can demonstrate and develop their abilities. Therefore, we support the growth and health of human resources through the promotion of diversity and health management. Our goal is to train human resources who are full of vitality and can contribute to society not only during their employment but also after retirement.
Company-wide goals
Create new value through participation of diverse human resources
Ensure safe and comfortable workplaces
Support the health and vitality of employees, so they can contribute to society
Foster self-sustaining growth in all employees
Increase employee engagement
Enhance corporate governance [Officer in Charge: GC]
For a company to continue to provide value to society, it is important to earnestly address the issues and demands of global society and form a sound organizational culture. Since we have a particularly diverse range of businesses, it is essential that we strengthen the governance structure of the entire Group. We will promote compliance management and strengthen internal controls to ensure compliance with laws and regulations and promote honest, fair, and equitable business practices. We will promptly identify opportunities and risks for the organization and take appropriate action. In addition, to earn the trust of society, we will implement timely and appropriate information disclosure regarding management, while ensuring fairness and transparency.
Company-wide goals
Further improve Board of Directors meetings
Promote legal compliance and honest and fair business practices
Further promote responsible (CSR) procurement in the global supply chain
Create opportunities to explain non-financial information
Processes Defining Materiality
In redefining materiality, we first took an inventory of the Group's businesses, then linked them to a list of social issues prioritized in line with international frameworks, including the SDGs, the Global Reporting Initiatives (GRI) Standards, ISO 26000, the SASB Standards, and the EU taxonomy.
We then mapped the issues with consideration both to their level of impact on society and from the viewpoint of their importance to the Company.
Additionally, a series of reviews were conducted, primarily by the CSR Committee, and opinions obtained through dialogue with outside experts were also reflected in the selection, which was finalized upon approval of the Executive Committee and the Board of Directors.
Going forward, we will promote sustainability management by promoting activities in cooperation with business divisions and related divisions centered on the responsible managers and supervising divisions, monitoring progress on the Materiality Council and implementing PDCA.
Step1 Prioritizing Social Issues

We inventoried the Company's businesses and initiatives, linked them to a list of social issues prioritized in line with international frameworks--including the SDGs, the Global Reporting Initiatives (GRI) Standards, ISO 26000, the SASB Standards, the EU taxonomy and others, and identified 37 social issue themes related to MHI Group.
Step2 Mapping Materiality

Importance of social issues assessed and mapped along two axes
(Vertical axis: degree of impact on society; Horizontal axis: degree of impact on the company)
Nine materiality postulated based on the materiality map
Step3 Verifying Appropriateness

Discussion held at materiality review meetings (consisting of CSR Committee members), and materiality narrowed down to six items
Dialogue held with three outside experts (Refer to page 10 of the ESG DATABOOK 2020)

[Expert]
Indicated roles and titles are as of the indicated date.

Specially Appointed Professor, Graduate School of Social Design Studies, Rikkyo University, Mariko Kawaguchi
Chief Executive Officer, Sustainability Forum Japan Board Member, Toshihiko Goto
Professor, Graduate School of Engineering Special Advisor to the President Institute of Engineering Innovation, School of Engineering, the University of Tokyo, Ichiro Sakata
Step4 Identifying Materiality

CSR Committee members narrowed materiality down to five issues, which were formally finalized after Executive Committee and Board of Directors meetings in September 2020.
Step5 Company-wide Materiality Targets and KPIs for Monitoring Progress Set

Company-wide materiality targets and KPIs for monitoring progress reviewed and set. (Note)

We are going to be released on our websites by the end of fiscal 2021.
Approach to Identifying Materiality
Discussion of the Materiality Determination with Outside Directors
Step 5 of the materiality determination process involves setting company-wide objectives and selecting KPIs for monitoring progress. This step was performed mainly by a task force comprising young and mid-level employees who will shoulder MHI Group's future. In May 2021, the task force met with outside directors and discussed the objectives and metrics, and had wanting the activity of materiality to develop than an outside director more, a powerful yell.
Third-party Assurance (AA1000AS)
We have obtained the AA1000AS warranty from an independent third party for the disclosure information regarding the "Mitsubishi Heavy Industries Group Materiality" identified in 2020. (For details, please see ESGDATABOOK2021 pages 90-91.)