Shipbuilding Engineering:Hull Form Development
We provide energy efficient hull form to comply latest environmental regulations based on advanced CFD tools and vast tank test database.
Performance Estimation・CFD Analysis・Hull Form Optimazation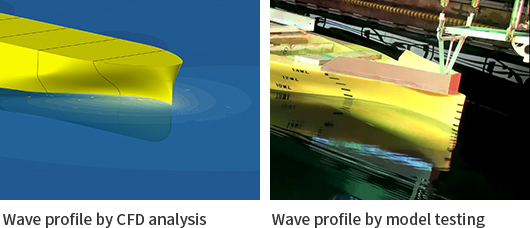 It is our design philosophy to carry out hull form optimization based on actual operational profile, so that it would obtain flexible performance on various speeds and drafts. Not only our hull form complies latest EEDI regulations, but also contributes to reduction of environmental burden through energy savings in actual daily operations.

Vast model test database accumulated over 100 years of history
Sea trial feedbacks from new-building ships
Hull form optimization supported by advanced CFD analysis
Simultaneous CFD analysis combined with propeller, rudder and energy saving device to seek the best combination
---
Energy Saving Devices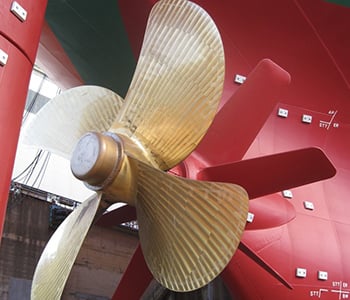 Mitsubishi Reaction Fin
Energy Savings of 6 – 8%
Suitable for blunt hull form such as bulkers and tankers
Fitted over 140 ships
Mitsubishi Air Lubrication System (MALS)
Air bubble carpet will reduce the viscosity resistance of flat bottom
Performance confirmed of 5% with cruise ship, 12% with module carrier
Suitable for shallow draft, blunt hull form
Fitted on 21 ships
Stories of MHI Group Expertise