Mitsubishi Stoker Waste to Energy System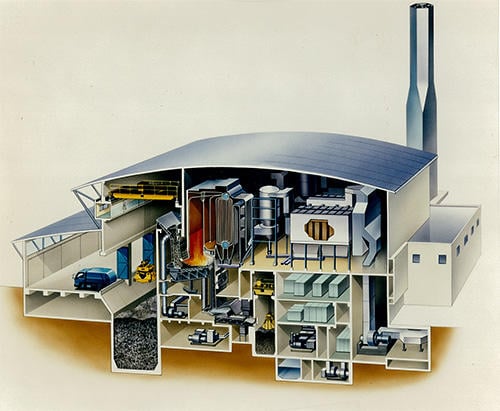 We, Mitsubishi Heavy Industries Environmental & Chemical Engineering Co., Ltd., are a world leading engineering company in the field of Waste to Energy(WtE) system and have delivered and constructed more than 200 plants since 1964.
Major Advantages
Major advantages of Mitsubishi WtE System are as follows.
"High Reliable Performance & Long Service Life" proven by its worldwide delivery records.
"Complete Combustion" achieved by the reciprocating stoker.
"Easy & Stable Operation" achieved by the automatic combustion control.
"Perfect Air Pollution Control" achieved by the advanced flue gas treatment.
System Flow

| | | | | | |
| --- | --- | --- | --- | --- | --- |
| 1 | Refuse discharging stage | 2 | Refuse discharging door | 3 | Refuse pit |
| 4 | Refuse crane control room | 5 | Refuse crane | 6 | Hopper |
| 7 | Feeder | 8 | Reciprocating stoker | 9 | Furnace |
| 10 | Boiler | 11 | Bag filter | 12 | Induced draft fan |
| 13 | Stack | 14 | Ash discharger | 15 | Deaerator |
| 16 | Condenser | 17 | Turbine generator | 18 | Exhaust gas recirculation fan |
Stories of MHI Group Expertise