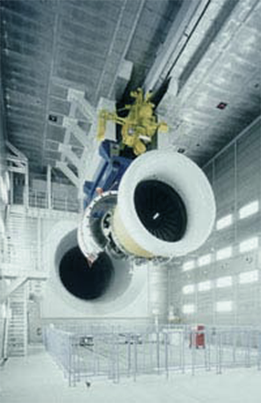 Low-acoustic noise, high-performance test cell corresponding to a large jet engine in the maximum thrust force (140,000 lbs.) class.
This large-scale test cell will ensure unparalleled work efficiency in stabilized operation tests for the coming generations of larger-sized jet airliner engines. Our company delivered the world's largest test cells to the engine maintenance company (SIAEC) of Singapore Airlines (SIA) in June 1999. This test cell has the capacity to test a jet engine with a maximum thrust force of 150,000 lbs.
Feature
Stable Supply of a Large Flow of Air

An original intake system capable of stably and smoothly delivering the large flow of air required for engine operation, from Mitsubishi Heavy Industries Machinery Systems.
Optimal Layout Design

Optimal layout design for conveying, installing, and operating the engine during the test.
Thorough Sound Isolation

Thorough sound isolation system to control audible sounds and low-frequency air vibration during operation.
High-Efficiency Engine Operation

High-efficiency engine operation and data measurement & processing by computerized control.
Sales and Service Department
Mitsubishi Heavy Industries Machinery Systems, Ltd.
Slide horizontally to see the table.
Name
Address
Department name
Headquarters
1-1, Wadasaki-cho 1-chome, Hyogo-ku, Kobe 652-8585, Japan
Testing Facility Sales Section, Machinery & Hydraulic System Sales Department, Infrastructure Facilities Business Division

Phone: +81-78-672-4604
Stories of MHI Group Expertise