Theater and Stage Machinery System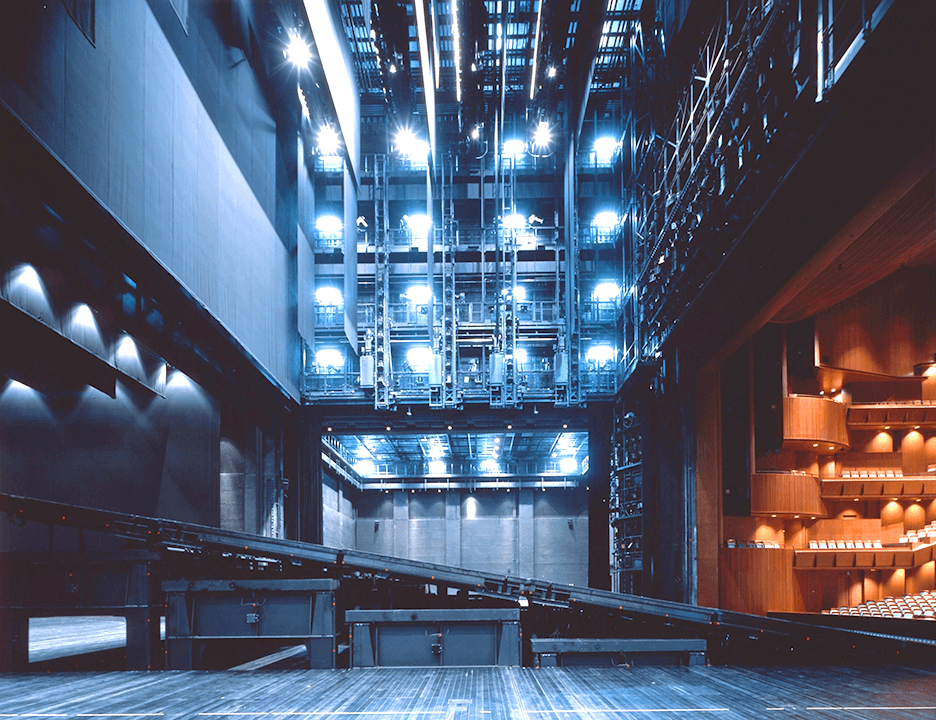 Technology to Support Perfect Performances on Stage
Our Theater and Stage Machinery System has been delivered to more than 100 theaters and arenas
Our safe and reliable theater and stage machinery system promises excellent operability, maintainability, and a precise control and operating system using state-of-the-art Mitsubishi technologies based on our abundant experience in R&D and engineering electronics project management over the years.
Our stage machinery system has been delivered to hallmark theaters in Japan such as the New National Theatre in Tokyo and the Tokyo International Forum, as well as the world-famous opera houses such as the Shanghai Grand Theatre and National Center for the Performing Arts (Beijing). The system also helps producers, singers, and musicians create top-level stage performances.
Functions of the Theater and Stage Machinery System
Movable Ceiling
Setting the movable ceiling to the optimal ceiling height reduces the air-conditioning load and adjusts the reverberation time to the optimum value.
Fly facilities
A fly system is a theatrical rigging system for hoisting and suspending stage equipment such as large props, lighting fixtures, and speakers above the stage from overhead battens.
Floor facilities
Retractable seating and movable floor system
Acoustic shell
Variable reverberation system
Example of Delivery
Slide horizontally to see the table.
No.
Name
Location
Designing supervisor
Delivery year & month
Number of seats, people
Specification
1
The Museum of Art, Kintetsu
Osaka, Osaka Pref.
Atelier R
Aug, 1988
Max. 450 seats
Lifting floor (with sloping function) 4 units
2
ZENROSAI Hall SPACE ZERO
Shibuya-ward, Tokyo
Fujita Corporation
Dec, 1988
441 - 635 seats
Flip-type horizontal movable wall
3
ASTER PLAZA Middle Hall
Hiroshima, Hiroshima Pref.
Yamashita Sekkei Inc.
Nov, 1990
547 seats
Elevator wagon for movable Noh stage 1 unit, Elevator passageway (Hanamichi) 1 unit
4
FORTE HALL
Hamamatsu, Sizuoka Pref.
Environment System
Environment Development
Nov, 1990
810 seats
Fly facilities 31 sets (Truss baton, Rail type One-point suspension)
5
Art Sphere
Shinagawa-ward, Tokyo
Research Institute of Architecture
May, 1992
746 seats
Fly facilities 47 sets (New baton, Rail type One-point suspension)
6
Aichi Arts Center
The Theater
Nagoya, Aichi Pref.
A&T Associates
Nov, 1992
2,500 seats
Main elevator stage, Right stage wagon, Up stage wagon, Fly facilities 110 sets
The Concert Hall
1,800 seats
Orchestra elevator stage 3 sets, Fly facilities 31 sets, Acoustic shell 16 sets
The Mini Theater
Max. 330 seats
Lifting Floor 2 sets, Assembled floor 28 sets, Fly facilities 19 sets
7
Karuizawa Prince Hotel Main Banquet Hall Nagano
Nagano Pref.
Fukeisha
Nov, 1992
-
Movable partition wall 2 sets
8
Funabashi Gymnasium Main Arena
Funabashi, Chiba Pref.
Educational Facilities Institute Co, Ltd.
Aug, 1993
Approx. 5,000 seats
Fly facilities 12 sets, Hanging hook 30 sets, Movable matoba (target) 1 set
9
National Convention Hall of Yokohama
Yokohama, Kanagawa Pref.
Nikken Sekkei Ltd.
Mancini Duffi Associates
Mar, 1994
5,006 seats
Forestage 3 units, Fly facilities 9 sets
10
Mie Center For the Arts
Grand Auditorium
Tsu, Mie Pref.
A&T Associates
Jun, 1994
1,903 seats
Orchestra elevator stage 2 sets, Small elevator stage 1 set, Movable acoustic shell 3 sets
Middle Auditorium
968 seats
Orchestra elevator stage 1 set, Turning stage 1 set
11
Actcity Hamamatsu Main Hall
Hamamatsu, Sizuoka Pref.
Nihon Sekkei Inc.
Toshi Kenchiku Sougou Kenkyujo
Aug, 1994
2,336 seats
Main elevator stage, Right / Left stage wagon, Up stage wagon
12
Kawaguchiko Open-Air Music Hall Kawaguchiko Stellar Theater
Kawaguchiko-cho, Yamanashi Pref.
Atelier R
Apr, 1995
3,000 seats
Movable acoustic shell
13
Softopia Japan Sopia Hall
Ogaki, Gifu Pref.
Kiso Kurokawa Architect & Associates
Jun, 1996
718 seats
Flip-up type horizontal movable wall
14
Miyako Culture Hall
Hirara, Okinawa Pref.
Daiken Sekkei Inc.
Apr, 1996
892 seats
Fly facilities, Acoustic shell
15
Tokyo International Forum
Hall A
Chiyoda-ward, Tokyo
Tokyo Metropolitan Government Bureau of Finance
Rafael Viñoly
May, 1996
5,012 seats
Orchestra elevator stage, Fly facilities, Acoustic shell
Hall B
1,200 seats
Fly facilities (Truss baton)
Hall C
1,502 seats
Orchestra elevator, Fly facilities, Movable ceilings
Hall D
180 seats
Fly facilities (Truss baton)
16
Kinokuniya Southern Theatre
Shinjuku-ward, Tokyo
Nihon Sekkei Inc.
Oct, 1996
468 seats
Fly facilities
17
Nadya Park Nagoya Youth Cultural Centre
Nagoya, Aichi Pref.
Nagoya-City Bureau of Architecture, Daiken Sekkei Inc.
Oct, 1996
724 seats
Big, Small, Orchestra elevator stage, Audience seating wagon, Fly facilities
18
Kiryu City Performing Arts Center SILK HALL
Kiryu, Gunma Pref.
Sakakura Associates Architects and Engineers
Feb, 1997
1,527 seats
Acoustic shelter
19
Kuse Espace Land ESPACE HALL
Kuse-cho, Okayama Pref.
Rui Sekkeishitsu Co, Ltd.
Mar, 1997
322 to 501 seats
Elevator forestage, Audience seating wagon, Fly facilities
20
Shizuoka Performing Arts Center Shizuoka Arts Theater
Shizuoka, Shizuoka Pref.
Arata Isozaki & Associates
Mar, 1997
-
Movable stage
21
The New National Theatre, Tokyo Opera House
Shibuya-ward, Tokyo
TAK Associated Architects Inc.
Apr, 1997
1,810 seats
Main elevator stage, Right / Left stage wagon, Up stage wagon, Fly facilities
22
Shiroishi City White Cube Concert Hall
Shiroishi, Miyagi Pref.
Horiike Hideto Architecture Institute
May, 1997
610 seats
Large electric door for concert hall
23
Wakayama Multi-Purpose Hall
Wakayama, Wakayama Pref.
Nikken Sekkei Ltd.
May, 1997
-
Fly facilities
24
Osaka City Maishima Sports Center for Persons with Disabilities
Osaka, Osaka Pref.
Rui Sekkeishitsu Co, Ltd.
Jul, 1997
-
Movable stage
25
Harmony Hall Fukui
Main Hall
Fukui, Fukui Pref.
Nikken Sekkei Ltd.
Aug, 1997
1,456 seats
Elevator stage, Fly facilities
Recital hall
Aug, 1997
610 seats
Elevator forestage, Audience seating wagon, Fly facilities
26
Fukuoka City Citizen Welfare Plaza
Fukuoka, Fukuoka Pref.
Yokogawa Architects & Engineers, Inc.
Sep, 1997
250 seats
Flip-up type horizontal movable wall
27
Tokyo University of the Arts Concert Hall (Sougakudou)
Taito-ward, Tokyo
Okada Architect & Associates
Oct, 1997
1,142 seats
Fly facilities, Movable ceiling
28
Biwako Hall
Main Theatre
Otsu, Shiga Pref.
AXS SATOW Inc.
Mar, 1998
1,850 seats
Fly facilities, Movable acoustic reflector
Theatre
800 seats
Fly facilities
29
Hakodate Citizen Hall
Hakodate, Hokkaido Pref.
AXS SATOW Inc.
Mar, 1998
836 seats
Elevator forestage, Audience seating wagon, Fly facilities, Retractable roof
30
Shizuoka Convention & Arts Center Main Hall
Shizuoka, Sizuoka Pref.
Arata Isozaki & Associates
Aug, 1998
Approx. 4,626 seats
Movable cone, Fixed cone, Large turning door, Blind
31
Ono Cultural Center
Ono-gun, Oita Pref.
AXS SATOW Inc.
Aug, 1998
1,300 seats
Fly facilities, Traveling type acoustic shell
32
Nara Centennial Hall
Nara, Nara Pref.
Arata Isozaki & Associates
Oct, 1998
Max. 1,720 seats
Lifting floor, Audience seating wagon, Traveling wagon, Fly facilities
33
Shanghai Grand Theatre
Shanghai, China
Theater Project
Oct, 1998
2,500 seats
Main elevator stage, Right / Left stage wagon, Up stage wagon, Fly facilities
34
Ritto Arts and Culture Center
Middle Hall
Ritto-cho, Shiga Pref.
DILA Associate
Feb, 1999
800 seats
Orchestra elevator, Audience seating wagon, Fly facilities
Small Hall
400 seats
Fly facilities
Multipurpose Hall
200 seats
Fly facilities
35
Kobe International House
Kobe, Hyogo Pref.
Nikken Sekkei Ltd.
Mar, 1999
2,000 seats
Big/Small/Orchestra elevator stage, Audience seating wagon, Fly facilities
36
Komatsushima City Health Center
Komatsushima, Tokushima Pref.
Kenzo Tange Associates
Mar, 1999
300 seats
Fly facilities, Stage elevator
37
Niimi Cultural Hall
Main Hall
Niimi, Okayama Pref.
Nikken Sekkei Ltd.
Jun, 1999
1,000 seats
Piano elevator, Movable acoustic shell, Fly facilities
Small Hall
300 seats
Fly facilities, Elevator stage
38
Nagato Cultural Center (Renaissa Nagato)
Nagato, Yamaguchi Pref.
Yamashita Sekkei Inc.
Dec, 1999
812 seats
Big, Small, Funazoko, Hanamichi, Suppon elevator stage, Turntable, Audience seating wagon, Fly facilities
39
Chiryu Public Theater
Chiryu, Aichi Pref.
Nihon Sekkei Inc.
Mar, 2000
1,000 seats
Orchestra elevator stage, Audience seating wagon, Fly facilities, Traveling type acoustic shell
40
Higashi-Mino Kabuki Hall
Nakatsugawa, Gifu Pref.
Yamashita Sekkei Inc.
Mar, 2000
454 seats
Fly facilities, Turntable, Hanamichi wagon, Audience elevator
41
Konosu Culture Center Clea Konosu
Main Hall
Konosu, Saitama Pref.
Coelacanth and Associates
May, 2000
1,300 seats
Orchestra elevator stage, Audience seating wagon, Fly facilities, Movable acoustic shell
Small Hall
300 seats
Fly facilities
42
Tottori Prefectural Kurayoshi Mirai Chushin
Main Hall
Kurayoshi, Tottori Pref.
César Pelli and Associates
Nov, 2000
1,500 seats
Small, Orchestra, Tools elevator stage, Audience seating wagon, Movable acoustic shell, Fly facilities
Small Hall
300 seats
Fly facilities
43
Okayama city Ekimotomachi Redevelopment Multipurpose Hall
Okayama, Okayama Pref.
Research Institute of Architecture
Feb, 2001
570 seats
Elevator stage, Audience seating wagon
44
National Olympics Memorial Youth Center
Middle Hall
Shibuya-ward, Tokyo
Sakakura Associates Architects and Engineers
Mar, 2001
750 seats
Fly facilities
Small Hall
300 seats
Fly facilities
45
Tokyo Academic Park
Koto-ward, Tokyo
Ishimoto Architectural & Engineering Firm, Inc.
Mar, 2001
324 seats
Fly facilities, Elevator stage, Chandelier lifting system
46
ISHIKAWA ONGAKUDO Concert Hall Hogaku Hall
Concert Hall
Kanazawa, Ishikawa Pref.
Ashihara Architect & Associates
Aug, 2001
1,560 seats
Acoustic shell, Fly facilities
Hogaku Hall
699 seats
Fly facilities, Turntable, Large elevator stage, Small elevator stage
Art Gallery
Fly facilities, Step floor elevator, Elevator fence
47
Ritsumeikan University Seminar House
Kusatsu, Shiga Pref.
DILA associate
Apr, 2001
300 people
Fly facilities
48
KOCHI CITY CULTURE-PLAZA CUL-PORT
Main Hall
Kochi, Kochi Pref.
Showa Sekkei, Inc.
Hosogi Architect & Associates
Oct, 2001
1,085 seats
Big, Small, Orchestra, H.anamichi elevator stage, Audience seating wagon, Fly facilities
Mini Hall
180 seats
Fly facilities
49
Noge Performing Art Center
Yokohama, Kanagawa Pref.
Ishimoto Architectural & Engineering Firm, Inc.
Dec, 2001
400 seats
Fly facilities
50
The Esplanade: Theatres on the Bay
Lyric Theatre
Singapore
Jean Marie
Hua Dong Design Institute Jean Marie
Jun, 2002
2,000 seats
Main elevator stage, Orchestra elevator stage, Ballet wagon, Fly facilities
Concert Hall
1,800 seats
Elevator forestage, Piano elevator, Chorus elevator, Fly facilities
51
Takaishi Station Redevelopment Building Hall
Takaishi, Osaka Pref.
Research Institute of Architecture
Oct, 2002
800 seats
Movable stage, Audience seating wagon
52
Kyoto University Centennial Hall
Kyoto, Kyoto Pref.
DILA associate
Dec, 2002
500 seats
Fly facilities
53
FUKUOKA CONVENTION CENTER Main Hall
Fukuoka, Fukuoka Pref.
Nikken Sekkei Ltd.
Jan, 2003
1,000 seats
Movable partition wall
54
Kanagawa Civic Cultural Center
Yokohama, Kanagawa Pref.
Yamashita Sekkei Inc.
Mar, 2004
400 seats
Fly facilities, Acoustic shell
55
Matsumoto Performing Arts Centre
Matsumoto, Nagano Pref.
Toyo Ito & Associates, Architects
Mar, 2004
1,800 seats
Movable ceilings
56
NATIONAL CENTRE FOR THE PERFORMING ARTS Opera House
Beijing, China
Paul Andrew / Beijing Institute of Architectural Design (Group) Co., Ltd.
Dec, 2004
2,500 seats
Main elevator stage, Right / Left stage wagon, Up stage wagon, Fly facilities
57
Yoshimi Town Hall
Yoshimi-cho, Saitama Pref.
Yamashita Sekkei Inc.
Jan, 2005
600 seats
Fly facilities, Acoustic shell
58
Hyogo Performing Arts Center
Grand Hall
Nishinomiya, Hyogo Pref.
Nikken Sekkei Ltd.
May, 2005
2,000 seats
Fly facilities, Floor facilities, Movable acoustic shell
Theater
800 seats
Fly facilities, Floor facilities
Recital Hall
400 seats
Fly facilities
Stories of MHI Group Expertise