MHIENG Completes Delivery of 48 New 7500 Series Carriages for the New Transit Yurikamome Line
-- Replacing the 7200 Series, Contributing to Improved Public Transport for the International Tourism City of Tokyo --
・ Together with the 108 carriages from the Series 7300, all cars now operating on the Yurikamome Line have been manufactured by MHIENG
・ Design concept of "A fresh breeze for the waterfront area," with improvements in interior convenience and comfort
・ Carriages are electric power-driven, reducing the environmental load to help realize a decarbonized, energy-efficient economy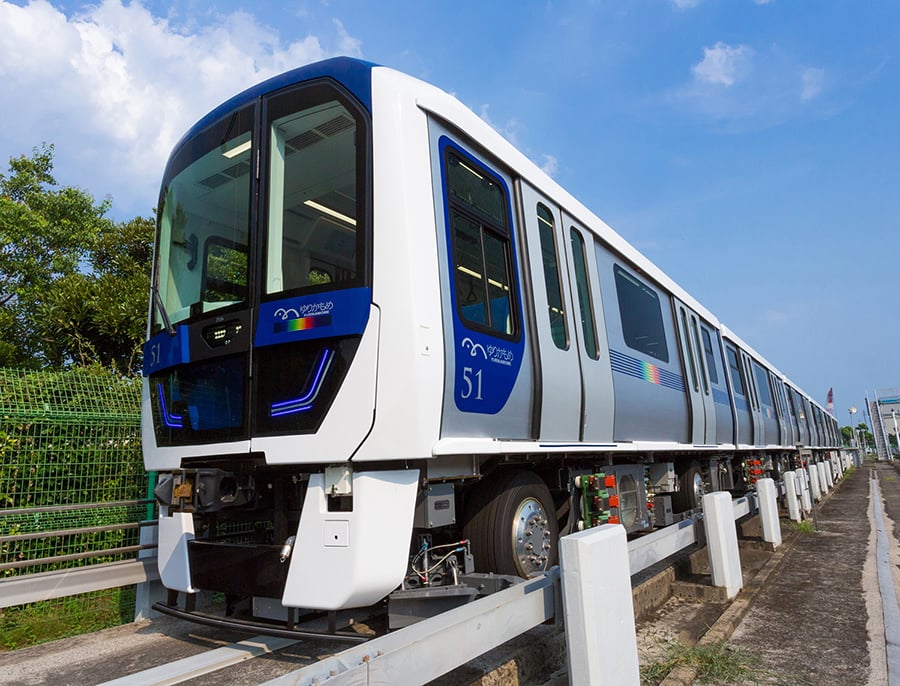 7500-Series New-Series Carriages for "Yurikamome"
Tokyo, November 12, 2020 - Mitsubishi Heavy Industries Engineering, Ltd. (MHIENG), a part of Mitsubishi Heavy Industries (MHI) Group, has completed delivery to Yurikamome Inc. of 48 new 7500 Series carriages (8 trains) for its automated guideway transit (AGT) system. The carriages replace the 7200 Series cars on the New Transit Yurikamome (formerly the Tokyo Waterfront New Transit Waterfront Line) that have been in operation since 1999. The order was received in September 2016, and with this delivery all cars operating on the line have been manufactured by MHIENG.
New Transit Yurikamome is a public transport system opened in November 1995, with 16 stations across 14.7 kilometers, from Shimbashi to Toyosu stations, linking central Tokyo with the waterfront area. The line provides access to the Shiodome business district, as well as many sightseeing spots, convention halls, and other facilities that attract large numbers of visitors, mainly in the Odaiba and Ariake districts that symbolize the Tokyo waterfront district. The Yurikamome Line averaged 133,000 passengers daily in fiscal 2019.
Previously in 2010, MHIENG (at the time MHI) received an order for 108 carriages (18 trains) of the 7300 Series to replace the 7000 Series cars that had been in operation since the transit line first opened, and completed delivery of the cars in June 2016. The first train from this subsequent order for the 7500 Series began commercial operation in November 2018, and all eight trains are currently in operation. MHIENG has also been servicing the carriages since delivery, ensuring their safe operation.
The new 7500 Series carriages, designed around the concept of "A fresh breeze for the waterfront area," feature a more futuristic face design (Note1), along with improvements in interior convenience and comfort. The cars utilize an all-aluminum alloy, double-skin structure that is lightweight, durable, and easily recyclable, as well as "T-smover" bogies (Note2) that reduce vibration and enhance riding comfort, along with "G-Fit" semi-high back bucket seats (Note3) that provide comfortable seating while discouraging passengers from extending their legs into the aisle. These latest model cars also have blue LED luminous automated operation lamps on the front of the cars to indicate when the train is operating autonomously rather than being controlled by a driver. The car interiors incorporate the latest trends in carriage design, such as dual screens above each door to provide information to passengers.
AGT systems are electric power-driven, fully automated transit systems with rubber tires to provide a smooth ride and reduce noise. Further, because the carriages utilize electric motors rather than internal combustion engines, they contribute to clean mobility free of CO2 emissions, reducing the environmental load to help realize a decarbonized, energy-efficient economy. In the United States, MHIENG transit systems are used in airports in Miami, Washington Dulles, Atlanta, Orlando, and Tampa, and boast a high operation rate achieved through high quality operation and maintenance (O&M) service. MHIENG has a leading position in the new transportation system market, with systems in operation in Singapore, South Korea, Germany, and other countries around the world, as well as throughout Japan.
MHIENG took over the transportation systems business from MHI in 2018, and has delivered a wide range of systems for major hub airports and other facilities in Japan, as well as the United States, Asia, and the Middle East. Going forward, MHIENG will utilize the proven technologies and performance record it has acquired to expand its sales activities to urban transport companies and airports in Japan and around the world.
1

The face has also been described with such terms as "aerodynamic wind flow" and "gull winged." See the train description page on the Yurikamome website for details.
2

T-smover bogies offer lightweight design, high durability, low vibration, low noise, and ease of maintenance.

3

G-Fit semi-high back bucket seats are a next-generation type seat for commuter trains focused on comfort. The back is higher than ordinary seats, with a shape that cradles the entire body.
---
Tags: transportation system,decarbonized,MHIENG
About MHI Group
Mitsubishi Heavy Industries (MHI) Group is one of the world's leading industrial groups, spanning energy, smart infrastructure, industrial machinery, aerospace and defense. MHI Group combines cutting-edge technology with deep experience to deliver innovative, integrated solutions that help to realize a carbon neutral world, improve the quality of life and ensure a safer world. For more information, please visit www.mhi.com or follow our insights and stories on spectra.mhi.com.