MHPS Participates in "Science Fair 2018" in Kanagawa, Targeted at Junior High and High School Students
On July 14 the MHI Group company Mitsubishi Hitachi Power Systems, Ltd. (MHPS) participated in "Science Fair 2018," an event targeted at junior high and high school students in Kanagawa Prefecture. The event, the ninth of its kind to date, took place inside the Sogo Yokohama department store.
The Science Fair is an annual event organized by the Kanagawa prefectural government, the Kanagawa Prefectural Board of Education, and other organizations. With cooperation from local businesses, polytechnic colleges and universities, and other entities based in the prefecture, the Science Fair contains booths where students can gain a variety of experiences firsthand. By offering junior high and high school students the opportunity to see, hear and understand the wonders and appeal of the sciences, it is hoped that the Science Fair will expand the pool of experts who will opt for professions that drive science and technology forward and improve industrial vitality.
The theme of the MHPS booth was "Thermal Power Supporting Our Everyday Lives." Here, young engineers explained how thermal power works, using a mockup of a power generation system they constructed themselves. When the model succeeded in actually producing electricity, exclamations of surprise and delight arose from the students. Invariably the students immediately wanted to know all about how the electricity we use every day in our lighting, televisions, and in charging our smartphones is generated. In this way MHPS made a valuable contribution to spurring interest in the sciences and in pursuing a career in a scientific field.
Going forward, the MHI Group will continue to avail of various opportunities to promote activities in support of education of future generations.
Related link: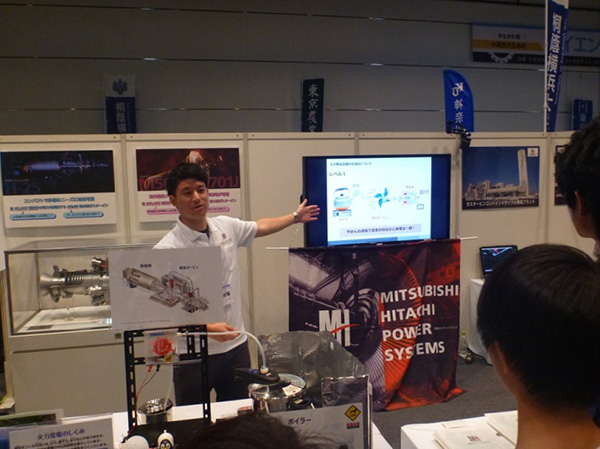 Young engineers from MHPS explaining how electricity is generated
---
About MHI Group
Mitsubishi Heavy Industries (MHI) Group is one of the world's leading industrial groups, spanning energy, smart infrastructure, industrial machinery, aerospace and defense. MHI Group combines cutting-edge technology with deep experience to deliver innovative, integrated solutions that help to realize a carbon neutral world, improve the quality of life and ensure a safer world. For more information, please visit www.mhi.com or follow our insights and stories on spectra.mhi.com.