On October 12, five first-year students at Kaishin Second Junior High School in Tokyo's Nerima ward visited MHI's Head Office in Shinagawa as part of a program designed to have students learn from experiences outside the classroom.
Kaishin Second Junior High School embraces an educational policy under which students visit actual companies and hear directly from employees about their work experiences. This opportunity is meant to teach students the underlying meaning of working and the satisfaction to be gained from working, to serve as an inspiration for them to think about what they want to do in the future. The five students who visited MHI did so out of an interest in the MHI Group's relationship, as a manufacturer, with monozukuri - the traditional Japanese concept of craftsmanship.

First, the students were given an overview of the MHI Group. This was followed by a Q&A session where the students posed a variety of questions. "Does MHI today continue to produce anything that it has been making since it was founded?" "Which MHI products sell most, and on which businesses does the company focus most?" "How much effort did it take to get hired by MHI?"

Next, the students were given an introduction to various MHI Group products and technologies in "M's Square," the second-floor showroom. In the "Hands-on Experience" area, they experienced first-hand what kinds of technologies are used in manufacturing actual products.

The students from Nerima listened to the explanations very attentively and took a lot of notes. At the end of their visit, they responded to a questionnaire. They expressed very positive impressions of what they had experienced. "Now I'm interested in developing rockets and airplanes," enthused one. "I want to keep studying hard, so I can get the kind of job I want to do," wrote another. "Today I learned how MHI provides many different products all around the world," stated another, "so I'll be rooting for MHI all the more from now on."

The MHI Group is committed to inspiring the future under its CSR Action Guidelines. Going forward, it will continue to provide next-generation support activities, such as science classes and internships, for a wide range of age groups, from elementary school children to graduate school students.
[Related news:]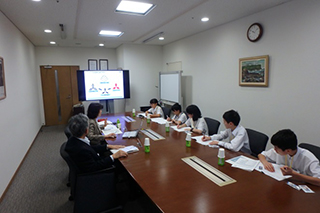 Q&A session with employees
Listening to an explanation about the
newest rocket technologies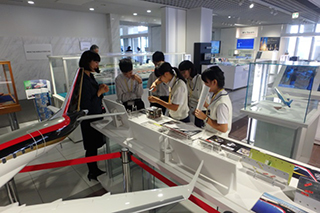 Hands-on experience with manufacturing technology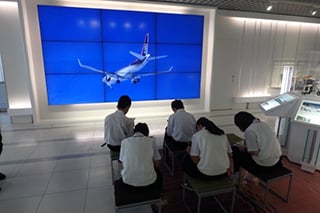 Writing responses to the questionnaire
---