On August 24, a science class about airplanes and hot-air balloons was held at the National Sports Festival Memorial Gymnasium in Fukushima City. Some 30 children participated, ranging in age from preschoolers to sixth graders.

They included children living in temporary housing as evacuees from the Fukushima nuclear plant disaster, as well as local children.

The science class is part of a series started in 2014 sponsored by Tokyo Shimbun with cooperation from the MHI Group.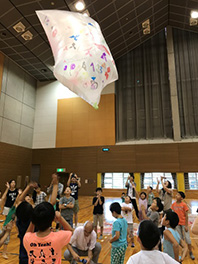 The class began with an explanation of how airplanes fly, presented by Shigeru Inaba of the NPO Kodomo Uchu Mirai Association.
After that, the children assembled airplanes made of styrene paper and, with advice from their instructor, they flew their planes again and again, attempting to learn how to adjust the shape so that their plane would fly straight and far.
Next, the children experimented with a hot-air balloon using the principle that air, when warmed, becomes lighter than its surrounding air. In this case, the instructor directed hot air produced by a hair-dryer held underneath the balloon into the balloon, causing it to inflate and rise slowly toward the gymnasium's ceiling, drawing squeals of delight and wonder from the children.

After the science class, the participating children said they had really learned how airplanes and hot-air balloons fly. Some also commented on how much fun they had had making their planes, and they said they intended to make further improvements at home using materials around the house.

Going forward, as part of its local contribution activities and development of the next generation, the MHI Group will continue, through "monozukuri"-the traditional Japanese concept of craftsmanship-, to convey the enjoyment of science to children and will undertake further activities in support of recovery from the Great East Japan Earthquake and tsunami disaster.
Related news: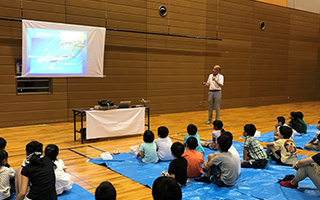 First, learning how airplanes fly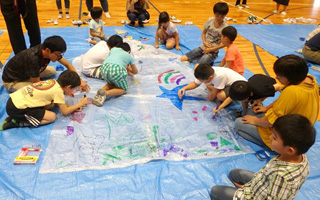 Decorating the hot-air balloon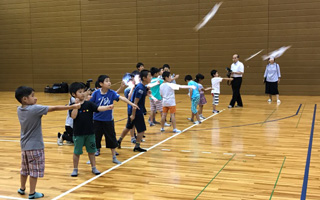 Testing out their airplanes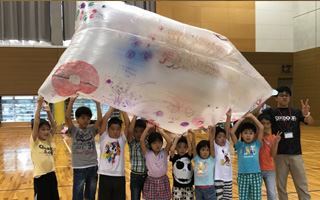 Everybody had a fun time.
---