On August 4, MHI employees taught a Summer Vacation Junior Science Class attended by 23 fifth, sixth and seventh graders from schools in Yamaguchi Prefecture at the Shimonoseki Shipyard & Machinery Works. Science classes have been held in various locations in Yamaguchi for the past 29 years. Through cooperation with universities, industry and government in Yamaguchi, the classes aim to make local children more interested in science and technology. Following on from last year, MHI held a workshop with the theme of making a fast "pop-pop boat" that runs on steam.
The class was taught by nine young MHI employees, and began with an introduction to the products manufactured at the Shimonoseki Shipyard & Machinery Works. Next, the children were given an explanation of how a pop-pop boat works and how to make one. The children were divided into groups and began constructing the boats, gradually improving their designs with help from the teachers until each group completed its own version of a pop-pop boat. When everyone was ready, a representative from each group placed their boat in the water to race against the other groups, with the children loudly cheering on their own entry.
After the workshop, the children toured the Shipyard & Machinery Works, and looked up from the bottom of a huge cargo ship due for launch, getting a first-hand experience of impressive "monozukuri" - making things.

Going forward, MHI will continue to convey the fun and enjoyment of science to children through "monozukuri," as part of our way of making contributions to our local communities and supporting the development of the next generation.
Science class related news: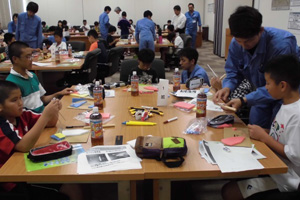 Children making pop-pop boats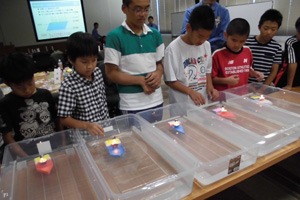 The children used candles to make steam and power the boats
---
About MHI Group
Mitsubishi Heavy Industries (MHI) Group is one of the world's leading industrial groups, spanning energy, smart infrastructure, industrial machinery, aerospace and defense. MHI Group combines cutting-edge technology with deep experience to deliver innovative, integrated solutions that help to realize a carbon neutral world, improve the quality of life and ensure a safer world. For more information, please visit www.mhi.com or follow our insights and stories on spectra.mhi.com.