Donation of Books to Elementary School in Dalian, China - Social contribution activities of MHPS Dalian Electricity Equipment Co., Ltd.
MHPS Dalian Electricity Equipment Co., Ltd. (MHPS-DLC), part of the Mitsubishi Heavy Industries Group (MHI), is committed to the MHI CSR Action Guidelines of "Care for the planet," "Create a more harmonious society," and "Inspire the future," and the company makes social contributions to the local community on a regular basis.
As this year marks MHPS-DLC's 20th anniversary, the company decided to donate books to help children acquire new knowledge and improve their academic skills as a commemorative social contribution activity, and on April 19, 909 books provided by employees were donated to the neighboring Zhuanghe Qingduizi Yucai Elementary School. At the same time, the MHPS Dalian Public Library was established. In mountainous regions of China, it is hard for elementary schools to gain access to books, so the many books stocked by the new library establish an environment for reading. Seeing the joy of the children when employees wrote encouraging messages on the back covers of the donated books inspired MHPS-DLC to continue this donation activity.

In addition, a total of 106 MHPS-DLC employees participated in tree planting activities organized by Dalian City environmental preservation volunteers. This event has been held annually since 2010 and about 600 people participate every year. MHPS-DLC cooperates in environmental preservation, planting about 800 trees so far, and is deepening its communication with the local community through these efforts.

Going forward, the MHI Group will continue to strive to support the next generation and coexist with local communities.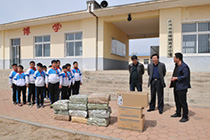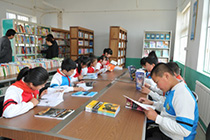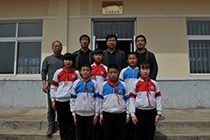 Students from Zhuanghe Qingduizi Yucai Elementary School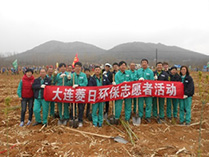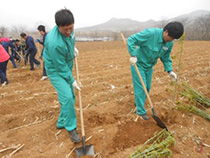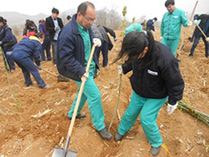 Employee volunteers plant trees
---
About MHI Group
Mitsubishi Heavy Industries (MHI) Group is one of the world's leading industrial groups, spanning energy, smart infrastructure, industrial machinery, aerospace and defense. MHI Group combines cutting-edge technology with deep experience to deliver innovative, integrated solutions that help to realize a carbon neutral world, improve the quality of life and ensure a safer world. For more information, please visit www.mhi.com or follow our insights and stories on spectra.mhi.com.