On June 8, Mitsubishi Heavy Industries Printing & Packaging Machinery, Ltd. (MHI-PPM), an MHI Group company, invited 16 third-year students at Daiyon Junior High School to a learning session and factory tour covering the history of printing and how newspapers are published as a part of the "Bridge to Tomorrow Project 2017."
This project has been held every year since 2013. It consists of activities to convey the fun and appeal of monozukuri - the traditional Japanese concept of craftsmanship - to children by fusing the educational activities of Newspapers in Education (NIE), an international program that uses the newspaper as a teaching tool, with the products, manufacturing, and technology of MHI-PPM, while also creating close bonds with the local community.

The day began with MHI-PPM employees explaining the history and mechanics of printing, followed by a presentation on the processes involved from the printing of the newspaper to the tasks of the newspaper courier. This was followed by a reporter who was invited to talk about such topics as how to conduct an interview. The students then took on the role of newspaper journalists, interviewing MHI-PPM employees working at the company's corrugating machinery and web offset press production sites, before setting off to interview staff members working at a newspaper publishing plant in Onomichi. Once the students have compiled the contents of their interviews into the form of a "class newspaper," MHI-PPM plans to have the newspaper printed and sent to the school.

We hope that through this session, the students gained not only an understanding of how the newspapers we read every day are published, but also valuable experience in creating newspaper articles themselves and realizing the enjoyment and difficulty of writing.

Going forward, the MHI Group will continue to promote activities to support the development of the next generation while maintaining close communications with local communities.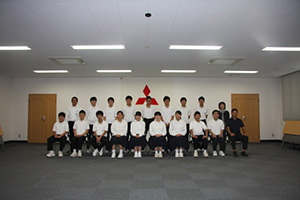 Daiyon Junior High School students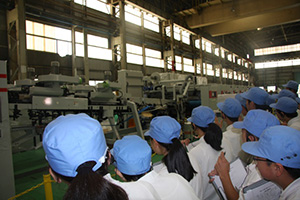 Interviewing factory staff as newspaper reporters
Related links
---
About MHI Group
Mitsubishi Heavy Industries (MHI) Group is one of the world's leading industrial groups, spanning energy, smart infrastructure, industrial machinery, aerospace and defense. MHI Group combines cutting-edge technology with deep experience to deliver innovative, integrated solutions that help to realize a carbon neutral world, improve the quality of life and ensure a safer world. For more information, please visit www.mhi.com or follow our insights and stories on spectra.mhi.com.