In Hiroshima Prefecture, every year the first Sunday of June is declared Hiroshima "Mountain Day" as a day to recognize the importance of the local mountains. This year the 16th "Hiroshima Mountain Day Citizen's Gathering" was held on June 4 at 14 locations in 13 municipalities in the prefecture, and various events such as forestry work, nature observation sessions, woodworking classes, and forest concerts were held.
Among these locations, 16 Mitsubishi Heavy Industries Group employees and family members participated as volunteers for forestry work in the prefectural central forest park in Mihara City. The volunteers helped to cut back overgrown trees and undergrowth.
In addition to logging using saws, the volunteers also took charge of tasks such as making wood chips on the spot from the wood that had been cut down. Thanks to the work of the participants, sunshine started to shine through between the trees on the mountain which had previously been densely overgrown, greatly improving its appearance.

The Mitsubishi Heavy Industries Group will continue to deepen communication with local communities and strive to protect local environments.
[Corporate Forestry Activity Related News]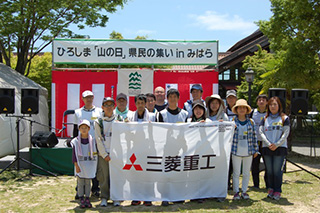 Employee volunteer participants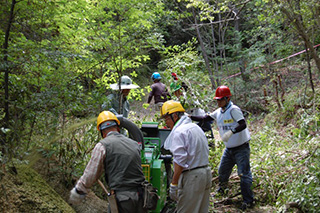 Wood chipping work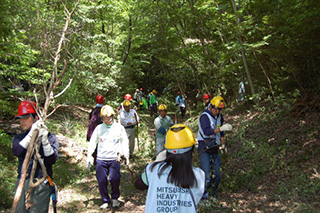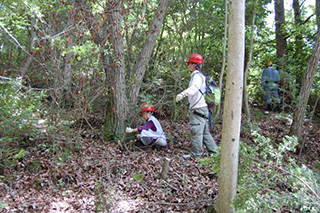 Volunteers cutting back overgrown trees and undergrowth
---
About MHI Group
Mitsubishi Heavy Industries (MHI) Group is one of the world's leading industrial groups, spanning energy, smart infrastructure, industrial machinery, aerospace and defense. MHI Group combines cutting-edge technology with deep experience to deliver innovative, integrated solutions that help to realize a carbon neutral world, improve the quality of life and ensure a safer world. For more information, please visit www.mhi.com or follow our insights and stories on spectra.mhi.com.