On May 15, four third-year students at Awano Junior High School in Tsuruga, Fukui Prefecture, visited the Shinagawa Head Office of Mitsubishi Heavy Industries, Ltd. (MHI) during a school trip, held in conjunction with a program for students to learn by visiting actual workplaces.
First, the students were introduced to a wide range of MHI Group products, spanning land, sea, air, and space, and then visited the second floor showroom "M's Square" where they viewed product exhibits and experienced technologies used in manufacturing products in the "Hands-on Experience Corner."

Next, the students met with company employees and took part in a lively Q&A session. They raised questions related to job satisfaction, essential work requirements, and necessary preparations today for the future, along with other inquiries about stepping into adult society.

At the end of their visit, the students expressed many favorable views. "This was a useful reference point for thinking about my future path," expressed one. Others commented, "I learned about MHI's various products and became more and more interested" and "I'm looking forward to the completion of the MRJ."

These students chose to visit MHI because of their interest in manufacturing, and MHI will be delighted if this experience of coming into contact with aspects of work in the manufacturing industry will be of use to them.

MHI Group adheres to inspiring the future in its CSR Action Guidelines and, going forward, will continue to provide next-generation support activities, such as science classes and internships, for a wide range of age groups, from elementary school children to graduate school students.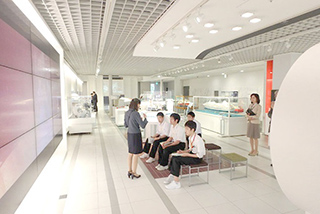 Product presentation at M's Square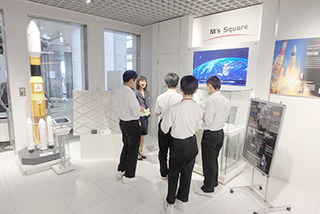 Eagerly listening and taking notes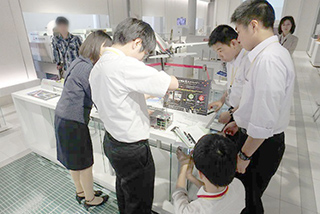 Hands-on experience with manufacturing technology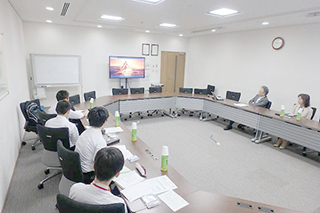 Company introduction by MHI employees and Q&A session
---