MHI Group Holds Workshop on Crafting Air-powered Rockets at "Next-Generation Energy Fair" in Satsumasendai, Kagoshima
On February 25 and 26 the MHI Group conducted a paper craft workshop at the "12th Satsumasendai Lifelong Learning Festival & Next-Generation Energy Fair" held in Satsumasendai City, Kagoshima Prefecture. The topic of the workshop was the H-IIA launch vehicle, with participants taught how to make and fly their own air-powered rockets.
The MHI Group display zone was one of the "Display & Experience" zones relating to energy. Its aim was to instill a sense of the power and wonder of the energy all around us, as well as the fun of "monozukuri," i.e. manufacturing. The participants crafted toy rockets out of paper cylinders and, powered by air pressure, flew them to great heights. Many children and their guardians clearly had a good time making rockets together with MHI Group employees.

The participants launched their rockets using a launcher in which a plastic bag was attached to the paper cylinder. When air was blown into the cylinder in the manner of operating a set of bellows, the air built up inside the plastic bag. As the rockets were launched, the children squealed with joy, amazed at how high they flew. "Making it was a little difficult, but I managed to do it," said one with great satisfaction. "Making rockets is fun!" exclaimed another, while yet another expressed surprise: "I never imagined I could make a rocket that would fly like this just on air." Another declared, "It was really interesting to see how they fly using air."

Through this event, our hope is that the participants will think about the energy all around them and then, by experiencing using familiar materials - rolling them, folding them, pasting them and so on - come to understand the fun and inventiveness of monozukuri and become interested in science and manufacturing. Our participating Group employees also had an enjoyable time, seeing the sparkle in the children's eyes and the satisfaction on the faces of the adults who enjoyed making the rockets together with the children.

Going forward, through a variety of opportunities like this, the MHI Group will continue to undertake activities that make positive contributions to our local communities and support the development of the next generation.
Related news: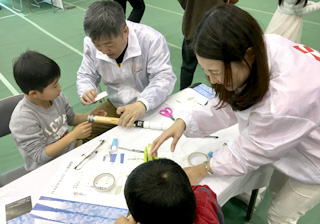 Getting advice from employees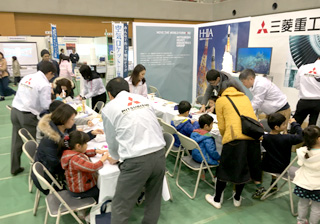 The workshop proved very popular.
---
About MHI Group
Mitsubishi Heavy Industries (MHI) Group is one of the world's leading industrial groups, spanning energy, smart infrastructure, industrial machinery, aerospace and defense. MHI Group combines cutting-edge technology with deep experience to deliver innovative, integrated solutions that help to realize a carbon neutral world, improve the quality of life and ensure a safer world. For more information, please visit www.mhi.com or follow our insights and stories on spectra.mhi.com.