"MHI Tanegashima Aerospace Classroom 2015" Receives Encouragement Award from MEXT for Promotion of Experience-based Learning Activities for Young People
"MHI Tanegashima Aerospace Classroom 2015," an event held in November 2015 as part of the MHI Group's CSR activities, has received an award from the Ministry of Education, Culture, Sports, Science and Technology (MEXT) in recognition of its promotion of activities that give valuable experience-based learning opportunities to young people. MHI accepted the award at a ceremony conducted at the Ministry on March 15.
"MHI Tanegashima Aerospace Classroom" is a social contribution activity possible only by the MHI Group, which has pursued the ongoing development of satellite launch vehicles for more than 40 years. Under this annually administered program, elementary schools throughout Japan can apply to win a coveted invitation for its fifth and sixth graders to visit Tanegashima, the island in Japan's far southwest where launch vehicles are manufactured and launched. Here, they take part in special science classes taught with emphasis on hands-on experience. The aims are to support children's dreams for the future and to arouse their interest in monozukuri (manufacturing). MHI has been offering this unique program – which includes attendance in science classes taught by Company engineers plus actually making and launching rockets made from plastic bottles – annually since 2014.

"MHI Tanegashima Aerospace Classroom 2015" took place on November 23-25, 2015, with a total of 18 students participating. In addition to making and launching rockets made from plastic bottles, they attended classes on space and rocketry. What's more, the youngsters had the good fortune of actually witnessing the launch of the H-IIA Launch Vehicle No.29 from the Tanegashima Space Center.

Every year since 2013, MEXT has presented a series of awards to companies that, as part of their social contribution activities, conduct outstanding programs that provide the nation's youth with experience-based learning opportunities. The award program, which is reported nationwide, aims to further promote educational activities of these kinds.

In its CSR Action Guidelines, the MHI Group aspires to "inspire the future." With receipt of this MEXT award, we are further encouraged to continue our science classes, internships and other activities to develop the next generation, from elementary school students to university graduate school students.
Related news item: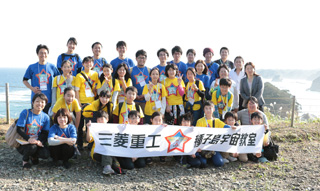 MHI Tanegashima Aerospace Classroom 2015 participants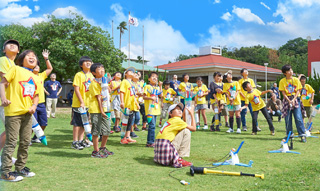 MHI Tanegashima Aerospace Classroom 2014 participants
---
About MHI Group
Mitsubishi Heavy Industries (MHI) Group is one of the world's leading industrial groups, spanning energy, smart infrastructure, industrial machinery, aerospace and defense. MHI Group combines cutting-edge technology with deep experience to deliver innovative, integrated solutions that help to realize a carbon neutral world, improve the quality of life and ensure a safer world. For more information, please visit www.mhi.com or follow our insights and stories on spectra.mhi.com.