On January 21, the MHI Group conducted a science class on the connections between rocket launches and marine turtles at the Suma Aqualife Park in Kobe City. A total of 54 elementary school first to sixth graders participated in the morning session and 58 in the afternoon session. This is this second time the science lesson was held, following a lesson held at the Mitsubishi Minatomirai Industrial Museum in Yokohama last year.
The MHI Group has been supporting the "Tanegashima Loggerhead Turtle Survey," which is sponsored by the NPO Earthwatch Japan, since 2015 with the aim of conserving biodiversity. To teach the science class this time, the Group called on Yoshimasa Matsuzawa (PhD), who headed the team that undertook last year's survey. Mr. Matsuzawa is also involved in evaluating the level of endangerment of loggerhead turtles as Regional Vice Chair of the Marine Turtle Specialist Group, an organization within the IUCN (International Union for Conservation of Nature) Species Survival Commission (SSC).

Mr. Matsuzawa explained what kind of animal marine turtles are, what biodiversity is, what connections exist between space development and marine turtles, and what the Tanegashima Loggerhead Turtle Survey is all about. His explanations were very easy to understand, mixed with enjoyable quiz questions. He also showed the participants specimens of a marine turtle shell and immersed turtle eggs. The participants came away from the class with an appreciation of the profundity of marine turtle life and the need for their protection.

The children who participated were drawn into Professor Matsuzawa's fun and enjoyable lesson, and many children were deeply interested, taking notes from the beginning. Many comments were heard such as "I understand sea turtles well now," "I understood the relationship between marine turtles and rockets," "I want to protect the environment where marine turtles come to Japan," and "I want to participate as a sea turtle volunteer when I am older."

The Tanegashima Loggerhead Turtle Survey will continue in FY2017. NPO Earthwatch Japan is planning to recruit general volunteers on its website, so please refer to the following URL if you are interested.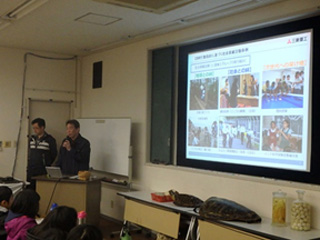 Greeting from MHI Public Relations Department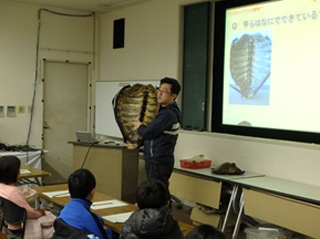 Lesson taught by Professor Matsuzawa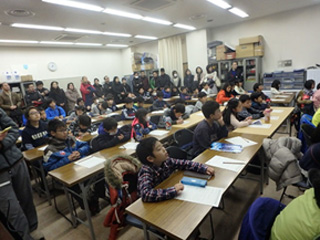 Children at the lesson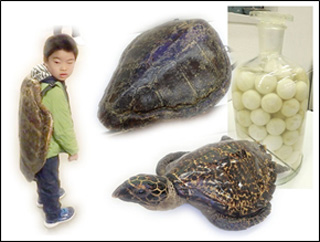 Marine turtle shells and specimens
For details of the recruitment / survey program, please refer to the following URL.
(The outline of the survey for the next fiscal year will be released around mid-March)
The June - July 2016 survey of parent marine turtles.
The August 2016 survey of child marine turtles.
---
About MHI Group
Mitsubishi Heavy Industries (MHI) Group is one of the world's leading industrial groups, spanning energy, smart infrastructure, industrial machinery, aerospace and defense. MHI Group combines cutting-edge technology with deep experience to deliver innovative, integrated solutions that help to realize a carbon neutral world, improve the quality of life and ensure a safer world. For more information, please visit www.mhi.com or follow our insights and stories on spectra.mhi.com.