Every year members of Mitsubishi Heavy Industries, Ltd.'s (MHI) Group companies undertake cleaning activities in their local areas, known as "Furusato Cleanup" events, in line with the Company's CSR (corporate social responsibility) Action Guidelines for "caring for the planet" and "creating a more harmonious society." In the Kobe District, for the past 14 years activities of this kind have been conducted twice a year, in June and October, as a regular undertaking of the Kobe Shipyard & Machinery Works.
On October 18 (Tue), the 27th such cleaning event took place with the participation of some 800 Group employees who work at the Kobe Shipyard. Using their lunch break, the employees performed cleaning in areas close to their business offices, including the Wadamisaki school zone, Wadamisaki Station, Kasamatsu Shopping Street and nearby residential areas. Under clear skies, the participants made the rounds of their designated areas, trash bags in hand, picking up trash from the street or lurking in roadside shrubbery.

The participants offered a variety of comments on their experience that day. "When the local residents thanked me while I was cleaning, I truly felt that what we do is of service to society." "Performing cleaning activities in the local area was a refreshing and invigorating experience." "I was able to help preserve the area's environment, which made me feel a close rapport with the local community."

Through activities of this kind, we will continue to strive to create and maintain a beautiful environment, always communicating closely with the people living in our local areas.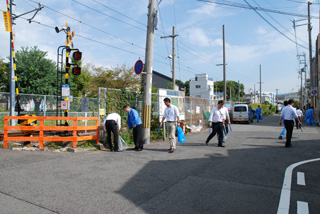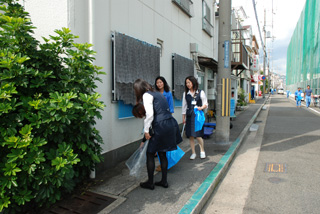 Employees cleaning their local areas
---
About MHI Group
Mitsubishi Heavy Industries (MHI) Group is one of the world's leading industrial groups, spanning energy, smart infrastructure, industrial machinery, aerospace and defense. MHI Group combines cutting-edge technology with deep experience to deliver innovative, integrated solutions that help to realize a carbon neutral world, improve the quality of life and ensure a safer world. For more information, please visit www.mhi.com or follow our insights and stories on spectra.mhi.com.