On Thursday, October 13, seven second grade students from Matsue Higashi High School, Shimane Prefecture visited the Mitsubishi Heavy Industries Shinagawa head office building as part of their career education.
By having second grade students visit advanced companies and research institutions, the school enables them to acquire diverse knowledge and actively participate in training activities that they can use in their career selection. On the day, after experiencing the MHI Group's products and technologies in the "M's Square" showroom on the second floor of the Shinagawa head office building, MHI discussed subjects with the students such as the types of human resources that companies require, emphasizing manufacturing sites.

The students commented, "There are lots of cutting-edge technologies and I was deeply moved. I was specially moved by the future city plans demonstrating that cities can be built using only MHI's technology." "I was surprised that MHI has built its own airplane called MRJ." "It was a very good day full of experiences I cannot usually have. I was able to see state-of-the-art technologies and it was a corporate visit that will link to my future."

MHI would be happy if the experiences on the day make up a meaningful corporate visit for the students and if they are able to make use of them as a way of thinking about their future.

MHI will continue to focus on next-generation training support activities for a wide range of age groups through company visits, science classes and internships.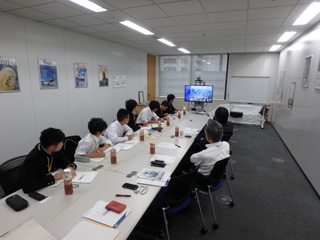 Video introduction of MHI Group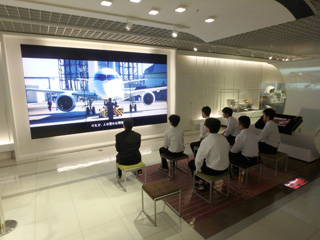 Watching MRJ video on impressive big screen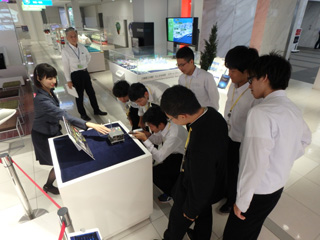 Experiencing the MRJ factory at the showroom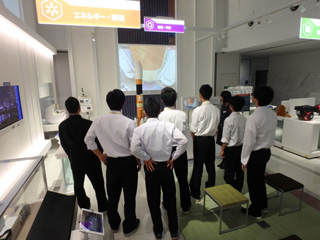 Surprised by the AR rocket video
---
About MHI Group
Mitsubishi Heavy Industries (MHI) Group is one of the world's leading industrial groups, spanning energy, smart infrastructure, industrial machinery, aerospace and defense. MHI Group combines cutting-edge technology with deep experience to deliver innovative, integrated solutions that help to realize a carbon neutral world, improve the quality of life and ensure a safer world. For more information, please visit www.mhi.com or follow our insights and stories on spectra.mhi.com.