On August 25 the MHI Group held the "MHI Tanegashima Aerospace Classroom 2016" at the Nagoya Aerospace Systems Works' Tobishima Plant in Aichi Prefecture.
The "MHI Tanegashima Aerospace Classroom" is a social contribution activity possible only by the MHI Group, which for more than 40 years has continuously pursued the development of satellite launch vehicles. This year's classroom was the third to date. The previous two classrooms had been held on the island of Tanegashima in Kagoshima Prefecture, where actual launches take place, with children from all around Japan invited to attend. This time, children from Tanegashima's Minamitane Town, who often witness the launches, were invited to the Tobishima Plant, where the launch vehicles are manufactured, together with children from Tobishima Village. Minamitane Town and Tobishima Village have a "sister city" relationship. The 2016 classroom consisted of a special science class taught by an MHI engineer and a hands-on learning program in which the children launched rockets made from plastic bottles.

The science class was devised to make the children think about the future. It covered a wide range of topics from jobs involved with rockets, rocket structure, artificial satellites and rockets of the future. The class was followed by a question-and-answer session in which the children eagerly posed questions to the engineer teacher, among them: "How much time and money does it take to make a launch vehicle?" and "What's the most difficult part of manufacturing a rocket?" The children were then taken on a tour of the actual launch vehicle plant, where they were amazed at the scale of a real rocket, much bigger than they had imagined.

In the afternoon, the children launched rockets they made from plastic bottles. In the course of sending up a number of rockets, they listened intently as the engineer explained what they could do to make their rockets fly farther: for example, by firmly re-tightening the injection port and adjusting the amount of water placed inside the plastic bottle. After taking this advice, the children were thrilled as they watched their rockets actually fly ever-greater distances.

In its CSR Action Guidelines, the MHI Group aspires to "create a more harmonious society" and "inspire the future," and this program clearly created harmony between the town and village both involved with launch vehicles. Our hope is that the classroom offered all the participating children a good occasion to think about the enjoyment of making things (monozukuri) - and about the future as well.

Commemorative photo in front of the Tobishima Plant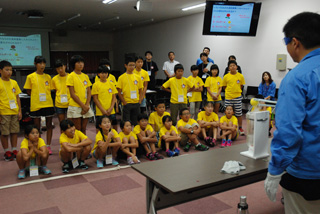 Experimenting in the science class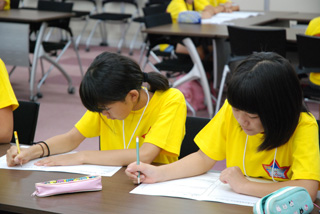 Eagerly taking notes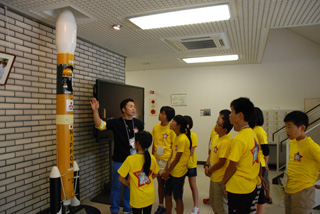 Visiting the factory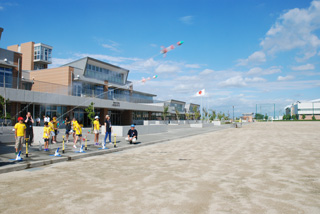 Launching plastic bottle rockets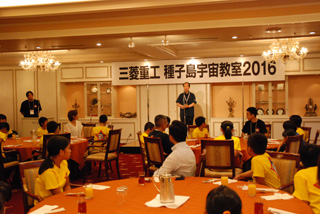 Getting to know each other over dinner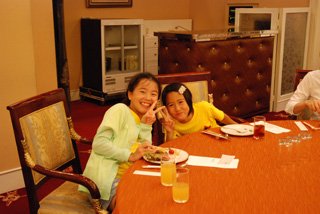 Children from Minamitane and Tobishima eating together
---