On Sunday, July 31, MHI hosted a workshop at the Kinahaiya Ikata Festival held in the town of Ikata in Ehime Prefecture, in Shikoku. The workshop consisted of a paper craft class in which the young participants were given instruction in how to make various denizens of the sea, and also a paper model of the Shinkai 6500 manned research submersible.
The class was conducted as a booth in Yonden (Shikoku Electric Power Co.) Fureai Square. The participating children were given a choice of things to make: either a creature living in the ocean (flapjack octopus, manta ray, or football fish) or the Shinkai 6500, the deep-sea research vessel developed by MHI. The class was attended by a large number of children, with instruction provided by staff from MHI's Shikoku Branch. Seeing the smiles on the children's faces as they did their best to craft the object of their choice, the staff members themselves were energized. They came away with the hope that the experience will inspire the children to take an interest in "monozukuri" (manufacturing).

The MHI Group will continue, through a variety of opportunities like this, to contribute to local communities and to support the development of future generations.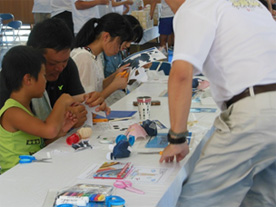 The children crafted their works using printed patterns.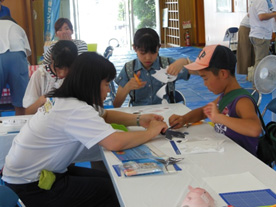 Help was provided by staff from MHI's Shikoku Branch.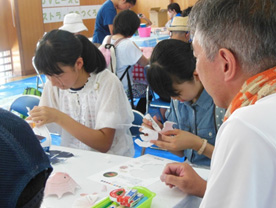 The thickness of the paper was sometimes hard to work with.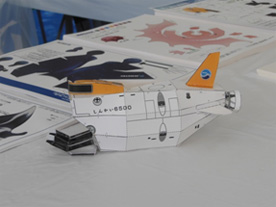 Some children chose to make a paper model of the Shinkai 6500.
---