On June 26 (Sat) a program of science classes was conducted for employees of the 18 Mitsubishi Group companies having offices in Sapporo, Hokkaido, and their family members. The classes took place at the Hokkaido Museum of Literature located within the city's Nakajima Park. A total of 90 "students" attended.
The event was carried out in conjunction with a movement to plant flowers in flowerbeds and donate them to Sapporo as a way of making a positive contribution to the local community. The classes were conducted with cooperation from teachers affiliated with the NPO Kodomo Uchu Mirai Association (KU-MA). The participants were shown a video demonstrating the differences between the environments of the Earth and outer space, and using a simple device they performed an experiment that enabled them to feel atmospheric pressure. Through this event the participants were able to discover the fun of scientific experimentation.

We intend to continue taking part in activities of these and other kinds that make meaningful contributions to our local communities.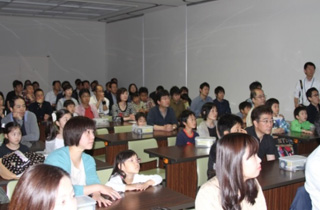 Learning about environmental differences between the Earth and outer space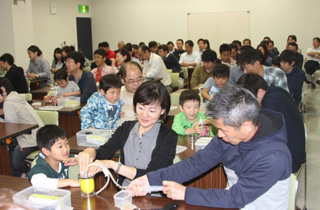 Performing a simple atmospheric pressure experiment
---