Classes Held for Children and Parents at "11th Satsumasendai Lifelong Learning Festival & Next-Generation Energy Fair"
On February 27 (Sat) and 28 (Sun), the MHI Group conducted classes about the H-IIA launch vehicle and MRJ (Mitsubishi Regional Jet) at the "11th Satsumasendai Lifelong Learning Festival & Next-Generation Energy Fair" held in Satsumasendai City, Kagoshima Prefecture. Targeted at both children and their parents, the classes included a workshop in which the participants created paper airplanes and air-powered rockets.
The classes were conducted at the MHI booth set up within the "Display & Experience" zone at the "Next-Generation Energy Fair." Many children had fun creating the airplanes and rockets together with their parents, guardians or MHI Group employees.

In crafting the H-IIA launch vehicle out of paper, the participants also made a launcher using plastic bags. When they were completed and the rockets were launched, the children squealed with excitement and surprise watching how high they soared. In reaction, they expressed their amazement at the power of air to enable the rocket to reach such heights. Some voiced satisfaction at being able to make the rocket and launcher despite the difficulties involved; others were eager to show their creations to their friends; yet others said it was great fun making a rocket; and still others bubbled over with eagerness to make another one.

The employees on hand to help the children were clearly energized by the smiles they saw on the young participants' faces. They hoped that through these classes children would come to show interest in airplanes, science and manufacturing.

Going forward, the MHI Group will continue, through a variety of opportunities, to undertake activities that make positive contributions to people all over.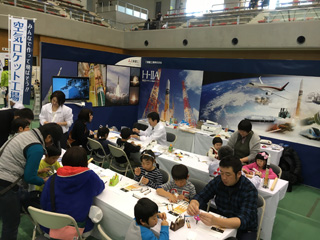 Children making rockets and launchers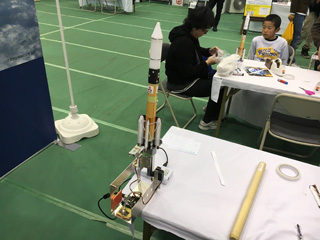 Crafting H-IIA launch vehicles from paper
---
About MHI Group
Mitsubishi Heavy Industries (MHI) Group is one of the world's leading industrial groups, spanning energy, smart infrastructure, industrial machinery, aerospace and defense. MHI Group combines cutting-edge technology with deep experience to deliver innovative, integrated solutions that help to realize a carbon neutral world, improve the quality of life and ensure a safer world. For more information, please visit www.mhi.com or follow our insights and stories on spectra.mhi.com.