On January 20 the Mitsubishi Heavy Industries, Ltd. (MHI) Group released the English-language version of its "MHI CSR DATABOOK 2015," a compendium introducing its Groupwide CSR initiatives in the 2014 fiscal year ended March 2015, on the MHI corporate website.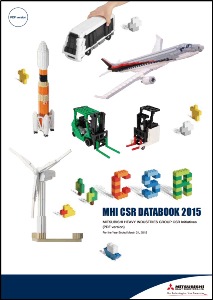 The "MHI CSR DATABOOK 2015" contains information presented in the comprehensive "MHI REPORT 2015" issued on October 28, and introduces the Group's CSR strategies and policies. It also describes the Group's specific ESG – environmental, social and governance – initiatives taken during fiscal 2014.

Going forward, the MHI Group will continue to periodically post CSR information on its global website. It will also introduce its CSR initiatives on its dedicated Facebook page.
 
MHI CSR DATABOOK 2015 (PDF/7.0MB)
---