For three days in November (23-25) the MHI Group invited 18 elementary school students to Tanegashima to participate in the "Tanegashima Space School 2015." The students, all fifth or sixth graders, were selected from among a pool of applicants nationwide. Tanegashima, an island lying some 100 offshore south of Kyushu, is home to Japan's Tanegashima Space Center.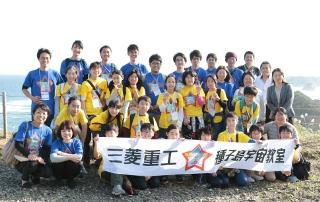 The November event was the second "Tanegashima Space School" to date. The workshops are conducted as part of the MHI Group's CSR activities, and MHI is in a unique position to host these events because of its more than four decades of ongoing development of satellite launch vehicles. The three-day hands-on study program included observation of the actual launch of an H-IIA launch vehicle, special classes taught by young engineers, and the fabrication and launch of "rockets" made from plastic bottles.


Like the previous workshop held last October, the participants were limited to elementary school students, with emphasis on fostering their independent thinking, communication skills, and ability to cooperate with others. On the first day, the event opened with the students working together in teams and with engineers and staff in a newly introduced program of icebreaking tasks.


Although at the start of the three days the students were somewhat ill at ease in their unfamiliar environment, as time passed they gradually lost their inhibitions and began actively asking the engineers lots of questions. They also worked hard to improve their rockets made from plastic bottles, and during the actual H-IIA launch they became totally excited and moved by the powerful sight, which clearly exceeded anything they had imagined.


At the closing ceremony on the final day, it was hard to believe that these same children had been so shy when they introduced themselves the first day. They all spoke up without hesitation to talk about their personal dreams, a clear indication of how much they had grown from the three-day experience.


A video was shot over the course of the three-day workshop , and photos will be posted on the MHI Group's CSR Facebook page.


"Building a bridge to the next generation" is one of the three points of the MHI Group's CSR Action Guidelines. Through the "Tanegashima Space Workshop" and other initiatives of this kind, we will continue to foster and support the development of children, helping make their dreams for tomorrow come true.
---
About MHI Group
Mitsubishi Heavy Industries (MHI) Group is one of the world's leading industrial groups, spanning energy, smart infrastructure, industrial machinery, aerospace and defense. MHI Group combines cutting-edge technology with deep experience to deliver innovative, integrated solutions that help to realize a carbon neutral world, improve the quality of life and ensure a safer world. For more information, please visit www.mhi.com or follow our insights and stories on spectra.mhi.com.