MHI Selected as Core Company in Charge of Design and Development of Government-Promoted Demonstration Fast Reactor
-- Will Undertake Conceptual Design and R&D of Sodium Fast Reactor, Toward Operation in 2040s --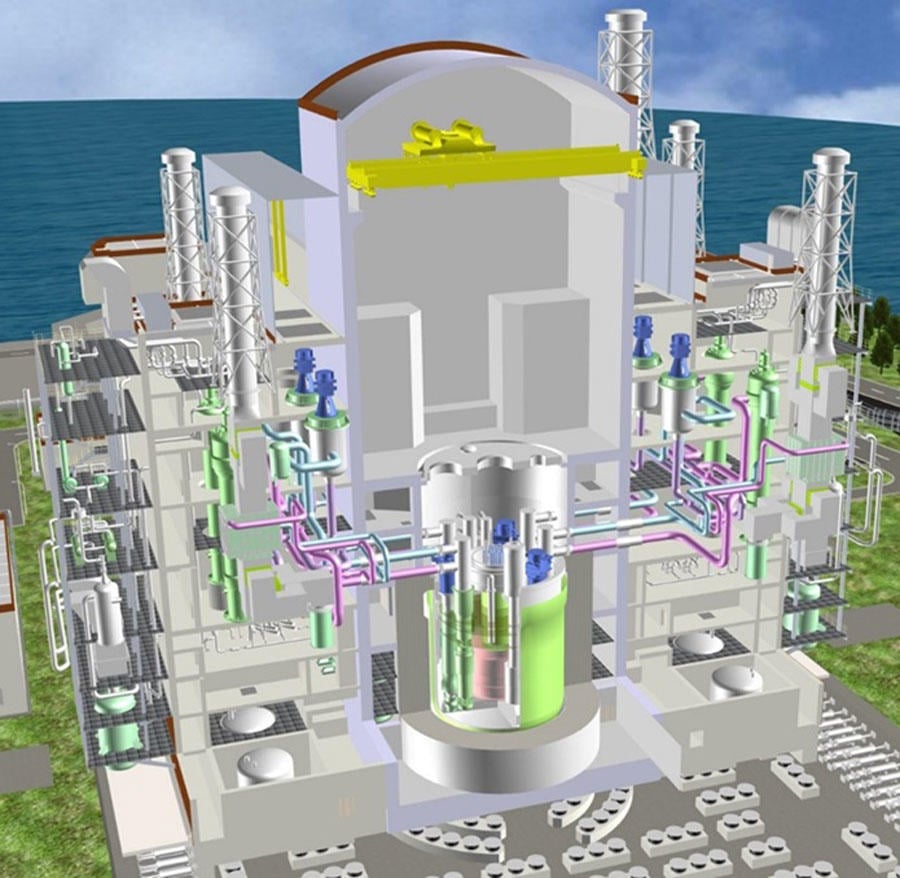 Tokyo, July 12, 2023 - Mitsubishi Heavy Industries, Ltd. (MHI) has been selected as the core company in charge of the conceptual design of an demonstration fast reactor which the Japanese Government aims to place into operation in the 2040s. MHI will oversee both the conceptual design as well as research and development (R&D) for the sodium-cooled fast reactor in partnership with Mitsubishi FBR Systems, Inc. (MFBR), an MHI Group engineering company that handles the development and design of fast reactors. The conceptual design work is scheduled to commence in fiscal 2024.
In the "strategic roadmap" for fast reactor development adopted by Cabinet decision on December 21, 2018, a policy was defined to assess the efficacy of various types of fast reactors to be developed following a technological competition among private-sector corporations. The roadmap was subsequently revised by Cabinet decision on December 23, 2022, at which time two decisions were taken: 1) to select a sodium-cooled fast reactor as the target of the conceptual design of the demonstration reactor, set to get underway in fiscal 2024; and 2) to select a manufacturer to serve as the core company in charge of the fast reactor's design and requisite R&D which would proceed with technology development in accordance with the goals and policy directions established by the Government.
In 2007, MHI was selected as the core company in charge of a research program which was focused on the practice uses of fast reactors. The selection was made by taking into consideration MHI's technologies and experience cultivated through its participation in the development and construction of the Joyo experimental fast reactor (Oarai, Ibaraki) and Monju prototype reactor (Tsuruga, Fukui). Subsequently, MHI, in partnership with MFBR, established in 2007, has been undertaking plant conceptual studies and R&D toward reactor realization. Considering the lessons learned from the Fukushima Daiichi accident in 2011, MHI proposed the concept of a safety-enhanced sodium fast reactor at the Generation IV International Forum (GIF)(Note1), and, together with the Japan Atomic Energy Agency (JAEA), led a study on global safety standardization. The resulting experience has been applied in the joint design and development of France's next-generation fast reactors starting in 2014, as well as application of those results to a feasibility study regarding the reactor's application in Japan, and a study of the plant concept is now under process. MHI is also involved in the US-Japan cooperation program (signature of memorandum of cooperation on sodium fast reactor technology with TerraPower, LLC in 2022). These activities will enable faster reactor development and the establishment of in-house sodium testing facilities necessary for reactor R&D. MHI is continuing to refine its technologies and develop the necessary human resource to support this important initiative.
Today, high expectations are focused on the practical implementation of fast reactor as a technology that can contribute to Japan's basic policy of promoting the nuclear fuel cycle(Note2), from three perspectives: (1) reductions in the volume and hazard level of highly radioactive waste, (2) effective use of energy resources, and (3) energy self-reliance. Going forward, MHI, together with MFBR, will apply its technologies and experience as it begins the demonstration reactor's conceptual design and its requisite R&D, for the realization of fast reactor.
1

GIF is an international framework launched in July 2001 to promote cooperation among countries developing sodium fast reactors.

2

On December 22, 2022, at a Cabinet meeting on green transformation (GX) a policy was decided calling for active use of nuclear energy through the development and construction of fast reactors and other next-generation reactors.
About Mitsubishi FBR Systems, Inc.
About Fast Reactor development at MHI
---
Tags: carbon neutral,energy transition,fast reactor
About MHI Group
Mitsubishi Heavy Industries (MHI) Group is one of the world's leading industrial groups, spanning energy, smart infrastructure, industrial machinery, aerospace and defense. MHI Group combines cutting-edge technology with deep experience to deliver innovative, integrated solutions that help to realize a carbon neutral world, improve the quality of life and ensure a safer world. For more information, please visit www.mhi.com or follow our insights and stories on spectra.mhi.com.