Osaka Gas and MHI to Collaborate in CO2 Value Chain Development for CCUS
Osaka Gas Co., Ltd.
Mitsubishi Heavy Industries, Ltd.
Osaka Gas Co., Ltd. (Osaka Gas) and Mitsubishi Heavy Industries, Ltd. (MHI) have entered into an agreement to conduct a feasibility study on a project to develop a CO2 value chain for CCUS (Carbon Capture, Utilization, and Storage), including transporting CO2 captured in Japan to overseas, utilizing it to produce e-methane, synthetic gas produced through methanation, and storing it underground.
The project aims to establish an efficient CO2 value chain, leveraging Osaka Gas's know-how on e-methane production and CO2 storage and MHI's expertise in CO2 capture, liquefied CO2 maritime vessel transport, and CO2 management.
To that end, the project partners will examine methods to capture CO2 emitted from the Hard-to-Abate industries, such as steel, cement, and chemicals, and transport liquefied CO2 using ships. Osaka Gas and MHI will conduct a feasibility study on the entire CCUS scheme, including CO2 utilization for e-methane and underground sequestration, in corporation with companies from a wide variety of industries.
The project also plans to expand its CCUS scheme through the trade and transfer of CCUS's environmental value quantified by CO2NNEX, a digital platform under development by MHI and IBM Japan for visualizing CO2 value chain.
Through this project, Osaka Gas and MHI aim to contribute to achieving a carbon neutral society by 2050, combining the two companies' technologies developed to meet their respective goals for net zero emissions.
Figure1: CO2 value chain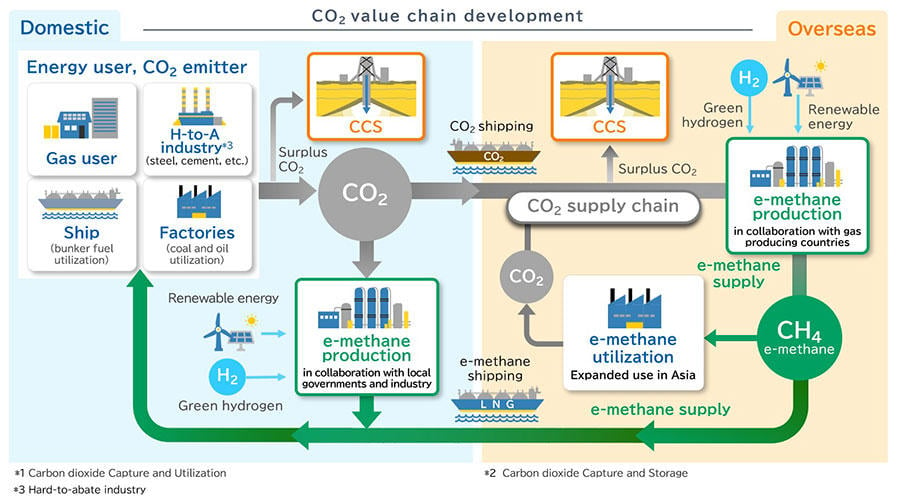 About e-methane
Methanation is a technology for synthesizing methane, the main component of natural gas, from hydrogen and CO2. The resulting product is known as e-methane. The use (combustion) of e-methane results in no effective increase in CO2 for society as a whole because CO2, which is normally emitted into the atmosphere, is captured and recycled for use in producing e-methane. Also, methanation is expected to be an economically efficient way of achieving carbon neutrality, with e-methane being distributed through the existing gas infrastructure and combusted in existing gas appliances, requiring no large-scale investment for constructing new energy systems or modifying the existing ones.
About CO2NNEX
CO2NNEX is a digital platform to provide transparency and flexibility in the distribution of CO2 and its environmental value in the rapidly expanding CCUS value chain toward a carbon-neutral society. IoT will connect actual CO2 data, and blockchain technology will guarantee its neutrality, fairness along with advanced information security.
For more information, please see the following press release.
About Osaka Gas
Osaka Gas announced the Daigas Group Carbon Neutral Vision in January 2021 for achieving carbon neutrality by 2050 mainly through the introduction of carbon neutral gas produced by methanation, decarbonization of its power sources primarily through the use of renewable energies and the reduction of carbon emissions. The company is also conducting a number of studies on developing methanation projects overseas – notably in Australia, South America, North America, and Southeast Asia –
for the commercialization of methanation technology.
On March 9,2023, the company's Energy Transition 2030 was released to present the overall picture of the company's transition to low-carbon and carbon-neutral energy and the company's transition initiatives and solutions for a lower-carbon society in 2030. Osaka Gas works on schemes to produce e-methane through methanation from CO2 captured from the Hard-to-Abate industries, such as steel, cement, and chemicals, or inject CO2 into underground storage, aiming to reduce customers' CO2 emissions and contribute to achieving a circular economy that decreases environmental burdens.
About MHI
MHI Group is actively involved in programs targeting the realization of a carbon neutral society. Building a CO2 ecosystem is central to its energy transition initiatives. As a global leader in CCUS, the company aims to accelerate this ecosystem development by seeking widespread adoption of related hardware as well as the CO2NNEX digital platform.
---
About MHI Group
Mitsubishi Heavy Industries (MHI) Group is one of the world's leading industrial groups, spanning energy, smart infrastructure, industrial machinery, aerospace and defense. MHI Group combines cutting-edge technology with deep experience to deliver innovative, integrated solutions that help to realize a carbon neutral world, improve the quality of life and ensure a safer world. For more information, please visit www.mhi.com or follow our insights and stories on spectra.mhi.com.