MHI and IBM Japan to Develop the "CO2NNEXTM" Digital Platform for Visualization of the CCUS value chain
-- New Platform to Strengthen the CO2 Ecosystem and Support Early Achievement of Carbon Neutrality --
・ Visualization of the CCUS (CO2 Capture, Utilization and Storage) value chain and streamlining of the CO2 supply chain will highlight existing issues and expand the range of utilization options.
・ MHI to build efficient CO2 infrastructure in the physical world, with IBM Japan handling the digital network in the cyber world.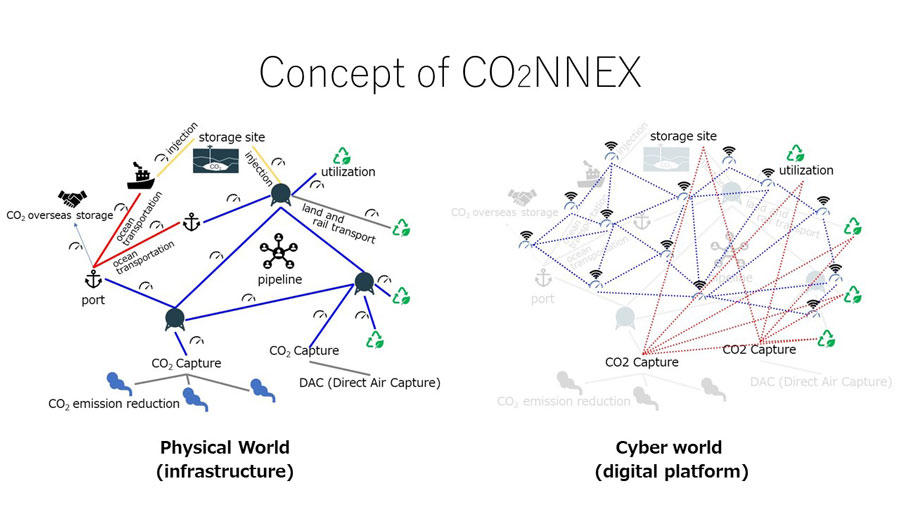 Tokyo, May 6, 2021 – Mitsubishi Heavy Industries, Ltd. (MHI) and IBM Japan, Ltd. (IBM Japan), to contribute to the realization of carbon neutrality with net zero carbon dioxide (CO2) emissions, are partnering to develop CO2NNEXTM, a digital platform that aims to advance the transition to a new society in which emitted CO2 is utilized as an industrial input. Specifically, the companies are working to preserve a clean global environment in the coming new era through visualization and strengthening of the CO2 supply chain, for which the limited options currently are storage or conversion, in order to expand the range of application alternatives and foster a worldview in which all stakeholders are able to work together to protect the global environment.
As countries around the world set targets to achieve carbon neutrality by 2050, expectations have risen for CO2 capture, utilization, and storage (CCUS). Currently, the only alternatives for recovered CO2 are either storage and processing at a disposal cost, or trading as a feedstock. To enhance viability for CO2 as an industrial input, it will be crucial to expose the current issues and challenges in the CCUS value chain and create a structure that optimizes all aspects of the supply chain process, including recovery, transport, storage, distribution, and conversion.
To achieve this goal, MHI and IBM Japan plan to utilize CO2NNEXTM to enhance the transparency of the CCUS value chain. Currently, CO2 is only visible at each step, such as the total amount captured, or the amount that is transported, traded, and stored. Linking and visualizing this data and providing traceability will permit verification from an investment and cost standpoint. The system will also expand the scope of CO2 utilization by matching CO2 emitters with companies who are able to use it, providing supply for new applications in such sectors as industry, agriculture, and alternative e-fuel. A more dynamic ecosystem will promote carbon neutrality, and with the early adoption of CO2NNEXTM and strengthening of the CO2 supply chain will accelerate global environmental protection.
CO2NNEXTM is a digital platform that utilizes blockchain to guarantee neutrality and fairness and ensure advanced information security, along with cloud services for rapid development and flexibility, and AI to optimize supply and demand for earlier carbon neutrality. MHI and IBM Japan will utilize their respective strengths for the development, handling the areas outlined below. Evaluation of the business is planned to begin with a Proof of Concept (PoC) for the digital platform's verification and deployment, which will be conducted from May 2021.
MHI
MHI will draw on its technology for exhaust gas CO2 recovery and worldwide commercial installations, together with its long-established relationships with customers and knowledge regarding potential issues in the CCUS value chain, to validate the building of infrastructure in the physical world, including installing smart meters to monitor the physical volume and state of CO2 at each point in the value chain, encompassing emission, capturing, compression, transport, storage, distribution, and utilization, and effectively utilize the collected data. MHI is committed to strengthening and diversifying its CO2 capture and utilization business – CO2NNEXTM is an important part of this effort, which will help ensure the energy transition's success toward realizing a carbon neutral world.
IBM Japan
IBM Japan will consider building CO2NNEXTM utilizing global project experiences and the IBM Blockchain Platform that allows data sharing with a high degree of safety, transparency, and reliability, and the Hybrid Cloud & AI with an arrangement of intelligent and flexible IT components to facilitate visualization, automation, and optimization of value chains. The company will also consider deploying industry consultants with a wealth of knowledge and skill in digital transformation (DX) across a range of industries to plan and verify the digital platform.
MHI and IBM Japan, centered on CO2NNEXTM, aim to achieve carbon neutrality and accelerate growth for industry.
---
Tags: carbon neutral,CO2NNEX,CCUS
About MHI Group
Mitsubishi Heavy Industries (MHI) Group is one of the world's leading industrial groups, spanning energy, smart infrastructure, industrial machinery, aerospace and defense. MHI Group combines cutting-edge technology with deep experience to deliver innovative, integrated solutions that help to realize a carbon neutral world, improve the quality of life and ensure a safer world. For more information, please visit www.mhi.com or follow our insights and stories on spectra.mhi.com.