Drone Flight Demonstration Test Conducted Using LTE Communications
Trial in Niigata Prefecture, Japan aimed to prevent natural gas pipeline accidents by automating patrols using uncrewed autonomous vehicles with CoasTitan®
INPEX CORPORATION
INPEX Pipeline (Japan) Co., Ltd.
Mitsubishi Heavy Industries, Ltd.
Mitsubishi Heavy Industries Machinery Technology Corporation
Tokyo, December 22, 2022 – A four-company consortium comprising INPEX CORPORATION (INPEX), INPEX Pipeline (Japan) Co., Ltd. (INPEX PL), Mitsubishi Heavy Industries, Ltd. (MHI), and Mitsubishi Heavy Industries Machinery Technology Corporation (MHIMT) conducted a demonstration test operating a drone controlled by CoasTitan®, MHI's networked security system with uncrewed autonomous vehicles. The demonstration test was conducted in Kashiwazaki City in Niigata Prefecture, Japan, along the natural gas trunk pipeline operated by INPEX and maintained and managed by INPEX's wholly owned subsidiary INPEX PL. The test confirmed the safety of long-distance autonomous drone flights utilizing long term evolution (LTE), a communications standard for mobile devices. In addition, highly innovative measures, including real time confirmation of road conditions using artificial intelligence (AI) and low latency video transmission, confirmed the potential for remotely patrolling pipeline routes using drones.
INPEX's domestic natural gas business is supported by infrastructure including a natural gas trunk pipeline network extending more than 1,500 kilometers. A large portion of this network runs underground beneath public roadways, and unreported roadworks could cause roadwork accidents such as pipeline ruptures or gas leaks. Accordingly, INPEX PL uses motor vehicles to regularly patrol roadways along the pipeline routes to locate unreported roadwork activities before they occur or as early as possible. The use of drones is expected to increase the frequency of patrols and further minimize the risk of roadwork accidents, which will help ensure safe and reliable gas supply to customers. Replacing vehicles with drones would also eliminate the heightened risk of traffic accidents involving patrol officers resulting from extended driving.
MHI and INPEX concluded a memorandum of understanding in 2016 to jointly study solutions to technological challenges in the energy sector. Since fiscal 2020, the two companies have been jointly considering ways to automate pipeline patrols using drones, including conducting test flights with drones. This has involved applying the CoasTitan® networked security system with uncrewed autonomous vehicles developed by MHI's Integrated Defense & Space Systems segment, in combination with an AI-based automatic system discerning road conditions newly developed by MHIMT, as an alternative to the current visual verifications conducted through motor vehicle patrols.
The demonstration test was carried out in anticipation of the enactment of the revised Civil Aeronautics Act, which prescribes Category III(Note1) drone flight requirements from Japan's Ministry of Land, Infrastructure, Transport and Tourism (MLIT). The test confirmed safe, long-distance autonomous flight, which under Category II(Note2) conditions is a requirement for an alternative system. The test also confirmed the feasibility of assessing road conditions in real time using a drone equipped with a camera linked with AI technology discerning objects automatically. The test was conducted as part of a joint research project with the Japan Organization for Metals and Energy Security (JOGMEC).
The four-company consortium will further conduct long-distance autonomous flights, improve the precision of the AI-based object discernment system, and consider measures for safe flight operations, with the aim of implementing automated drone pipeline patrols at an early stage. The consortium will also continue to consider broader applications of the system, including surveying the status of areas along the pipeline routes during natural disasters at the request of local governments.
1

Category III: flight operations specified as conducted in third-party airspace or in a manner requiring permission or approval from the Minister of Land, Infrastructure and Transport under the Civil Aeronautics Act

2

Category II: flight operations specified as conducted outside of third-party airspace upon taking measures for overflying restricted areas
Overview of Demonstration Test
Demonstration test site: Area along INPEX natural gas trunk pipeline network in Kashiwazaki City, Niigata Prefecture, Japan
Flight summary: LTE communications network used to transmit long-distance flight control status, videos and roadwork status discernment results. Mock road excavation work sites were set up in areas near the route, with analyzing images in real time and automatic discernment of objects typically used for roadworks using AI installed in on-board computer in some test cases.
Drone used: single rotor UAV made in Japan powered by a gasoline engine with a range of up to 100 kilometers
Discernment of construction status: The drone's on-board AI automatically discerned objects typically used for roadworks, such as backhoes and traffic cones, and transmitted this information to a ground system using the LTE network.
About CoasTitan®
CoasTitan® is a networked security system with uncrewed autonomous vehicles developed by MHI's Integrated Defense & Space Systems. By networking uncrewed vehicles (aerial, surface, underwater and ground vehicles) equipped with various types of sensors, the system allows a small number of operators to inspect and survey targets (photographing images), providing optimal solution for inspection and surveillance of critical infrastructure.
CoasTitan is registered trademark of Mitsubishi Heavy Industries, Ltd. in Japan.
INPEX
INPEX's core business involves the development and production of crude oil and natural gas in Japan and overseas. In its INPEX Vision @2022 released in February 2022, the company outlines its goal of providing a stable supply of diverse and clean energy sources by making its oil and natural gas business thoroughly cleaner while pursuing its five net zero businesses including hydrogen/ammonia, CCUS, renewables, carbon recycling/new business and forest conservation. As a part of this effort, INPEX aims to proactively utilize drones to enhance the safety and efficiency of its operations as well as explore ways to apply the technology to develop new businesses.
INPEX PL
INPEX PL maintains and operates more than 1,500 kilometers of natural gas pipeline owned by INPEX extending across nine Japanese prefectures. In recent years, the company has sought to enhance operational efficiency and safety by adopting leading-edge technologies, including patrols using vehicle-mounted systems to detect gas leaks and drone-based pipeline inspections. In cooperation with INPEX, INPEX PL will continue to incorporate new technologies in its business to contribute to the stable supply of energy and the satisfaction and fulfillment of all its stakeholders.
MHI
MHI Group included the development of growth areas as one of the main targets in its medium-term business plan through fiscal 2023. Utilizing defense and space measures to strengthen services in the civilian sector is a part of this effort. The company is expanding business for CoasTitan® and other security-related products adapted to the changing environment in the defense and space field to meet demand in the civilian domain, providing total solutions for safety and security.
MHIMT
MHIMT is an MHI Group company headquartered in Hiroshima, Hiroshima Prefecture. The company possesses a range of technologies that allow it to meet customer needs with advanced general engineering, including end-to-end production technologies from design to manufacturing for various types of industrial machinery, engineering technologies such as structural analysis, and maintenance technologies for cranes, machine tools, and other plant facilities. MHIMT utilizes one of these technologies, the high-resolution video communication and AI technologies it has accumulated in the field of surveillance cameras to counter terrorism and smuggling, to provide optimal security-related solutions.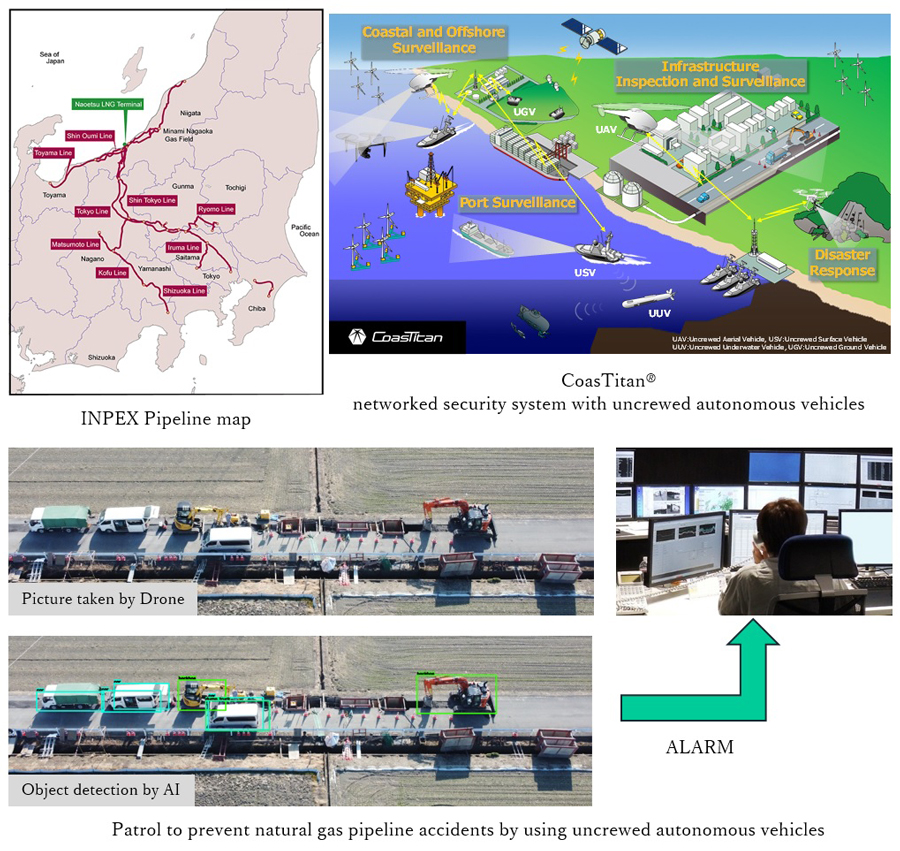 ---
About MHI Group
Mitsubishi Heavy Industries (MHI) Group is one of the world's leading industrial groups, spanning energy, smart infrastructure, industrial machinery, aerospace and defense. MHI Group combines cutting-edge technology with deep experience to deliver innovative, integrated solutions that help to realize a carbon neutral world, improve the quality of life and ensure a safer world. For more information, please visit www.mhi.com or follow our insights and stories on spectra.mhi.com.