MHI Group Presents "Best Innovation 2021" Awards for Activities that Contribute to Mitigating Impacts on the Global Environment -- Target on Achieving a Sustainable Society through Ongoing Advances in the Company's Growth Strategy Areas --
・ Awards honor business activities that contribute to preservation and protection of the global environment, as way of raising environmental awareness among Groupwide employees
・ Recognition given to products, technologies and services that contribute to MHI's two growth strategy areas: Energy Transition and New Mobility & Logistics
・ Award program aimed at supporting realization of a sustainable society, solutions to social issues, and achievement of a carbon neutral society

Tokyo, March 4, 2022 - Mitsubishi Heavy Industries, Ltd. (MHI) has presented its "Best Innovation 2021" awards to 17 products, technologies and services related to its Group business activities and growth strategies that contribute to the preservation and protection of the global environment and mitigation of environmental impacts, thereby contributing to realization of a carbon neutral society. Through this in-house program, the Company aims to raise environmental awareness among its Groupwide employees and encourage further innovation.
MHI Group has adopted a corporate mission to "integrate cutting-edge technology into expertise built up over many years to provide solutions to some of the world's most pressing issues and provide better lives." Going forward, through its business activities the Company will continue to strive to resolve social issues and help achieve a sustainable society.(Note)
Of this year's 17 award-winning recipients, here we introduce 10 innovations related to the Company's strategic growth areas that will contribute to reduction of environmental impacts.
Business Activities that Contribute to Mitigation of Environmental Impacts, to Preserve and Protect the Global Environment
Promoting the adoption of CO2 capture technology and commercialization of new "KS-21™" solvent
Mitsubishi Heavy Industries Engineering, Ltd. (MHIENG)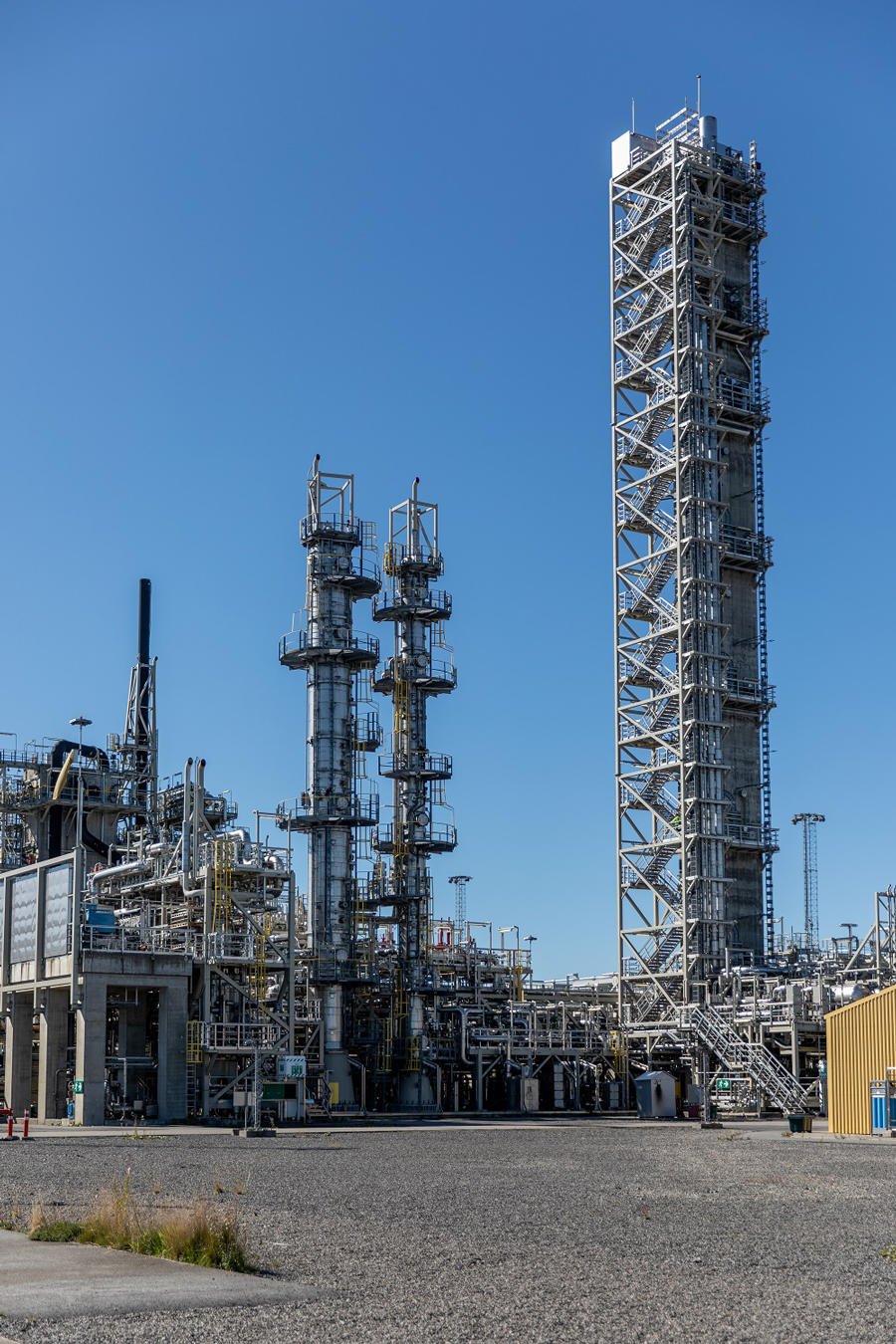 MHIENG currently accounts for the world's highest share with respect to volume of CO2 captured from post-combustion flue gas at commercial plants. As demand has grown for carbon capture from diverse emission sources increasingly – biomass-fueled power plants, LNG liquefaction plants, cement factories, waste-to-energy plants, etc. – MHIENG has received orders worldwide for its services in basic design, pilot demonstration, licensing, etc. In August 2021 the company completed commercialization of its innovative "KS-21™" , a new amine-based solvent developed jointly with Kansai Electric Power Co., Inc., following demonstration testing at the Technology Centre Mongstad (TCM) in Norway, one of the world's largest carbon capture demonstration facilities. The results indicate the solvent's high reliability in CO2 capture from post-combustion flue gas.
"Q-ton Circulation" high-efficiency heat pump featuring new refrigerant and two-stage compression refrigeration cycle
Mitsubishi Heavy Industries Thermal Systems, Ltd.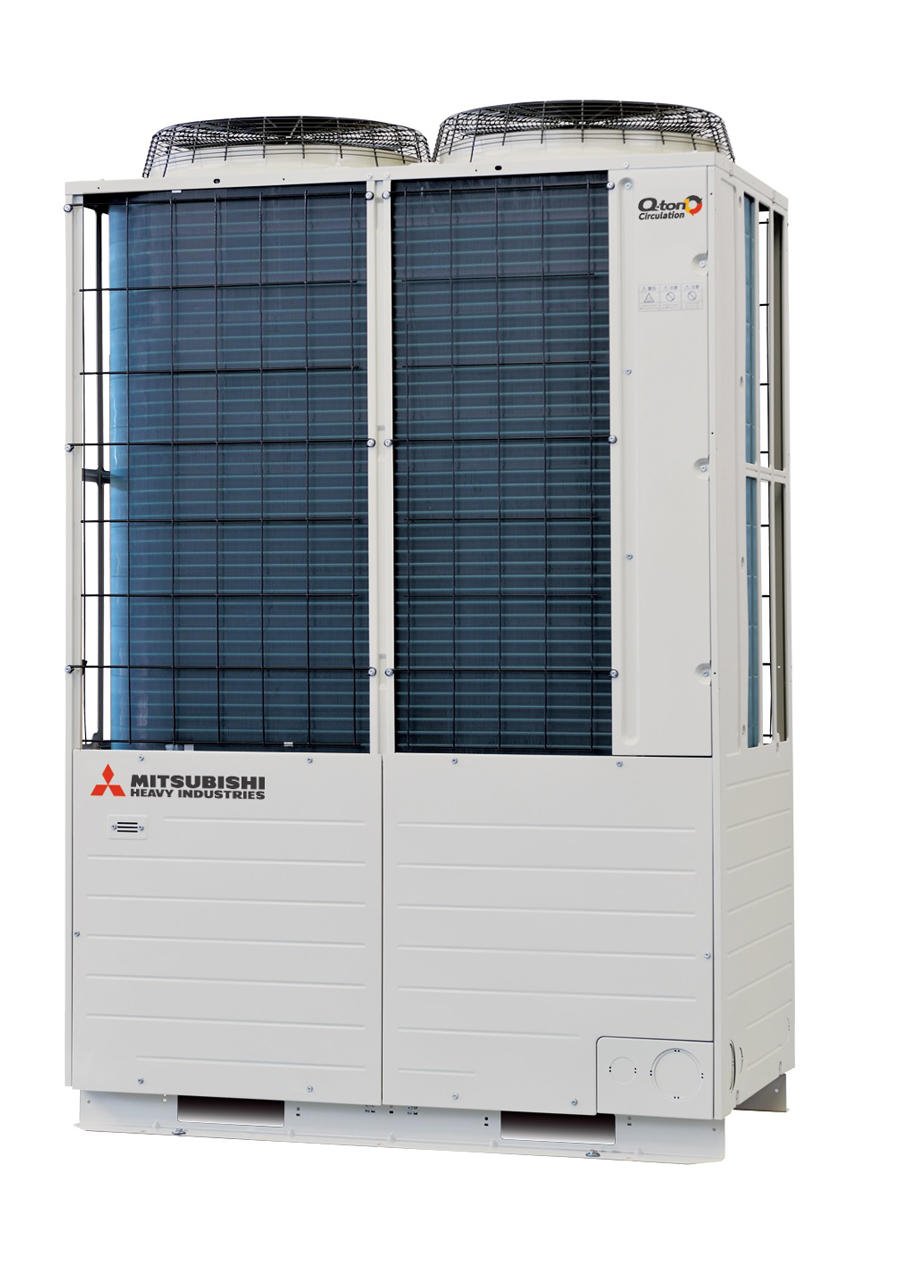 Most conventional circulation-type heat pumps have used refrigerants with a high global warming potential (GWP), raising the need for improvement in terms of lessening environmental impact. The "Q-ton Circulation" heat pump developed by MHI Thermal Systems offers outstanding efficiency and adopts an innovative refrigerant: the R454C featuring a low GWP. Its adoption, which contributes to mitigation of the heat pump's environmental impact, is unprecedented in Japan. The Q-ton Circulation also adopts a two-stage compression refrigeration cycle incorporating a proprietary high-efficiency, large-capacity 3D scroll compressor. Together these features enable provision of 75°C hot water within a remarkably broad range of outside temperatures (-20°C to +43°C), with outstanding energy efficiency. The Q-ton Circulation results in significantly reduced running costs and CO2 emissions.
Power generation facility refurbishment and lower environmental impact from reuse of emergency power supply gas turbines
Energy Transition & Power Headquarters, GTCC Business Division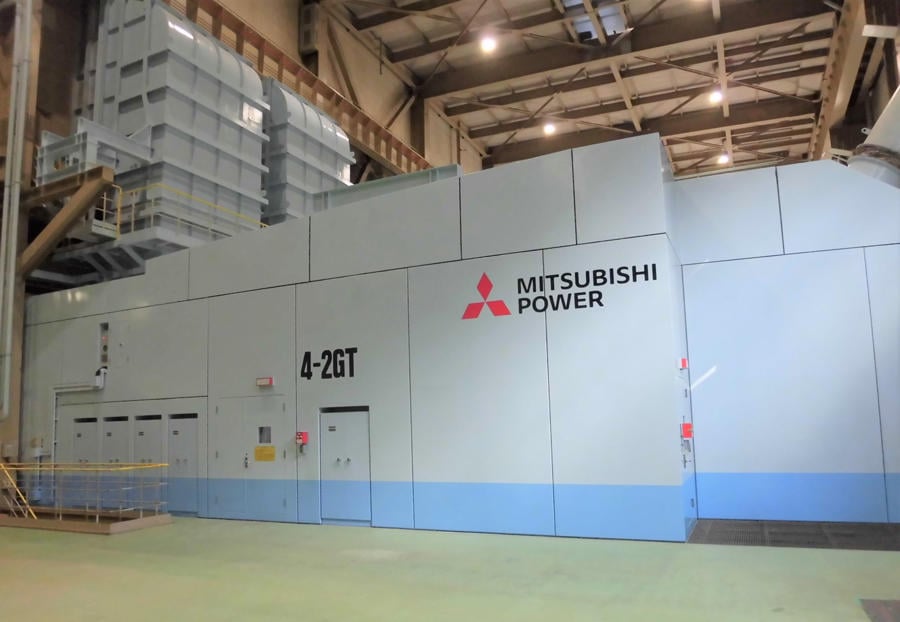 Two M701F gas turbines formerly used for power supply after the Great East Japan Earthquake disaster have been reused for service at other power generation facilities. By reusing as much equipment as possible and owing to turbines' advantages, including reduced fuel consumption and decreased CO2 emissions thanks to higher thermal efficiency, reduction in environmental impact.
CO2 reduction through waste-to-energy plant improvements in combustion control and exhaust gas recirculation
Mitsubishi Heavy Industries Environmental & Chemical Engineering Co., Ltd.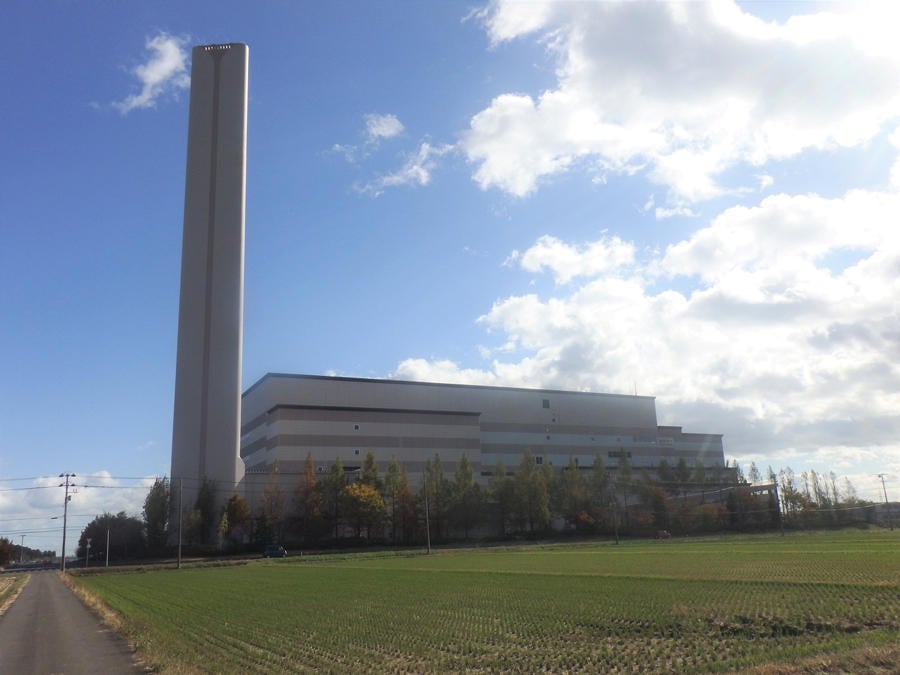 MHIEC has received multiple orders for construction projects to improve the core components of existing waste management facilities previously delivered. The orders are attributable to the company's proactive proposals to local governments of ways to reduce carbon emissions – which is a requisite for receiving a government subsidy for promoting the formation of a recycling society – and its proposals for extending the service life of current incineration plants (conventionally 20 to 25 years) by 10 to 15 years, or more. To reduce carbon emissions, MHIEC has proposed its proprietary new combustion control system, exhaust gas recirculation system, catalyst bag filter, low-temperature catalyst, etc. By improving boiler efficiency and power generation output, these innovations have contributed to mitigating environmental impacts by reducing carbon emissions.
Products, Technologies and Services that Contribute to the Growth Areas of "Energy Transition" and "New Mobility & Logistics"
"EDiA XL" low-cost, mid-size electric forklift truck with improved performance and maneuvering from the newest control system
Mitsubishi Logisnext Europe Oy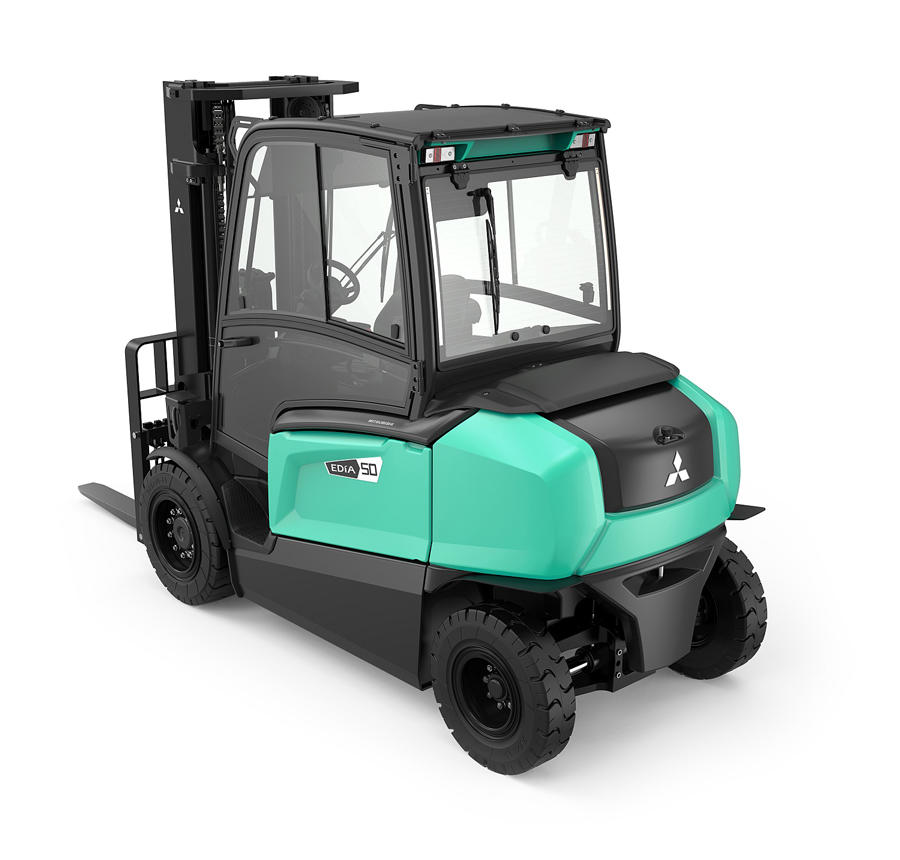 The "EDiA XL" is a newly launched mid-size electric forklift truck equipped with a host of advanced new features, but at a remarkably low price. These include: AutoBoost, which provides an extra power boost on inclines and during acceleration; Lowering Adaption Control, for stability when lowering the mast; and slippage control, delivering optimal torque control of the left and right wheels on slippery surfaces. As an electric forklift that also responds to usage environments for engine-powered forklifts, the EDiA XL is engineered for the needs of the market amid growing demand for electric forklift trucks, toward realization of a carbon neutral society.
Sustainable air-conditioning technology using groundwater as a heat source, achieving a heat balance of zero year-round
Mitsubishi Heavy Industries Thermal Systems, Ltd.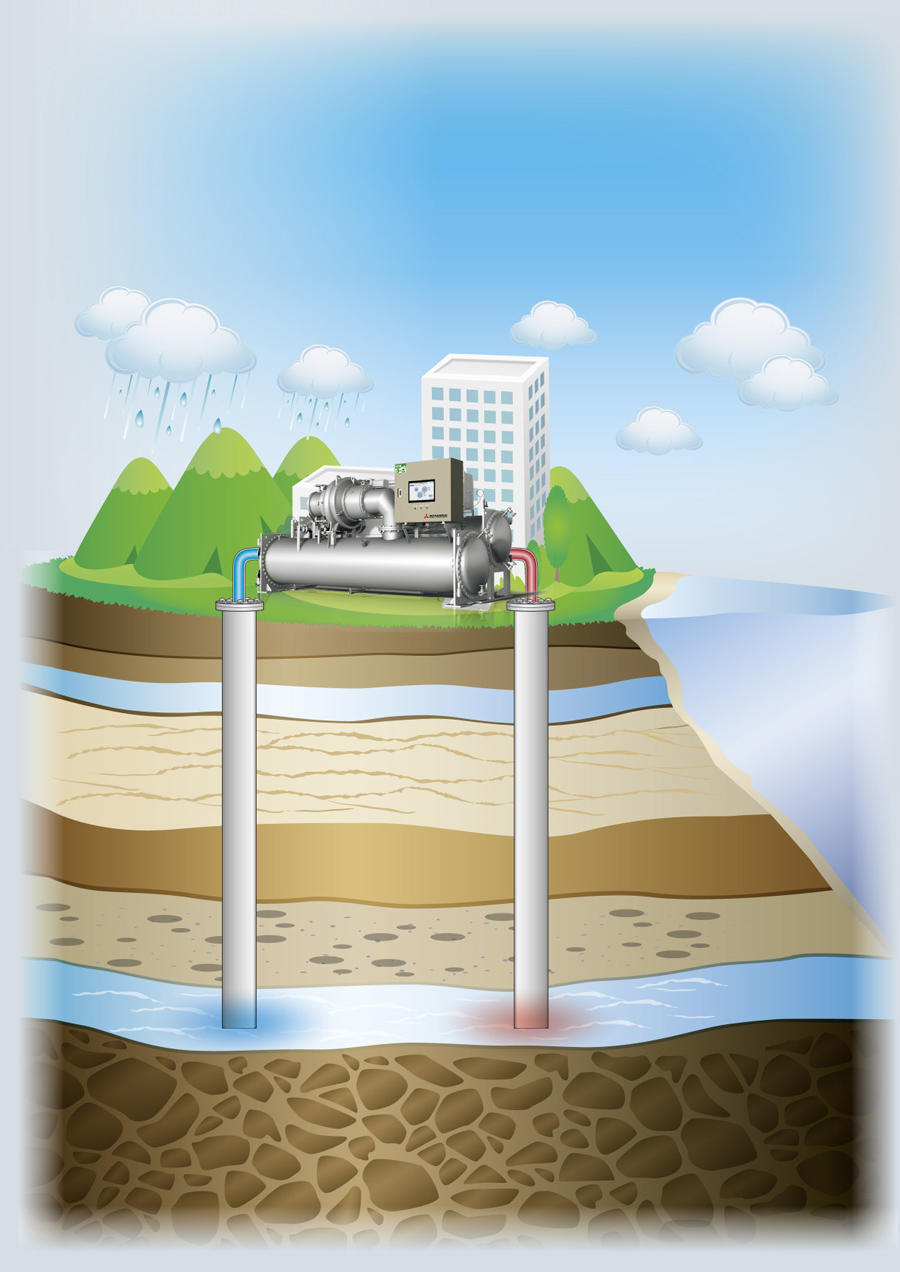 MHI Thermal Systems has developed an efficient aquifer thermal energy storage (ATES) system of 700kW scale applying the technology of high-efficiency inverter centrifugal chillers and using deep aquifer groundwater, which maintains a stable temperature year-round, as a heat source. The system performs underground storage of the exhaust heat generated during air conditioning in summer and the cold exhaust given off during heating in winter. The minimal difference in temperature during air conditioning and heating enables significant energy savings throughout the year, and helps to prevent urban heat island (UHI). This efficient use of energy across the seasons is an epoch-making achievement, and by eliminating the need for water supply with standard air-conditioning systems, ATES provides superlative environmental benefit.
High-performance steam turbine technologies supporting the world's highest power generation efficiency
Energy Transition & Power Headquarters, GTCC Business Division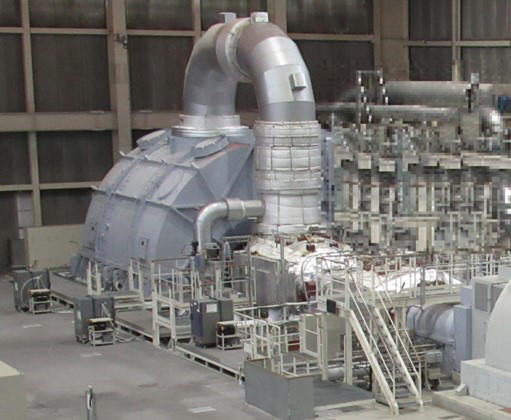 MHI has developed high-performance steam turbine technologies that contribute to reducing greenhouse gas (GHG) emissions. The technologies consist of high-performance blade train, a low-loss side exhaust structure, clearance prediction and control technologies, a new type of seal, and low-loss high specific load bearings. These technologies have been applied in a steam turbine at T-Point 2, the Company's in-house demonstration gas turbine combined cycle (GTCC) power plant, and system verification has been completed. Outstanding performance was pursued through application of such cutting-edge technologies as one through integral analysis of the blade train and exhaust chamber, and 3D multi-stage flow analysis. At T-Point 2, the steam turbine performance was enhanced by 3% than previous turbines, and with the M501JAC gas turbine the world's highest power generation efficiency, 64%, was achieved. MHI's new steam turbine technologies are also noteworthy in their applicability not only to GTCC systems but also to rotor retrofitting of thermal systems, small to mid-size systems (industrial in-house power generation turbines, biomass-powered turbines, and geothermal turbines), as well as nuclear-powered systems.
First participation in operation of overseas urban rail transport systems: Dubai Metro and Dubai Tram
Mitsubishi Heavy Industries Engineering, Ltd. (MHIENG)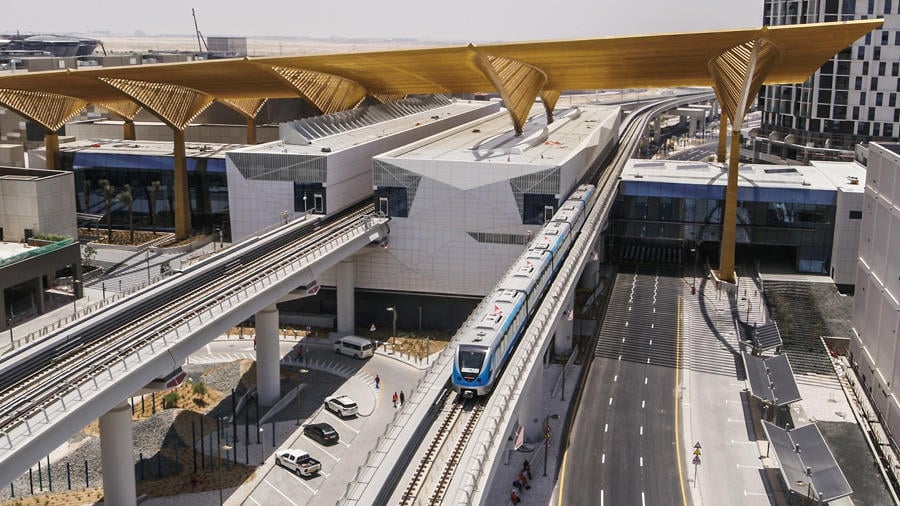 In a consortium with Keolis SA, a subsidiary of SNCF (French National Railway Company), and Mitsubishi Corporation, MHIENG acquired business concession for operation and maintenance of the Dubai Metro, a fully automated, driverless rail system as well as operation of the Dubai Tram network in Dubai, the United Arab Emirates (UAE). The business concession was obtained through a contract concluded with Dubai's Roads and Transport Authority (RTA). The event marks the first time MHI Group is directly participating in the operation of urban rail transport systems outside Japan. The arrangement represents an unprecedented investment-dividend stock-based business model in the transport industry of MHI Group.
L-SAS, troubleshooting system that uses IT technology to improve quality and work efficiency of forklift failure diagnosis
Mitsubishi Logisnext Co., Ltd.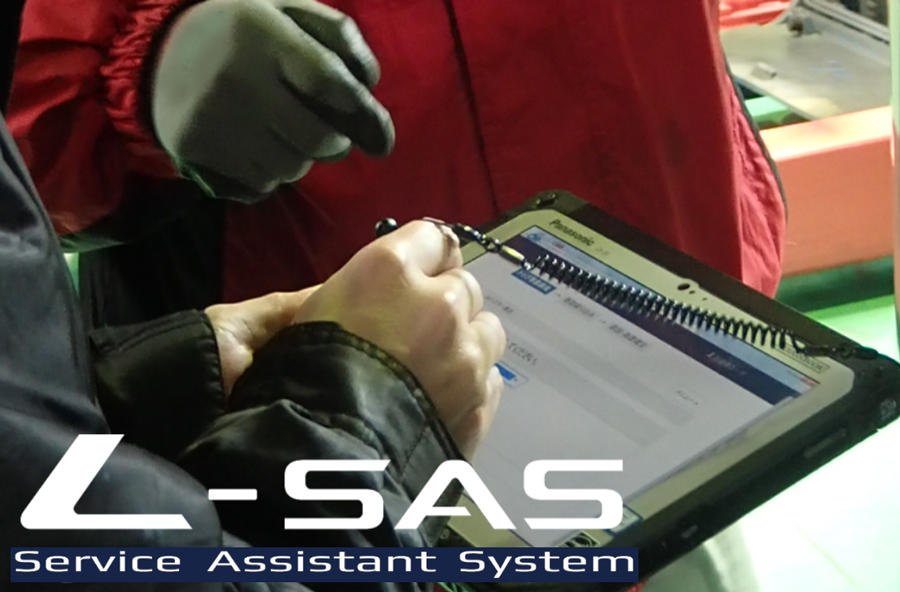 Mitsubishi Logisnext has developed a forklift troubleshooting system, named L-SAS (Logisnext - Service Assistant System). By using IT technology to balance the failure diagnosis technique at a higher level. Nowadays, service personnel are not only required to acquire ever more knowledge to cope with the increased wide variety of equipment, but experience is also necessary for the failure diagnosis. By using L-SAS, anyone can perform failure diagnosis like an experienced service personnel and the reduction of system downtime is possible.
Promotion of on-site construction safety using AI-based accident probability prediction
Energy Systems, HSE Management Office, HSE Management Group
MHI has developed an "Accident Prediction System" to prevent accidents before they occur. The system predicts the probability of accident occurrence at the site using artificial intelligence (AI), enabling appropriate countermeasures to be implemented in advance. In contrast to "symptomatic treatment" that takes necessary steps only after an accident has occurred, MHI's system estimates the probability of an accident occurring at each work site during normal operation, based on various safety indicators. Application of the new site-based system has already contributed to reducing the incidence of accidents. As the AI system learns on a continuous basis, the accident occurrence model evolves continuously, resulting in higher accuracy of prediction today compared to when the system was first developed.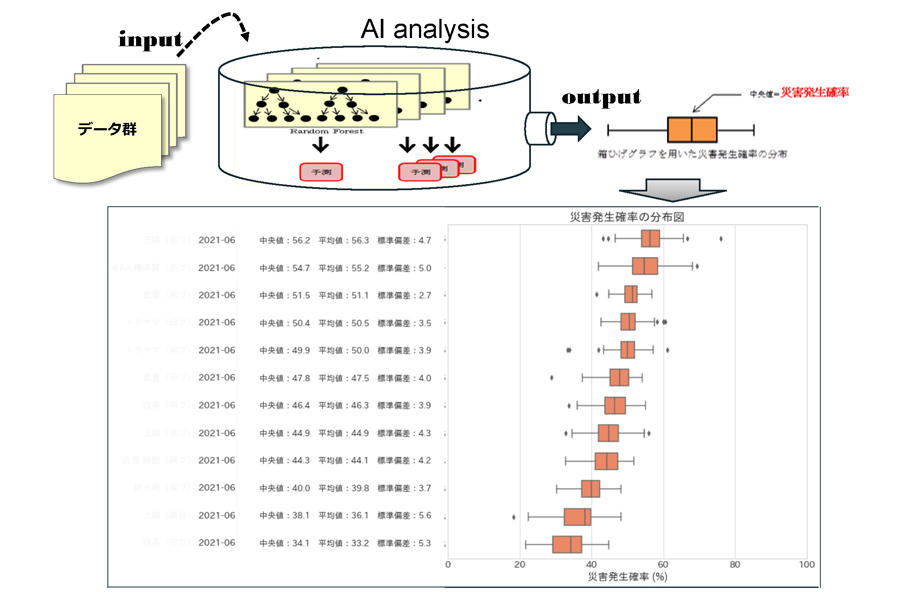 The "Best Innovation" program has been held annually since 2003 to recognize innovative new products, services, technologies, businesses and environmental activities within MHI Group, and going forward the Company will continue to pursue further technical innovations. By providing the world with outstanding products and technologies, MHI Group looks to simultaneously contribute to realization of a sustainable society and to enhance its corporate value through the long term.
---
Tags: Bestinovation,SDGs,carbon neutral,Smart Infrastructure
About MHI Group
Mitsubishi Heavy Industries (MHI) Group is one of the world's leading industrial groups, spanning energy, smart infrastructure, industrial machinery, aerospace and defense. MHI Group combines cutting-edge technology with deep experience to deliver innovative, integrated solutions that help to realize a carbon neutral world, improve the quality of life and ensure a safer world. For more information, please visit www.mhi.com or follow our insights and stories on spectra.mhi.com.