Commercial Operations Commence at Methanol / Dimethyl Ether Plant
in Trinidad and Tobago
Mitsubishi Gas Chemical Co.,Inc.
Mitsubishi Corporation
Mitsubishi Heavy Industries Engineering, Ltd.
Mitsubishi Gas Chemical Company (MGC), Mitsubishi Corporation (MC) and Mitsubishi Heavy Industries Engineering (MHIENG) have teamed up with the National Gas Company of Trinidad and Tobago (NGC) and Massy Holdings (Massy), a joint venture in the Republic of Trinidad and Tobago, Caribbean Gas Chemical Limited (CGCL), to launch commercial operations of a methanol and dimethyl ether (DME) plant.
CGCL was established in March 2013, and it completed construction. Fueled primarily by natural gas sourced from Trinidad and Tobago, the plant has an annual production capacity of one million tons of methanol and 20,000 tons of DME. It began operating commercially in December 18, 2020.
Methanol is a basic chemical that is used as a raw material in the production of many downstream products. Its applications include adhesives, agricultural chemicals, paints, plastics and synthetic textiles. In recent years, it has been garnering more attention as an alternative to heavy fuel oil in the shipping industry and as an otherwise environmentally-friendly source of energy. Furthermore, because it can be produced from CO2 and as a promising hydrogen carrier, it could play a part in realizing sustainable, low-carbon societies. DME is also raising interest as a clean, next-generation energy source. In addition to its use in aerosol products and other daily goods, it can serve as an alternative to liquefied petroleum gas and diesel fuel for automobiles and power generation.
Currently, the global demand for methanol is approximately 81 million tons per year, and that is expected to increase steadily in step with GDP growth. Through this business, MGC, MC and MHIENG are aiming to help meet that demand and provide a boost to economic growth in the Caribbean.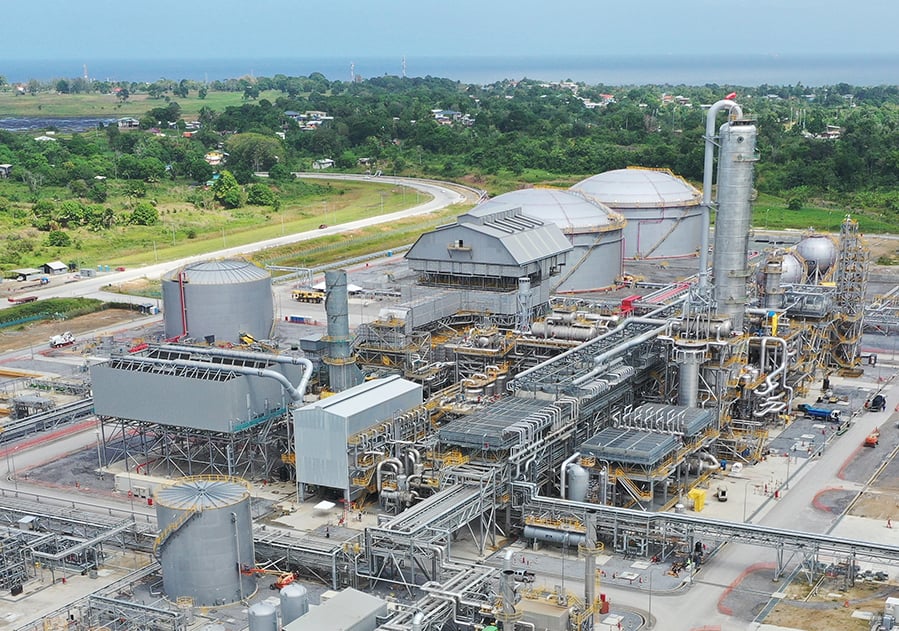 ■ Project Summary
Company Name
Caribbean Gas Chemical Limited (established March 2013)
Location
La Brea, Union Industrial Estate
Production
1 million tons/year methanol
20,000 tons/year DME
Total Investment
Approx. 1 billion USD
Capital
Approx. 300 million USD
Ownership Ratio
MGC=26.25%
MC= 26.25%
MHIENG=17.5%
NGC=20%
Massy=10%
■ Additional Information
1.Mitsubishi Gas Chemical Company, Inc.
Headquarters
2-5-2 Marunouchi, Chiyoda-ward, Tokyo
Operations
Mitsubishi Gas Chemical Company manufactures and sells a wide variety of products from basic chemical products to fine chemicals and functional raw materials and has established a positive record in the development of gas fields.
Representative
Representative Director and President
Masashi Fujii
Date Established
April 21, 1951
2.Mitsubishi Corporation
| | |
| --- | --- |
| Headquarters | 2-3-1 Marunouchi, Chiyoda-ward, Tokyo |
| Operations | With the addition of corporate divisions to the 10 groups of Natural Gas, General Materials, Petrochemical, Mineral resources, Industrial Infrastructure, Motor Vehicles Mobility, Food Industry, Consumer Industry, Electric Power Solutions and Complex Urban Development, roll out Structures is developing diversified businesses with a broad range of industries as its business areas. |
| Representative | President and Representative Director Takehiko Kakiuchi |
| Date of Establishment | April 1, 1950 |
3.Mitsubishi Heavy Industries Engineering, Ltd.
Headquarters
3-1 Minatomirai 3-Chome, Nishi-ku, Yokohama, Kanagawa 220-8401 Japan
Operations
Engineering, manufacture, procurement, construction, marketing and after-sale servicing of chemical plants, transportation systems and products, environmental products, etc., including ancillary businesses
Representative
President and CEO
Kenji Terasawa
Date of Establishment
January 2018
4.NGC
Headquarters
Orinoco Drive, Point Lisas Industrial Estate, Couva,
Republic of Trinidad and Tobago, West Indies
Operations
Natural gas and LNG sales, pipeline management operations.
Representative
Chairman
Conrad Enill
Year of Establishment
1975
5.Massy
Headquarters
63 Park Street, Port of Spain, Trinidad and Tobago, West Indies
Operations
Wide range of businesses covering the entire Caribbean region, including wholesales, real estate, automobile dealerships and maintenance centers, industrial-use gas production and supply, and hotel management operations.
Representative
Chairman
Robert Bermudez
Year of Establishment
1932
---
Tags: EPC,Chemical plant,MHIENG
About MHI Group
Mitsubishi Heavy Industries (MHI) Group is one of the world's leading industrial groups, spanning energy, smart infrastructure, industrial machinery, aerospace and defense. MHI Group combines cutting-edge technology with deep experience to deliver innovative, integrated solutions that help to realize a carbon neutral world, improve the quality of life and ensure a safer world. For more information, please visit www.mhi.com or follow our insights and stories on spectra.mhi.com.