MHIENG Receives Follow-up Order from Hiroshima Rapid Transit Co. for 78 7000-Series Carriages (13 Trains) for its "Astram Line" -- Local Production Will Contribute to Local Development --
・ Deliveries of additional carriages to be completed by FY2024
・ Advantages include durable, lightweight construction, easy recycling, minimal noise and vibration, and greatly enhanced riding comfort
Tokyo, September 10, 2020 – Mitsubishi Heavy Industries Engineering, Ltd. (MHIENG), a Group company of Mitsubishi Heavy Industries, Ltd. (MHI) based in Yokohama, has received a follow-up order from Hiroshima Rapid Transit Co., Ltd. for another 78 of its 7000-Series carriages (13 trains) for Hiroshima's public transit system. The carriages will be locally manufactured at the Mihara Machinery Works in Hiroshima prefecture.
The newly ordered carriages will replace existing carriages in use on the Hiroshima New Transit Line 1, popularly known as the "Astram Line." The follow-up order was placed in recognition of the superlative operating performance, riding comfort and advanced design features of previously delivered carriages in the 7000-Series. The previous order, received (by MHI) in July 2017, called for provision of 66 carriages (11 trains). The new order thus brings the total number of 7000-Series carriages ordered for the Astram Line to 144 (24 trains). Deliveries will be progressively completed by FY2024, earlier than originally planned. The first train went into commercial operation in March 2020, followed by the second train this April. MHIENG will also service the carriages after delivery, ensuring their safe operation.
The 7000-Series is a new type of carriage adopting an all-aluminum-alloy, double-skin structure that offers salient advantages in terms of light weight, outstanding durability and easy recycling. For improved riding comfort, cars in the series feature MHIENG's newest "T-smover" bogies: these are of lightweight but highly durable construction, with added benefits in terms of minimal noise and vibration plus superlative ease of maintenance. Passenger comfort has been enhanced with adoption of MHIENG's next-generation "G-Fit" seats specially designed. All carriages come equipped with a free space for added passenger convenience.
Hiroshima Rapid Transit was established in 1987, with funding from the municipal authority of Hiroshima etc, to operate a new Automated Guideway Transit (AGT) system in the city. The company's Astram Line connects Hondori Station in the city center with Koiki-koen-mae Station in Hiroshima's northwestern outskirts, a total distance of 18.4 kilometers (11.4 miles) – making the Astram Line the longest AGT system in operation in Japan. The chrome yellow color of the carriages was selected to convey peace, a befitting symbol for Hiroshima.
The newly ordered carriages will be also manufactured locally at the Mihara Machinery Works. Local production of locally operated carriages will deepen understanding of MHIENG among local citizens. It will also serve to express MHIENG's solid commitment to fulfill its social responsibility by contributing to the sustained development of the Hiroshima area.
AGT systems were conceived as medium-volume transportation systems that make effective use of space above roadways. Since 1981 they have been introduced in numerous cities around Japan. Their adoption of rubber tires results in minimal noise and vibration, making AGTs environmentally harmonious with their surroundings.
In 2018 MHIENG took over the transportation system business formerly conducted by MHI. The company has an abundant record of AGT system deliveries both in Japan and overseas, including major hub airports in the United States, Asia and the Middle East. Buoyed by this latest order from Hiroshima Rapid Transit, MHIENG will continue to promote its AGT business for new urban transit systems and airports around the world.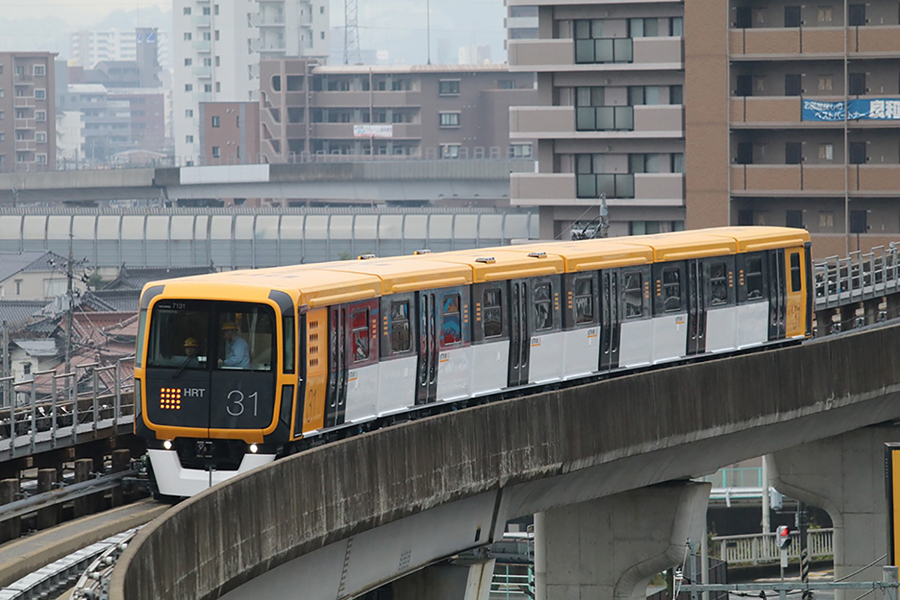 ---
About MHI Group
Mitsubishi Heavy Industries (MHI) Group is one of the world's leading industrial groups, spanning energy, smart infrastructure, industrial machinery, aerospace and defense. MHI Group combines cutting-edge technology with deep experience to deliver innovative, integrated solutions that help to realize a carbon neutral world, improve the quality of life and ensure a safer world. For more information, please visit www.mhi.com or follow our insights and stories on spectra.mhi.com.