MHI to Begin Full-scale Operation of Japan's Largest Goliath Crane with 1,200-ton Hoisting Capacity at Koyagi Plant of Nagasaki Shipyard
-- Part of Initiative to Strengthen Shipbuilding Competitiveness --
Tokyo, February 20, 2008 - Mitsubishi Heavy Industries, Ltd. (MHI) has completed the installation and today launched the full-scale operation of Japan's largest goliath crane, with a 1,200-ton hoisting capacity, at its Koyagi Plant of the Nagasaki Shipyard & Machinery Works in Nagasaki Prefecture. The newly installed gantry crane measures 95.5 meters in height and 185 meters in width. With the introduction of the new crane, together with expansion of other shipbuilding-related facilities, the annual shipbuilding capacity of the Koyagi Plant will increase, in LNG carrier parameters, from the current five units to seven.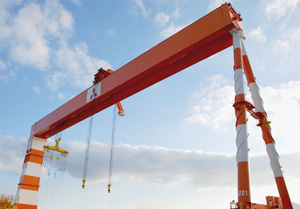 The introduction of the goliath crane is part of MHI's program to strengthen the Koyagi Plant's shipbuilding structure in order to further enhance the company's competitive position in shipbuilding. Other initiatives toward that goal include 1) expansion of the existing shop (25-meter extension) mainly used for bending and assembly of heavy steel plates for the fore and aft blocks of ship hulls, 2) construction of a new shop dedicated to specific hull segments, and 3) capacity enhancement of the present painting shop.
As a whole, the program aims to further promote performance of shipbuilding activities at the Koyagi Plant on the ground or in the shops instead of in its dry docks, and to shorten construction time through improvements in efficiency. The introduction of the goliath crane will enable the plant to more widely adopt the construction method by which, in combination with existing cranes, a larger module can be built in one block of up to 1,500 tons; that feat will enable some tasks previously performed in the dry docks to be conducted on the ground, thus shortening work time in the docks and increasing the degree of outfitting work completed by vessel launching.
Installation of the crane, for which groundwork began in February 2007, entailed assembly of six large segments. The Koyagi Plant already had two gantry cranes, each with a 600-ton hoisting capacity. Together with the new installation, the three huge gantry cranes will now constitute a remarkable feature distinguishing the Koyagi Plant.
The 600-ton cranes were installed in 1972. At that time, about 7,000 tons of steel were required per crane. The new crane, though providing twice the hoisting capacity, requires only 5,000 tons, thanks to the industry's technological innovations and advanced strength analysis capability, developed over the past 35 years. One outstanding feature of the new crane is its significant wind resistance despite its reduced weight. As the Koyagi Plant is located in an area prone to high winds, the crane adopts an aerodynamic design, based on extensive wind tunnel testing, to fend off strong winds. The crane is designed to withstand gusts of up to 80 meters/second, far stronger than the 55 m/s that goliath cranes are normally designed for.
In recent years, the shipbuilding industry has been experiencing unprecedented robust activity. In response, many shipbuilding companies are rapidly forging structures for production capacity expansion; most notable are a rush of new shipyard constructions and a string of capacity expansion programs at existing shipyards in China and Korea. MHI's program to strengthen its shipbuilding structure, including introduction of the new goliath crane, aims to respond to these market developments.
---
About MHI Group
Mitsubishi Heavy Industries (MHI) Group is one of the world's leading industrial groups, spanning energy, smart infrastructure, industrial machinery, aerospace and defense. MHI Group combines cutting-edge technology with deep experience to deliver innovative, integrated solutions that help to realize a carbon neutral world, improve the quality of life and ensure a safer world. For more information, please visit www.mhi.com or follow our insights and stories on spectra.mhi.com.