MHI to Begin Full-scale Production and Marketing
Of Advanced Cancer Radiotherapy Machine
Following Approval by Ministry of Health, Labour and Welfare
Tokyo, January 22, 2008 - Mitsubishi Heavy Industries, Ltd. (MHI) will begin full-scale production and marketing of a highly advanced radiotherapy machine for cancer treatment capable of precise identification of tumor location and exact targeting of X-ray irradiation. The new machine, the MHI-TM2000 linear accelerator system, can capture a cancer -affected area more precisely and delivery radiation beam more accurately than existing machines. MHI obtained manufacturing and marketing approval, based on the Pharmaceutical Law, from the Ministry of Health, Labor and Welfare on January 16, following earlier approval by the U.S. Food and Drug Administration (FDA). Now that these approvals have been secured, MHI will commence active marketing both at home and abroad.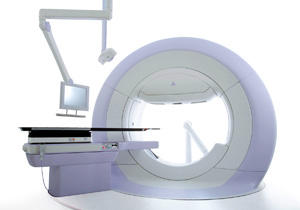 Radiotherapy machines are used to irradiate X-rays to cancer tumors from outside a patient's body as a method of cancer treatment. Compared with resection of the affected area by surgical operation, radiotherapy permits maintenance of normal body functions and form and provides such merits as sustained quality in daily life, painless treatment and applicability to physically weakened aged patients. With conventional radiotherapy machines, however, X-rays have been irradiated to a lesion and to its surrounding area with a certain allowance encompassing non-cancerous tissue. In addition, conventional machines require significant time for accurate irradiation positioning to the tumor tissue, a burden to both the patient and medical staff.
Recently, to enhance treatment effectiveness, such methods as stereotactic radiotherapy, which irradiates X-rays to the tumor area from multiple directions, and intensity-modulated radiotherapy, which provides fine control of X-ray doses, are becoming popular. But as substantial effort and time are required to achieve these highly accurate irradiation methods, development has been sought of a machine that would realize such treatments easily and more simply.
The MHI-TM2000, a highly accurate image-guided radiotherapy machine developed by MHI in cooperation with Kyoto University and the Institute of Biomedical Research and Innovation in Kobe, provides a solution to overcome these obstacles. Specifically, outstanding accuracy is maintained through the adoption of an O-ring shaped mechanical structure offering advantages in rigidity. Fine irradiation direction adjustment is realized through the incorporation of an innovative gimbaled X-ray irradiation head with tilt and pan rotation functions, the first of its kind in the world. The machine is also equipped with two X-ray radiography devices that are able to show an image of inside the body, enabling 3-dimensional information of the tumor area. With these features, the MHI-TM2000 achieves quick, simple, pinpoint irradiation targeting to the tumor.
MHI has been developing the radiotherapy machine supported by projects of the New Energy and Industrial Technology Development Organization (NEDO), a Japanese organization to promote research and development of basic technologies and aid in the commercialization of industrial technologies. MHI has fully incorporated its comprehensive technological expertise accumulated as a leading machinery manufacturer into the MHI-TM2000. Meriting special mention is the application of a new small-size accelerating tube that MHI developed together with the High Energy Accelerator Research Organization, the world's first application of this kind to medical equipment; its usage has enabled a more compact configuration and freer mechanical movement than with conventional machines. With these innovative features, MHI's new system is expected to contribute significantly to development of new treatment methods.
In order to market and provide servicing for the new machine, in October 2005 MHI established MHI Medical Systems, Inc. jointly with Konica Minolta Medical & Graphic, Inc., Mitsubishi Corporation and Seika Corporation. MHI Medical Systems will soon launch full-scale marketing activities in Japan. To promote the new machine overseas, MHI plans to cooperate with BrainLAB AG of Germany. Initially the machine will be supplied to overseas markets on an OEM (original equipment manufacturing) basis.
To produce the MHI-TM2000, in October 2006 MHI completed a plant dedicated to radiotherapy machine production within the company's Hiroshima Machinery Works. Going forward, MHI will further promote the development, manufacture and marketing of medical equipment in a quest to achieve business growth in this area to a scale of 10 billion yen/year.
---
About MHI Group
Mitsubishi Heavy Industries (MHI) Group is one of the world's leading industrial groups, spanning energy, smart infrastructure, industrial machinery, aerospace and defense. MHI Group combines cutting-edge technology with deep experience to deliver innovative, integrated solutions that help to realize a carbon neutral world, improve the quality of life and ensure a safer world. For more information, please visit www.mhi.com or follow our insights and stories on spectra.mhi.com.