MHI Delivers 100th Steam Generator for Nuclear Power Plant Use
-- Unit Goes to Hokkaido Electric Power's Tomari-3 Power Plant --
Tokyo, October 23, 2007 - Mitsubishi Heavy Industries, Ltd. (MHI) has shipped its 100th steam generator (SG) for nuclear power plant manufactured at its Kobe Shipyard & Machinery Works. The milestone SG was delivered to the Tomari-3 nuclear power plant (NPP) of Hokkaido Electric Power Co., Inc., which is currently under construction. MHI's first SG delivery - of the first SG ever manufactured in Japan - was in 1970. MHI reached the commemorative number in 38 years, delivering SGs not only to all pressurized water reactor (PWR) NPPs in Japan but also to numerous NPPs overseas, including replacement SGs (RSGs).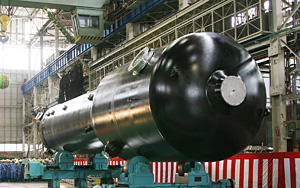 SGs are crucial components of PWR NPPs that transfer the thermal energy generated in the reactor vessel to the turbine system by generating steam to drive the turbine. A typical SG for a domestic PWR NPP measures about 21 meters in height and 5 meters in diameter (at maximum), weighs roughly 330 tons, and houses approximately 3,400 inverted U-shaped heat transfer tubes 20 millimeters in exterior diameter and 20 meters in length. Because safety and reliability are absolute requisites for NPPs, SGs demand especially high design and manufacturing capability in addition to safety and reliability - requiring 1/100 millimeter level processing accuracy for the over 300 tons huge structure. MHI, that has been consistently handled PWR since the dawn of nuclear power generation in Japan, is the nation's only SG manufacturer.
In addition to supplying SGs for newly constructed PWR NPPs, MHI has also provided 29 RSGs to existing domestic NPPs. MHI's RSGs have been highly acclaimed internationally for their technology, quality and robust track record, and the company also enjoys overseas orders and deliveries of 22 RSGs since 1995, mainly to North America and Europe. By providing replacement components, MHI has been contributing to extend the operational life and to boost safety and economic efficiency of existing PWR NPPs both in Japan and overseas.
Going forward, as a world-leading supplier comprehensively satisfying all NPP-related needs from basic planning of the PWR plant to design, manufacture, inspection, installation, test operation and services after operation commencement, MHI will leverage its technological expertise and abundant track record and aggressively develop its business in this field both at home and abroad.
---
About MHI Group
Mitsubishi Heavy Industries (MHI) Group is one of the world's leading industrial groups, spanning energy, smart infrastructure, industrial machinery, aerospace and defense. MHI Group combines cutting-edge technology with deep experience to deliver innovative, integrated solutions that help to realize a carbon neutral world, improve the quality of life and ensure a safer world. For more information, please visit www.mhi.com or follow our insights and stories on spectra.mhi.com.