Tokyo, October 9, 2007 - Mitsubishi Heavy Industries, Ltd. (MHI) has formally decided to begin offering its Mitsubishi Regional Jet (MRJ), a next-generation regional aircraft, for sale to potential customer airlines worldwide.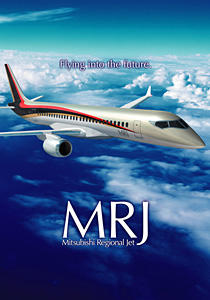 MHI has been looking for opportunities to develop commercial airplanes ever since production of the YS-11, Japan's first domestically manufactured airliner after the war, ended in 1973. With its new authorization to offer (ATO), the company will enter an epochmaking and significant business phase toward independent development, manufacture and marketing of commercial aircraft, thereby enabling realization of the long-cherished wish of the Japanese aircraft industry, which for a long time has been held to the level of partnerships with leading global aircraft manufacturers.
As the aircraft industry represents an amalgam of advanced technologies, MHI's new undertaking is expected to have great ripple effects into other industries - an outcome which is indispensable to long-term industrial development in Japan, a technology-oriented nation. By entering into full-scale operation of a commercial aircraft business, MHI aims to play an ongoing important role in Japan's key industries.
The decision on the ATO marks a significant step toward the MRJ program launch tentatively scheduled for next spring. Going forward, MHI will promote commercialization of the aircraft while conducting robust marketing activities. It will simultaneously negotiate details with potential partners, establish a sales finance scheme and develop an operational structure.
To carry out the MRJ project, MHI is in ongoing discussions toward cooperation with Boeing. Meanwhile, in order to realize Japan's first domestically developed jet airliner incorporating the country's collective efforts, MHI is considering establishment of an MHI-centered operational company to handle the MRJ's development, manufacture and marketing.
MHI's MRJ is a 70-90 seat class regional jet currently being developed with cutting-edge technology that will enable dual achievement of top-class operational economy and outstanding cabin comfort.
The MRJ will be powered by Pratt & Whitney's next-generation Geared Turbofan™ (GTF) engines, which will deliver game-changing improvements in fuel efficiency, environmental performance and operating costs. The aircraft will be the first regional jet to adopt composite materials for its airframe on significant scale. In combination with the new engines and advanced aerodynamic design, the MRJ is being planned to substantially reduce fuel consumption and greatly contribute to enhanced competitiveness and lower operating costs for the airline companies. By incorporating today's most advanced design methods, elemental technologies, materials and processing methods, the MRJ will also provide outstanding cabin comfort while reducing environmental burdens.
MHI expects demand for about 5,000 airplanes of the MRJ class in the global regional jet market in the next 20 years. In June the company exhibited a full-scale mock-up of the MRJ cabin at the 47th International Paris Air Show. The aircraft attracted a great deal of industry-wide attention and has been positively received during individual meetings with potential customers. With the decision of the ATO, MHI will make whole company's efforts together to vigorously promote various activities toward the MRJ program launch.
---
About MHI Group
Mitsubishi Heavy Industries (MHI) Group is one of the world's leading industrial groups, spanning energy, smart infrastructure, industrial machinery, aerospace and defense. MHI Group combines cutting-edge technology with deep experience to deliver innovative, integrated solutions that help to realize a carbon neutral world, improve the quality of life and ensure a safer world. For more information, please visit www.mhi.com or follow our insights and stories on spectra.mhi.com.