MHI Marks Production of 200,000 Truck Refrigeration Units
-- Lineup Completed to Accommodate Light Vehicles to Trailers --
Tokyo, July 12, 2007 - Mitsubishi Heavy Industries, Ltd. (MHI) has marked cumulative production of 200,000 refrigeration units which are installed to trucks to transport refrigerated or chilled products. MHI delivered its first truck refrigeration unit in 1968 and has thus achieved the 200,000-unit mark in less than 40 years, faster than any other company in Japan. A ceremony to celebrate the event will be held on July 13 at MHI's Air-Conditioning & Refrigeration Systems Headquarters in Kiyosu-city, Aichi Prefecture, the main production plant for its truck and trailer refrigeration units.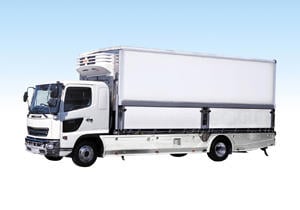 MHI entered the truck refrigeration unit business in 1967. In 1968, MHI began marketing refrigeration units for 8-11 ton trucks, followed by gradual expansion of its product lineup. In 1972, when the market entered a full growth phase, MHI established Ryoju Cold Chain Co., Ltd., a company dedicated to domestic marketing of truck refrigeration units. Today, MHI has firmly established its position as the leading company in Japan in this area, taking the largest share of the domestic market.
MHI's truck refrigeration unit business encompasses a rich product lineup for a wide range of vehicles, from small to large trucks, available in both direct-driven and self-powered types*1. In 2006, the company added further to its product portfolio with the introduction of Japan's first refrigeration unit for trailers, the TFV 2000D (dubbed "PEGASUS"). In tandem with lineup expansion, MHI has also incorporated various innovative technological features to respond to customers' diversified needs; these include 1) adoption of the world's first high-efficiency scroll compressor (3D compressor*2) that simultaneously achieves reductions in size, weight, power consumption and noise, and 2) development of multi (dual) temperature control using a refrigerant heating system enabling integral management of multiple cargo compartments (e.g., frozen and chilled products) without use of heat water.
Although truck refrigeration units today are widely used for transporting cold and frozen products - from frozen foods to pharmaceuticals and blood serum, to industrial products - domestic market growth is expected to slow as the market matures. To compensate, MHI plans to conduct aggressive marketing to achieve full-scale entrance into the huge European market as well as into the markets of China, India and the Middle East, where demand is expected to grow. As the initial step, the company has embarked on the establishment of a sales network in Europe in this spring.
Truck refrigeration units constitute one of the core businesses of MHI's Air-Conditioning & Refrigeration Systems Headquarters, along with car air-conditioners and centrifugal chillers. Now that production has exceeded 200,000 units, MHI will further improve and expand its business in this segment.
Notes:
1. The direct-driven type uses the power from a vehicle's engine to drive the compressor for refrigerant circulation; the self-powered type is equipped with an independently installed engine dedicated to driving the compressor.
2. The three-dimensional (3D) scroll compressor was developed by MHI as a next-generation scroll compressor. With conventional scroll compressors, compression is performed by horizontal movement (constant height) two-dimensionally. The 3D scroll system adopts vertical movement (height changes) by introducing steps in the scrolling mechanism, resulting in more than 10% higher compression efficiency.
---
About MHI Group
Mitsubishi Heavy Industries (MHI) Group is one of the world's leading industrial groups, spanning energy, smart infrastructure, industrial machinery, aerospace and defense. MHI Group combines cutting-edge technology with deep experience to deliver innovative, integrated solutions that help to realize a carbon neutral world, improve the quality of life and ensure a safer world. For more information, please visit www.mhi.com or follow our insights and stories on spectra.mhi.com.