MHI to Exhibit Mock-up of MRJ Cabin at Paris Air Show
-- Next-generation Regional Jet Offering Top Economy and Comfort --
Tokyo, June 11, 2007 - Mitsubishi Heavy Industries, Ltd. (MHI) will exhibit a full-scale mock-up of the cabin of the Mitsubishi Regional Jet (MRJ), a next-generation regional jet, at the 47th International Paris Air Show to be held at Paris Le Bourget for seven days from June 18 through 24. The MRJ is a small-size passenger aircraft currently being developed by MHI with cutting-edge technology that will enable the dual achievement of top-class economy and outstanding cabin comfort.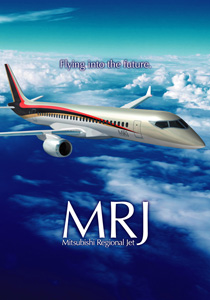 The MRJ is currently planned to seat 70 to 90 passengers. The aircraft is to be 35.8 meters long (90-seat class), 30.9 meters in wingspan and 10.0 meters high, and will be the first regional jet to adopt composite materials for its airframe on significant scale. In combination with new engines also now under development, the MRJ is being designed to substantially reduce fuel consumption and greatly contribute to enhanced competitiveness and lower operating costs for the airline companies. By incorporating today's most advanced design methods, elemental technologies, materials and processing methods, the MRJ will also provide outstanding cabin comfort while reducing environmental burdens.
The full-scale mock-up of the MRJ cabin to be exhibited in Paris measures 8.99 meters in length, 2.90 meters in width and 2.90 meters in height. The modern and stylish cabin, with a single-aisle four-abreast seating configuration and large overhead bins roomy enough to stow large-size roller bags, will provide passengers with a notably more comfortable flight.
Numerous challenges remain before the MRJ can be launched as a business. These include not only the actual development, verification and confirmation of the requisite technologies, but also securing the necessary development funds, coming up with a sales strategy and financing to prospective customers, and establishing sales and customer support structures. Availing of the exhibition at the Paris Air Show, MHI aims to further accelerate its effort to obtain a positive response to the MRJ from the global market, especially airline customers.
In Paris, besides the full-scale mock-up of the MRJ's cabin MHI will exhibit a 1/20 scale model of the aircraft itself. It will also exhibit scale models and introduce the development and manufacturing status of the following:
| | |
| --- | --- |
| - | Boeing 787 Dreamliner: MHI today is supplying composite material wing boxes for the 787 - the world's first application of such material in the wings of a large jetliner. |
| | |
| - | H-IIA satellite launch vehicle: The first H-IIA rocket after privatization will be launched this summer: In addition to production of the launch vehicle, MHI is responsible for execution of satellite launch services. |
| | |
| - | MB-XX: This second-stage engine for the next-generation rocket MHI is jointly developing with Pratt & Whitney Rocketdyne targets higher performance and greater reliability than existing second-stage engines of European and U.S. rockets. |
| | |
| - | SH-60K Patrol Helicopter: This shipboard maritime patrol helicopter is equipped with Japan's first tactics support adapting AI (artificial intelligence) and a ship landing guide support system to execute diversified defense missions. |
---