MHI Receives Massive Wind Turbine Orders from U.S.,
Almost Equal to Japan's Domestic Wind Power Generation Capacity
Tokyo, May 30, 2007 - Mitsubishi Heavy Industries, Ltd. (MHI) has received massive orders for its wind turbine power generation systems in succession from five major U.S. wind power generation developers. The wind turbines ordered total 788 units with collective power generation capacity of 1,363.4 MW (megawatts). The orders consist of 411 units of 2.4 MW wind turbines (MWT92/2.4 and MWT95/2.4) and 377 1 MW units (MWT62/1.0, also known as MWT-1000A). The collective generation capacity of the systems on order is almost equal to Japan's total wind turbine power generation capacity (as of the end of March 2007, 1,495.27 MW, generated by 1,314 units)*. This is the first time for MHI to receive such a large amount of orders within such a short period.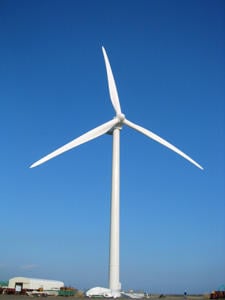 MHI received all these orders through Mitsubishi Power Systems Americas, Inc. (MPSA). The company received an order for 166 units of the MWT95/2.4 (398.4 MW in total) from Edison Mission Energy and an order for 118 units of the same system (283.2 MW) from Babcock & Brown. Orders for the MWT62/1.0 were placed by Airtricity, Inc. and Eurus Energy America, in amounts of 197 units (197 MW) and 180 units (180 MW), respectively. Another company ordered 43 units of the MWT92/2.4 and 84 units of the MWT95/2.4 (304.8 MW). Deliveries of these wind turbines will begin this year and be completed in 2009.
The MWT62/1.0, MHI's best-selling wind turbine with more than 900 units in operation globally, ranks among the world's highest-performance wind turbines in the 1 MW category. The MWT62/1.0 is capable of generating power even at relatively low wind speeds thanks to its optimized blade structure and redesigned blade shape. The MWT92/2.4 and MWT95/2.4 are strategically targeted at the global market for large-scale wind turbine generators. Adopting the largest rotor diameter (92m) and longest blades (45m class) in their class, the MWT92/2.4 is capable of efficiently generating electricity even at modest wind velocity. The MWT95/2.4 is the power generation performance-enhanced version of the MWT92/2.4; blade length is extended by about 1.5 meters and the rotor diameter is increased to near 95 meters
The U.S. wind turbine market is currently very brisk. As of the end of 2006 the U.S. has total wind turbine installations equivalent to 11,635 MW, putting the country second worldwide in terms of cumulative wind turbine installations. In terms of new installations completed in 2006, The U.S. ranked top at 2,454 MW. Currently one-sixth of all wind turbine installations in the world are in the U.S. The U.S government strongly supports wind power generation, as indicated by its extension of the production tax credit (PTC) for renewable energy and the introduction of the Renewable Portfolio Standard (RPS), and going forward massive wind turbine installations of 3,000-4,000 MW/year are expected. MHI has delivered 1,962 units of wind turbines (as of the end of May 2007, 1,310.05 MW) to the U.S. and prior to the latest orders, had received orders from the U.S. for 612 units of its various wind turbines (678.0 MW). With the latest orders, cumulative orders from the U.S. rocketed to 3,362 units (3,345.25 MW).
In order to accommodate vigorous demand worldwide, including from the U.S., MHI is presently expanding its wind turbine production capacity significantly in a quest to forge a production structure of 1,200 MW/year. Going forward, the company will continue to develop large-scale, high-efficiency wind turbines addressing the needs of the market and strengthen its production capacity in order to further expand its wind turbine business.
MHI will participate in WINDPOWER 2007 Conference & Exhibition, which will be held in Los Angeles from June 3rd through June 6th. The company seeks to leverage the event toward receipt of further orders.
Note:
Figures are based on the survey of New Energy and Industrial Technology Development Organization (NEDO)
---
About MHI Group
Mitsubishi Heavy Industries (MHI) Group is one of the world's leading industrial groups, spanning energy, smart infrastructure, industrial machinery, aerospace and defense. MHI Group combines cutting-edge technology with deep experience to deliver innovative, integrated solutions that help to realize a carbon neutral world, improve the quality of life and ensure a safer world. For more information, please visit www.mhi.com or follow our insights and stories on spectra.mhi.com.